Collection Highlight: Sikhs in Canada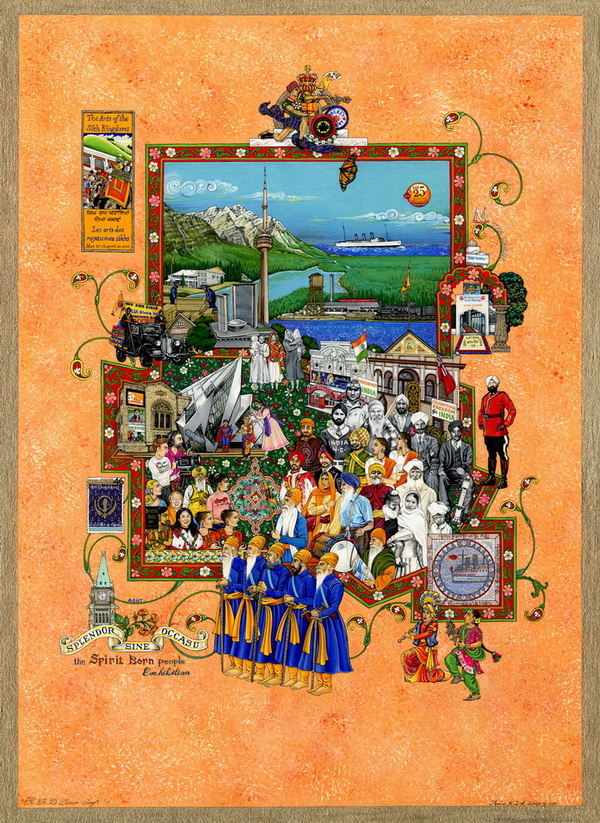 Sikhs in Canada, The Singh Twins, watersolour on board, England, 2010, 44 x 32.5 cm. ROM 2010.53.1 This acquisition was made possible with the generous support of the Louise Hawley Stone Charitable Trust Fund. Copyright The Singh Twins: www.singhtwins.co.uk
This painting was commissioned by the ROM in 2006, completed in 2010, and is now part of the ROM's permanent collection. It was created by renowned contemporary artists, The Singh Twins, in their "past-modern" style (a play on the term "post-modern"), combining techniques of traditional Indian painting and modern content. The work is a tour-de-force reflecting the historical and cultural evolution of the Sikh Diaspora in Canada. It is currently on display in the Sir Christopher Ondaatje South Asian Gallery.
Read from top to bottom, the painting moves from the scenic West coast of Canada to the urban metropolis of Toronto and from early migrants to contemporary Canadian society. It features Sikh contributions in the early twentieth century to the infrastructure of Canada (Canadian Pacific Railway and Liner, Mayo and Doman Lumber Companies), their struggles and triumphs to establish communities (the Komagata Maru Incident, establishing gurudwaras, and installation of the first Guru Granth Sahib in Vancouver), and their participation in key positions in government, business, media, and arts (Parliament building in Ottawa, the first turbaned officer of the RCMP, OMNI TV, and dhol player). Other decorative details provide a symbolic dimension: the Monarch Butterfly represents Sikh migration and the combined marigold and maple leaf motif within a paisley represents Canadian Sikh identity. Even the ROM is included to represent the key role played by Canadian cultural institutions in preserving and encouraging the heritage of diverse communities that are now part of the Canadian fabric.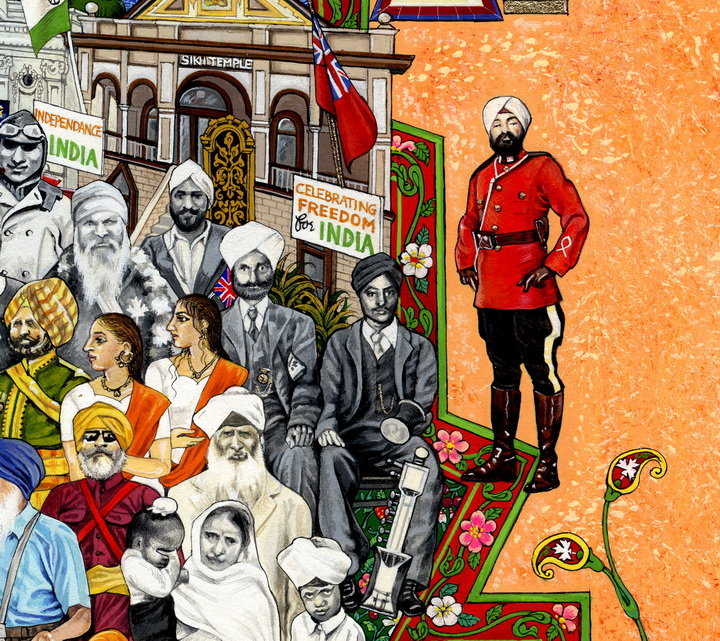 (i)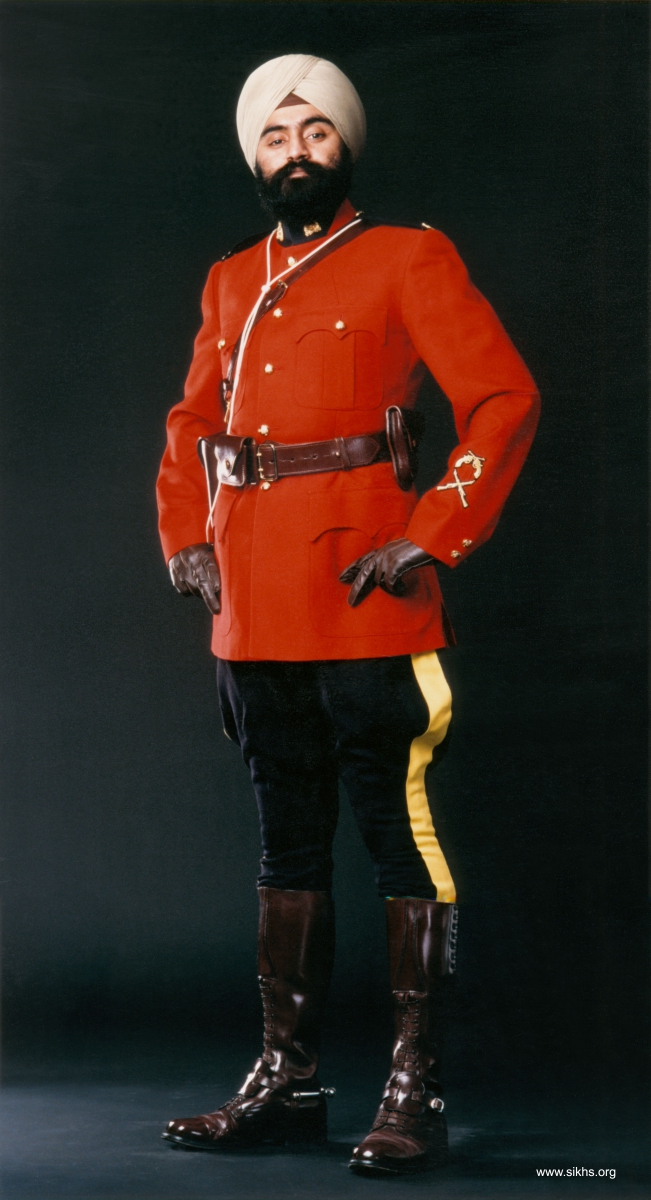 (ii)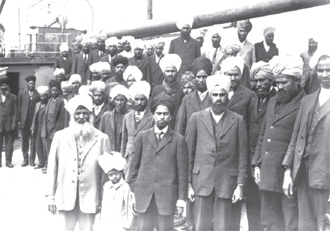 (iii)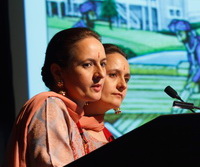 The detail above shows the range of visual sources used by the artists to reference key figres or moments in Sikh Canadian history, including (i) Baltej Singh Dhillon, who became first turbaned Sikh member of the Royal Canadian Mounted Police in 1990 (photo in the public domain) and (ii) passengers on the SS Komagata Maru who were detained in Vancouver harbor in 1914 (based on Vancouver Public Library Photo 6231). The artists include themselves as well in matching white kameez and orange dupattas. They are seen here (iii) speaking at the ROM on May 19, 2012 when the painting was unveiled to the public. Photo Jeffery Higgins.
The Singh Twins are UK-based contemporary artists whose work explores the nuances of what it is like to live in the Sikh Diaspora. They were the obvious choice to create a work that explored the history of a community that has been a part of the fabric of Canadian life since the late nineteenth century. The only guidelines for the work were to explore the history of the Sikh Diaspora in Canada and include the CN Tower as a major Canadian landmark. The remainder of the painting is a mix of meticulous research by the artists using archival sources and a personal view of the history, culture, and contributions of Sikh Canadians.
See The Singh Twins disuss this work in their own words.