Canada 150 - Saskatchewan, Alberta, British Columbia - table, crock and plate
Posted: December 11, 2017 - 10:39 , by
ROM
Continuing my geographically rooted exploration of the Canadian Decorative Arts Collection, as the year of the dubious Canada 150 draws to a close, I come to the West, and am going to highlight some objects from our collection here from each of Saskatchewan, Alberta and British Columbia all in one post.
First, we have a table in our collection from Saskatoon, Saskatchewan maker Michael Hosaluk.The table, called "Jitterbug" is both a stunning example of contemporary furniture design, and a strong example of creativity in use of materials. It is made of formica, aluminum and glass. Made in the late 1980s, the table marks an early era of material exploration for Hosaluk, now widely known in Canada as a wood turner. I strongly recommend taking a look at the work on his website for a smile; his woodcarvings are unexpected, beautiful and often humourous.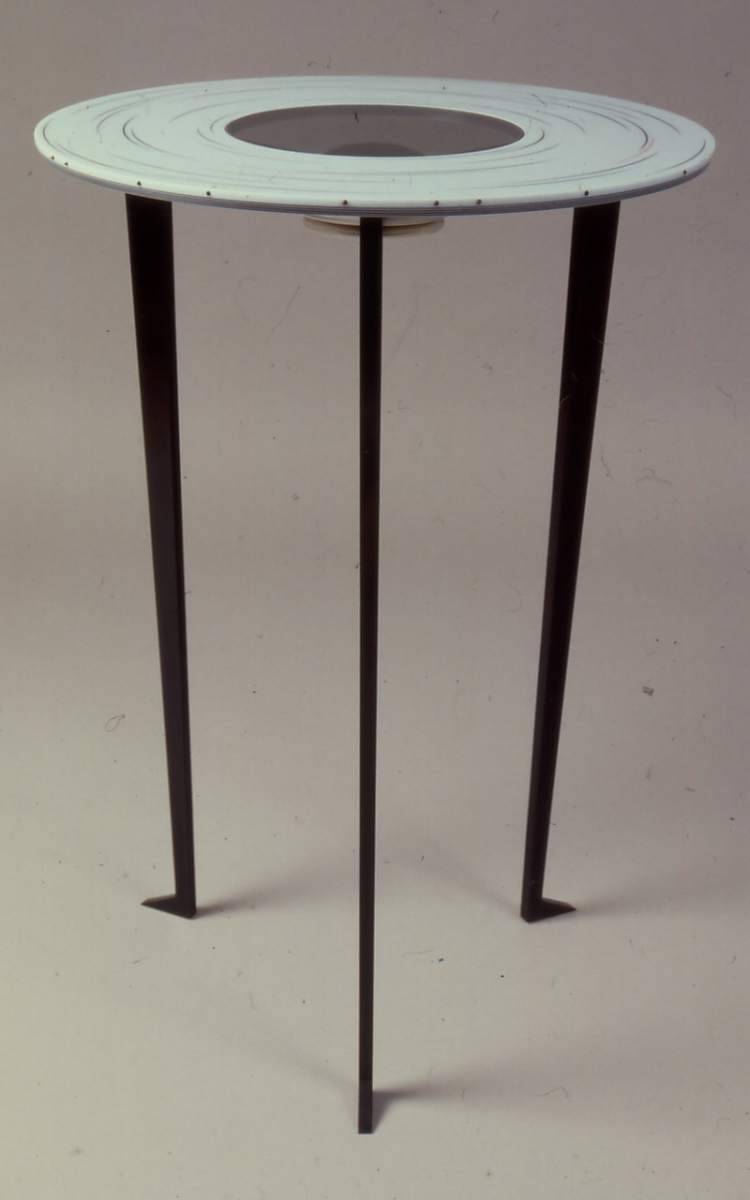 The table can be found in the European galleries at the Royal Ontario Museum, rather than the Sigmund Samuel Gallery of Canada; while there are many different, disparate departments here, collection sharing helps augment gaps in narratives that curators are trying to tell. Here, the Hosaluk table is a prominent example of new materials used in the decorative arts, among other, smaller objects.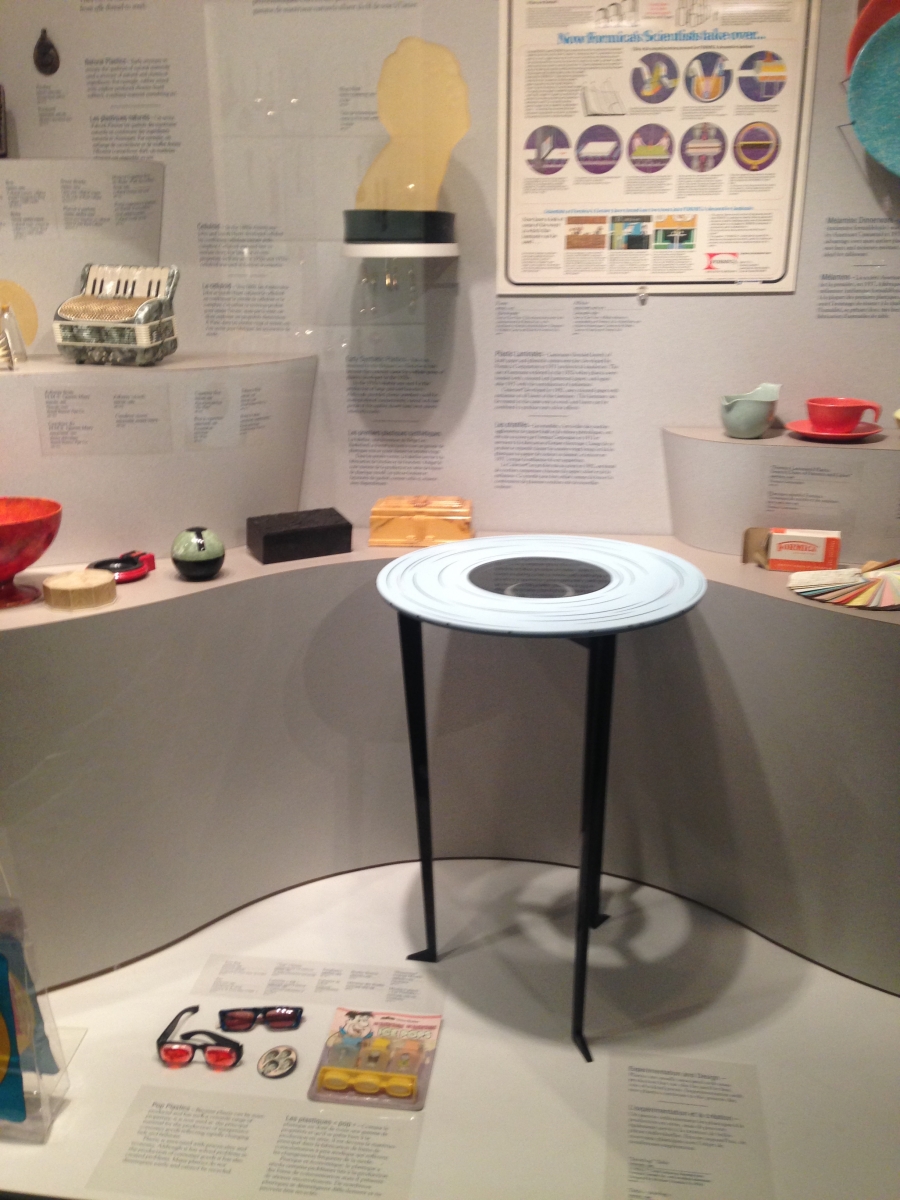 Moving along, as I've mentioned before, our western collections are quite sparse. The best examples of Alberta-made objects that we have are a selection of ceramics from the Medalta ceramics factories in Medicine Hat, Alberta. The ceramic factories in Medicine Hat were a result of a confluence of factors: the city's importance as a railway hub for the Canadian Pacific Railway, the easily accessible natural gas that could be used to fuel industrial machines, and considerable amounts of workable clay in the surrounding areas. In the early 1900s, the area was an important source for ceramics, bricks and tiles for Western Canadians. Medalta was arguably the most prominent of the factories, producing well known lines of crockery, including the ceramics that the railways used to serve customer meals. Today, Medalta is a historic site, functioning artist's studio and community centre, among other things. You can learn more about it here.
This orange crockery pot from the 1920s, and the blue teapot from the 1930s-50s, are both typical of the simple, but beautiful pottery produced by Medalta.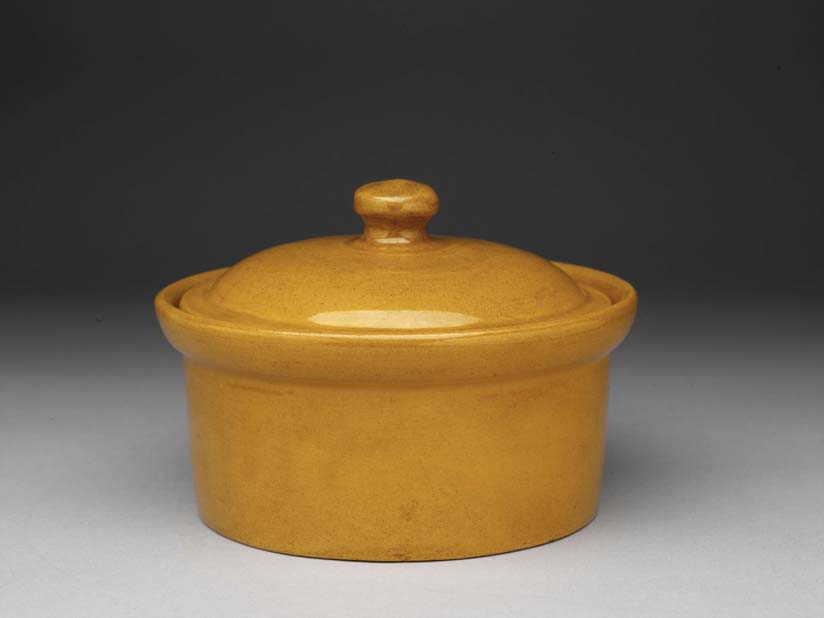 Lastly, we come to British Columbia: for this province, I'd like to share a plate by Laura McKibbon. McKibbon is a self-taught ceramic artist, still practising, whose work exemplifies much about the contemporary craft scene in Canada. The piece in the ROM collection, "Canoe Plate," is an earthenware dish with screen printed decoration. The piece was acquired after it was featured in an exhibition at the Gardiner Museum about functional ceramics in Canada in 2007. You can learn more about McKibbon's work on this blog post, which features images of her at work.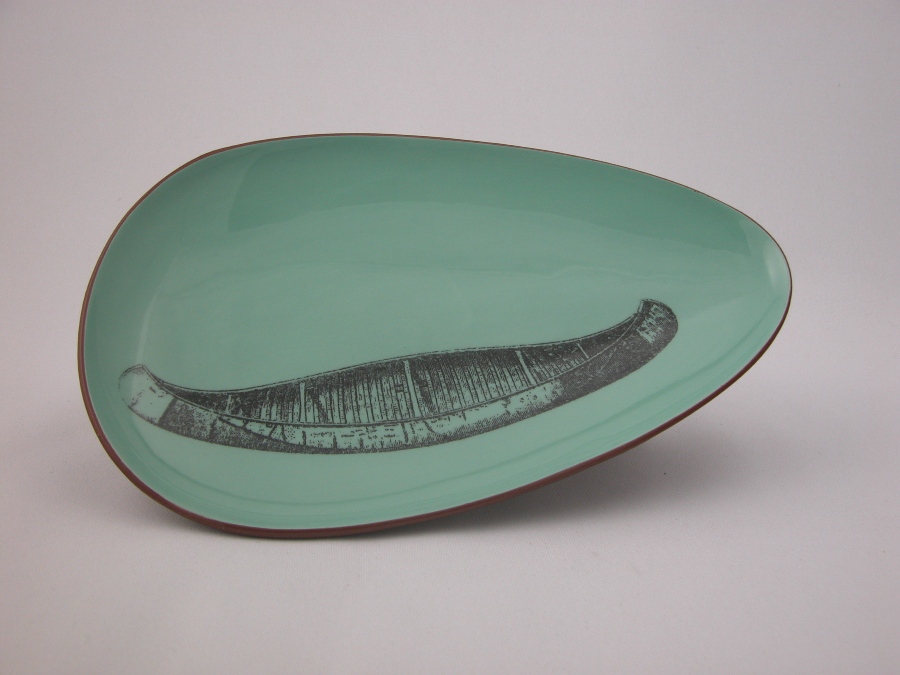 This is only a brief sample of craft created in three unique and fascinating geographies. For more examples of contemporary work from each place, their respective provincial craft councils are good resources: Saskatchewan, Alberta, and British Columbia.
Understandably, for the Royal Ontario Museum, our collection related to the material culture and decorative arts of Canada is rooted in our geography. Early donors were local collectors, and so our collection reflects their interests, habits and passions: for this reason, there is a heavy emphasis on 19th century Ontario and Quebec objects. In the contemporary era, however, the curatorial teams have been trying to diversify and broaden the collection, slowly and carefully. These pieces, here, are an indication of how much further the collection can go in terms of geographic representation alone; it would be, perhaps, even more important to focus on expanding the cultural representation of the collection as well.