CANADA 150 – Newfoundland and Labrador – Sarah Savarey Hat Box
Posted: March 8, 2017 - 11:28 , by
ROM
I'm starting my Canada 150 blogging project in Newfoundland and Labrador. Why? To start, it is the province that lies geographically furthest east, and moving east to west is an easy organizational structure. More deeply, Newfoundland and Labrador was one of the last provinces to join Confederation with Canada in 1949. The vote was contentious and the margin of victory was slim. It's less likely now, but it once would have been possible to find older residents of the island who considered themselves Newfoundlanders first, Canadians second (if Canadian at all). I like starting here as a recognition of the fact that while there is a lot about Canada worth celebrating, and the 150th anniversary of Confederation is a good time to do that, Confederation is and has not been universally loved across the country. Canada is a complex family of people in complex places. Learning about the objects in the Canadian Decorative Arts Collection at the Royal Ontario Museum can help us talk about our collective diversity, and the complexity that it creates.
For Newfoundland and Labrador, I have two objects to look at. One is from the island portion of the province, and the other, from mainland Labrador. The Newfoundland object is this beautiful box. Dating from 1795, the Sarah Savarey box is identified as being from Trinity Harbour, based on the painting on the top of the box. In the ROM's catalog, the hat is identified as having been made by Sarah Savarey, but more likely, Sarah was the owner of this particular box. After chatting with colleagues in Newfoundland and Labrador, I think it is safe to say that the box was a special one meant for keeping Sarah's hats safe. There are several similarly shaped boxes in the collection of the Trinity Historical Society made of tin, and a wooden one with decorative carving at The Rooms Provincial Museum (thanks to both organizations for your correspondence about hatboxes!).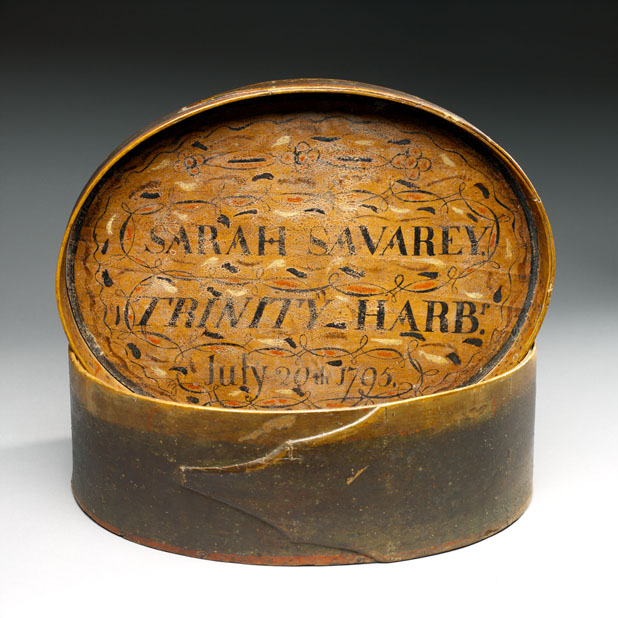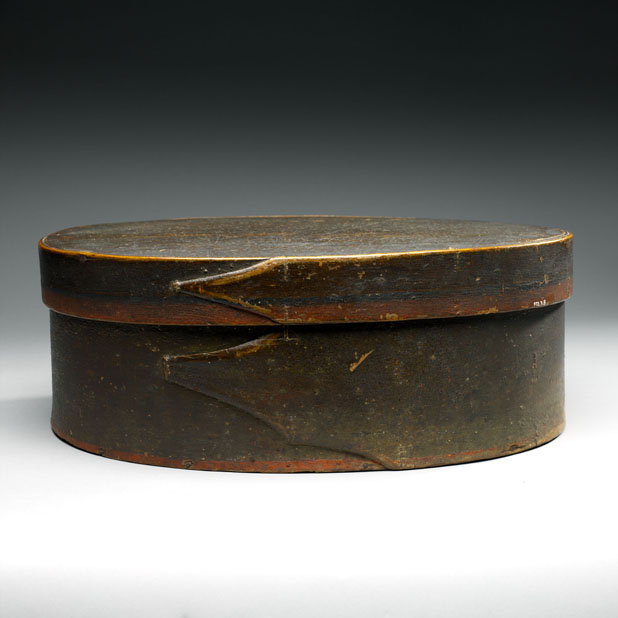 The spelling of the name on the box is interesting. Language diversity is a wonderful feature of the island of Newfoundland. Memorial University has a research centre devoted to the study of Newfoundland English, the English Language Research Centre (ELRC). The Centre has produced numerous publications, most notably the Dictionary of Newfoundland English, as well as a Dialect Atlas that charts the amazing diversity that exists between small communities. So, in a way, it should not have surprised me that the Trinity Historical Society was unable to find records belonging to Savareys in their town. After several research helpers suggested I consult the book "Family Names of the Island of Newfoundland" by E.R Seary and William Kirwin, we found that there are many alternate spellings possible of the name on the ROM hat box: Savory, Savoury, Savery… etc. The book notes a Joseph Savory and a John Savery in St. John's as of 1752 and 1760 respectively. Later on, there is a Samuel Savory noted as the owner of a fishing room in a community called Old Perlican, which is across the bay from Trinity.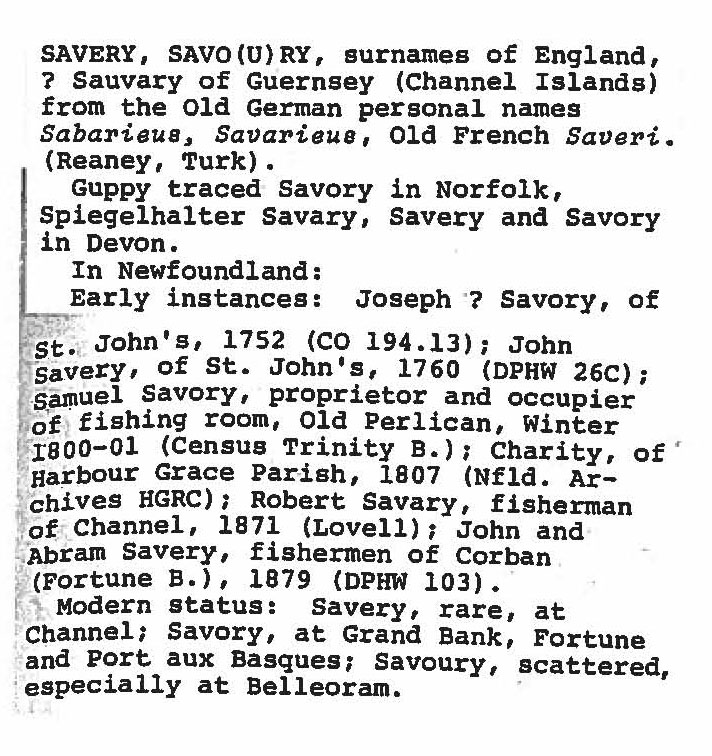 Knowing about Samuel, it is not difficult to trace a little bit of the life of our likely hatbox owner. There is a strong culture of genealogical research on the island of Newfoundland, and there have been huge efforts to digitize records. So, even from Ontario, I was able to find transcribed records from St. Paul's Anglican Church in Trinity, Newfoundland noting that a Sarah Savory was married on August 23, 1803 (daughter of Samuel and Martha) to William Warr, who came from Dorset in Great Britain. The same website notes Sarah Warr died on November 25, 1831 and was buried in the St. Paul's graveyard. Her husband, William died on July 17, 1859 and was buried in the same graveyard. If you're interested in exploring some of these records, visit this rich, volunteer driven website. It isn't the fanciest website, but it's very, very useful if you are looking for information about families who fished on the Grand Banks.
I'll close with a brief personal note: I was lucky enough to begin my career working in culture and heritage in Newfoundland and Labrador. I moved to St. John's in 2005 to start my MA in Folklore at Memorial University. It's almost a cliché for people from Ontario to talk about how much they love Newfoundland and Labrador, but, I have to say, I really really love that place. I started this post with a personal photo from a trip I took to Trinity. One of the wonderful aspects of Newfoundland is that in the outlying communities around the ocean bays, there would be elements of life that still would resemble quite strongly the world Sarah Savory would have known. She would have seen icebergs in summer, felt cool ocean breezes in the fall, and likely been glad to have a beautiful hat box to keep her hat safe during the hard winters.