CANADA 150 - Newfoundland and Labrador - Michael Massie Teapot
Posted: March 22, 2017 - 12:58 , by
ROM
My second object from Newfoundland and Labrador is a contemporary piece by silversmith Michael Massie. It is a teapot, mimicking the shape of an ulu knife, with etched designs on the silver body of the pot. The handle is made of bloodwood. Massie is a contemporary Canadian artist who was born in Happy Valley-Goose Bay, Labrador, in 1962. He currently lives on the island portion of the province with his family. Massie is a prolific sculptor, known throughout Canada for his creative interpretations of teapots and stone carvings referencing both Inuit mythologies and contemporary culture. Massie is part Inuit and part Scottish, and his work often reflects this cultural duality. He is represented by a gallery in Vancouver, and his works are in collections in galleries and museums across Canada.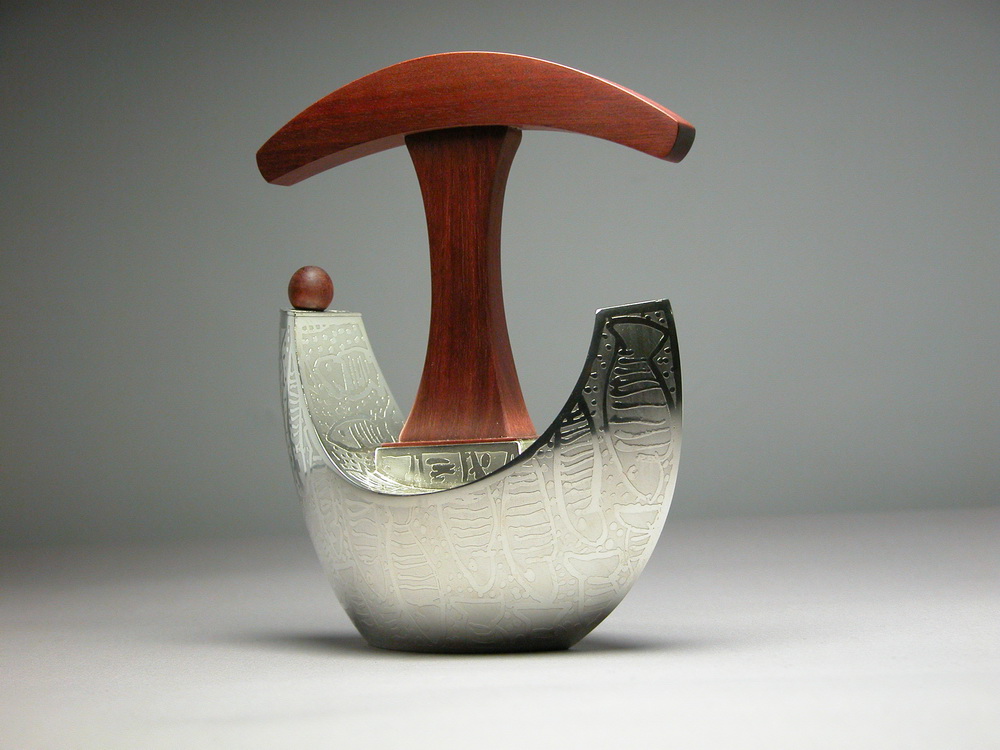 The ulu shape of the ROM's teapot is one he often returns to; it is a traditional knife used by Inuit women to prepare food. Massie sees a connection between the connectivity provided by the knife and the connectivity provided by a teapot as a piece of material culture that brings people together. The ROM, in the First Nations gallery, currently has a traditional ulu on display, seen here. It was collected between 1910 and 1914 by Robert J. Flaherty from what is now Nunavut, or Northern Quebec. The parallels between Massie's pot and the knife are obvious, but you can also see how Massie takes artistic license with the form. The fish images on the teapot are a clever allusion to the inspirational ulu-form, and help to disguise the purpose of the teapot. The name the ROM's Michael Massie teapot is unknown in the institutional record, which is a shame. Michael's works are often cleverly named with puns and allusions to stories and people in his life.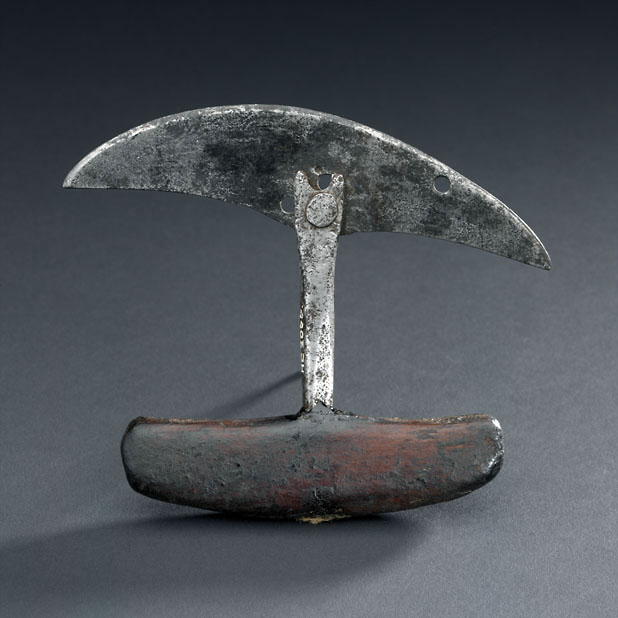 I had the opportunity to meet Michael Massie in person early in my working life. When I worked at The Rooms Provincial Art Gallery, they had a show of his work called "Silver and Stone: The art of Michael Massie" in 2006. The show, slickly curated by Gloria Hickey, highlighted his teapots and sculpture. Both Gloria and Michael came to The Rooms before the show opened to talk about the works with the education team. It was wonderful to hear Michael talk about his work; he has a gentle, friendly presence and is a wonderful storyteller. He freely skipped from talking about how having tea with his grandmother as a child led to his fixation with teapots as an adult, to talking about how he was also inspired by the graphic quality of contemporary animation in his sculptures. My favorite story was one about a piece in the exhibition based on a story from his childhood, where he shot a small bird as a young boy, after being explicitly told not to by his grandfather. The piece is called "Grandfather, I have something to tell you" and you can almost feel the hesitation, shame and confusion in the body of the sculpture. Read Michael's version of the story and see the image of the piece here.
Thinking about identities in contemporary Canada is a complicated thing. We all have multiple intersecting identities – cultural, familial, religious, social, physical, work-related and educationl related among others. Identity discussions can often become quite serious. I have always appreciated the memory of Michael Massie's artwork as an example of an artist who is able to dance between his multiple identities with a palpable sense of joy.
For more information about Michael Massie, have a look at this Q and A from the Newfoundland and Labrador Arts Council.