Blue Whale Update: A Whole Lotta Heart
Posted: September 23, 2015 - 19:22 , by
ROM
Guest Blog written by 2015 Environmental Visual Communication student Sam Rose Phillips
I smelt it before I saw it. Following my nose to what can only be oddly described as the smell of farm mixed with wet dog food, all was confirmed when the stench lead to a Jacuzzi-sized stainless steel tank.
When ROM Biodiversity Storyteller, Stacey Kerr, called me on June 2, I felt like I was being called up to the big league. "Do you want to take photos of the blue whale heart as it's being prepared and preserved?" Yes, yes I do. "Can you make it to Trenton tomorrow morning?" Yes, yes I can.
As I peered over the edge of the tank, I tried to wrap my head around the massive 5' by 4' pink blob floating in water. Standing at 5'2, I can fit inside this heart. When we arrived at the hotel that evening, I did some math and realized that over 2,000 adult human hearts can fit inside this one whale heart. That's a whole lotta love.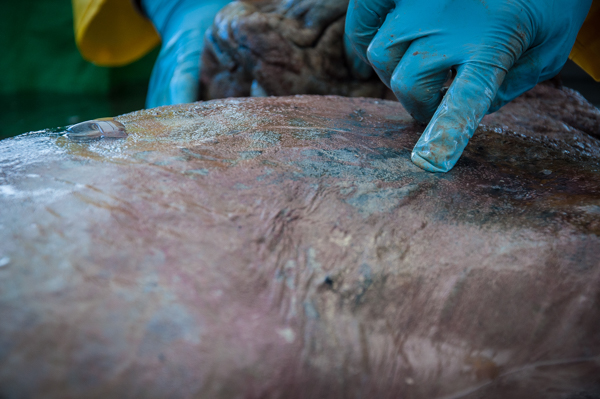 This heart came from an unfortunate event in 2014 where nine blue whales were discovered dead, trapped in the sea ice off the coast of Gros Morne National Park in western Newfoundland. Months later, the melting ice carried them to the shores where the ROM worked quickly to bring two skeletons, a blue whale heart, and tissue samples back for research. As endangered species, the news of these deceased whales came as a blow to conservation efforts. But the ROM is trying to make some good come from a heartbreaking situation. The more we learn about this specimen, the better our chances for protecting blue whales as a species.
I spent most of the first day taking photos of ROM mammalogy technician, Jacqui Miller, Dr. Paul Nader, and the staff of research casting as they inspected the heart, measured its major vessels, and diluted the formaldehyde to be used for fixation.
At 9 P.M., Lincoln Memorial University's Dr. Robert Henry touched down in Trenton, and I learned just how resourceful the team had to be.
It was difficult to inspect the heart and vessels in the tank so it was air-lifted in a large bag by way of a forklift onto a makeshift table. Industrial lighting was set-up to keep the heart visible under the red glow of the midnight moon. It was exhilarating to watch. But the evening got even better.
"Hey Sam," said Jacqui. I started walking over to her with my camera. "Can you put some gloves on and pat the heart with a wet cloth to keep it cool and moist while we work?" I don't even remember putting my Nikon down but the next second I was touching the heart and it was amazing. To give you an idea, it felt exactly like raw meat from a butcher shop - except more dense and jiggly.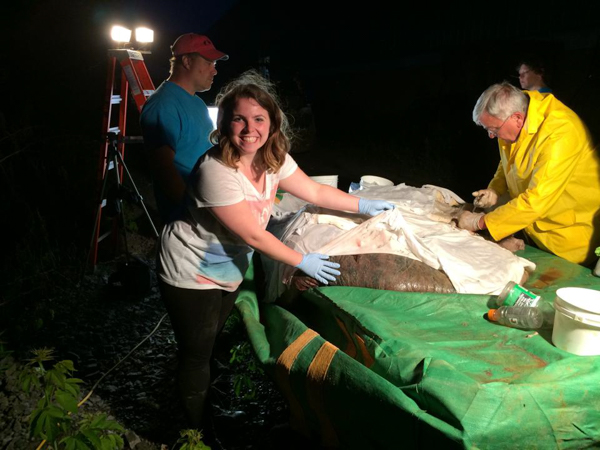 The next step was to close the major vessels in order to fill the heart with formalin and achieve a more faithful representation of its shape and size. "Open-heart surgery" jokes were mentioned a few times that night but it was quite literally what was taking place. I watched in awe as the team found more and more holes to plug and suture. Dr. Henry sewed the thick tissue to a variety of objects. The valves came in many shapes and sizes (one that I could definitely squeeze my head through) and so whatever could fit did fit including plastic soda bottles, a plunger and assorted buckets.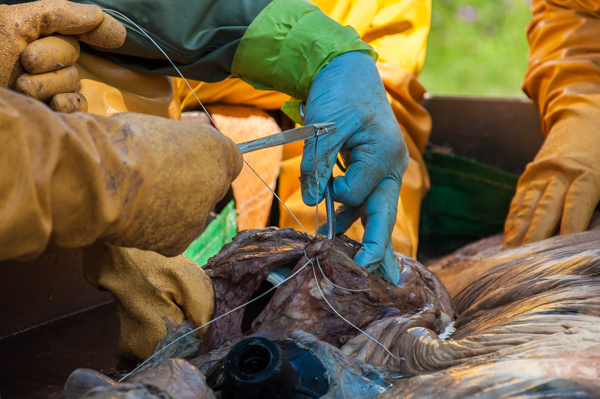 I watched, intrigued, as looks of surprise continuously crossed the faces of these scientists. Surprise at the shape of the specimen, surprise at the location of different parts. It wasn't until the next morning when the last of the openings had been discovered that the team was able to successfully identify all the chambers and blood vessels. One thing was for certain: this was the first time this procedure has ever been done on a heart this size. And I had a front-row seat to history in the making.
Fully plugged, apart from two holes filled with thick tubing designated for the formalin pump, the heart was relocated into the tank and the tank was lifted over to a room inside the riveting Research Casting International warehouse.
Everyone put on their protective gloves and tightened their respirators and safety glasses as six 189-litre drums of formalin solution were pumped into the organ. Right before our eyes, the once pink blob was actually starting to look like a heart. I half-expected it to start beating.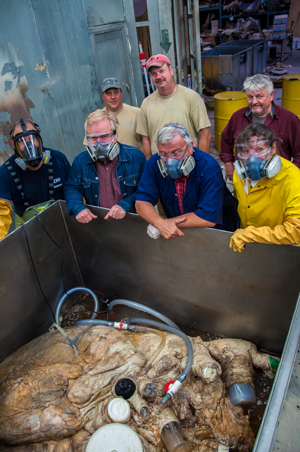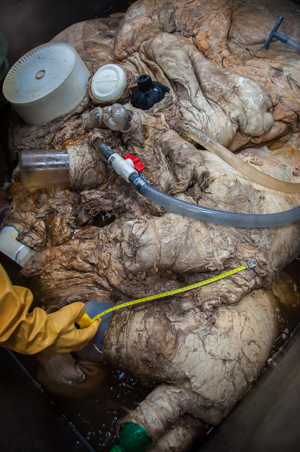 When I parted ways with the heart that Friday, it was left full and ready for its long formalin bath. The formalin will work to stiffen the heart in its shape and preserve it all in the same go. Several months from now, the team will prepare the heart to ultimately replace all fluid with silicone, and cure it as a plastinated heart so it can finally be ready for the museum to put on display.
Since that week, I feel like a mother with a newborn sleeping in another room. At night, I find myself wishing I can check in on it to see how it's doing, is it growing? Is it healthy? If only they had baby monitors for blue whale hearts. I take comfort in my assumption that the rest of the team, who continues to invest so much of their time and efforts into this project, is likely having similar thoughts.
I cannot wait to see this exhibit at the museum. I'll be the first in line and I will be delighted to see the look on everyone's face as they witness the sheer size of the heart. I hope it connects them to the majestic whale that once was its home. And I hope they grow to care about marine mammal protection and population recovery long before this heart ever has more in common with the species found in the dinosaur galleries.
See you on opening day.
SP
For more information, photos, and updates about the ROM Blue Whale Project, click here.