Arti Chandaria (1960-2015)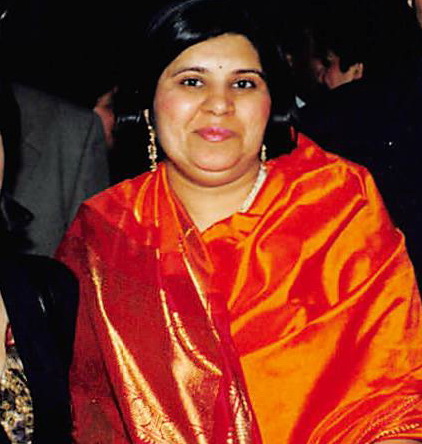 Arti Chandaria, long-time ROM friend, volunteer, and supporter passed away on Friday January 23, 2015. She lived each day with vigor and enthusiasm, never letting cancer impede her from a life of discovery. As a daughter, sister, wife, mother, and friend, she inspired with her passion, determination and boundless curiosity. Arti taught us that life is measured not by the number of breaths we take but by the moments that take our breath away. The eulogy below was presented by ROM Senior Curator Dr. Deepali Dewan at the celebration of her life on Tuesday, January 27, 2015.
Words about Arti
I first met Arti 14 years ago as a young graduate when I had come to interview for the South Asia curator position at the ROM. I remember still how she took me to dinner and filled my ears with stories of the trials and triumphs of establishing a presence for South Asian art at the ROM and I started to get a sense of the dynamic and determined person sitting before me. Through the years, Arti has been a steadfast supporter, volunteer, and motivator at the museum, but she has also been my friend. She was one of the aunties, but she was also like my second mother, and my sister. She has been my mentor and my teacher, but also my student, having taken 2 of my classes at the university.
In many ways, Arti was all these things at the same time, to many people. She was larger than life, making herself known when she entered a room with her loud "hellos" and "hi theres", but kept to the background, never wanting to take credit in a public way for her many achievements. She treated each of us as her personal and intimate friend, learning not only our interests but also our personal lives, rejoicing in our milestones--marriage, new babies, birthdays—despite the hardships she might have been going through at the moment. She had an incredible breadth of knowledge but remained a life long learner and was never afraid to take the role of the student. She was always in pursuit of knowledge, knowing that it would never be complete, and relished her books and research right up to the end.
Arti was born in 1960 in Bombay and was inspired during her childhood by her father's textile export business. She went on to get a Bachelors degree in Commerce and worked as an interior designer for the Taj Group of Hotels and later as a design coordinator creating sets for theatre and television. As a young bride in Toronto, she became enamored with museums and found comfort and a kind of spiritual peacefulness in their galleries, bringing her first born Ankesh to the ROM's Ming Tomb frequently enough that his first words were "camel" and "soldier" after the large statues they found there. And yet she felt a discomfort that the arts and culture of her youth that she loved so much were not more visible in the cultural institutions of her new home. Rather than sitting back, Arti put her heart and soul into seeing this change. Between 1994 and 2003, Arti along with a small group formed the South Asian Advisory Committee (SAac) at the ROM and raised $3 million to establish a Curatorship of South Asian Art & Culture, a permanent gallery, and funds for new acquisitions. With the support of the Chandaria Foundation, she established the Ancient Echoes Modern Voices South Asian Programming Fund endowment to secure the regular presence of South Asia programming at the ROM, as well as founding the Friends of South Asia, ROM's inaugural special-interest membership group. Her volunteer activities spread far and wide around the city and also included the Textile Museum of Canada, where she was involved in the exhibition "Colour and Light: Embroidery of India and Pakistan," and the Bishop Strachan School where she was involved in everything from marketing to governance for which she earned the Volunteer Extraordinaire Award in 2002. She served on Boards or committees or spear-headed projects at these organizations and many others, including Panorama India, the Toronto Botanical Garden, the Canadian Federation of Friends of Museums, the International Women's Association of Toronto, Rasik Arts, the Indo-Canada Chamber of Commerce, and Interguild. Her work as a community and cultural leader was recognized through a Queen's Golden Jubilee Medal in 2002 and an Association of Women of India in Canada's Woman of Distinction Award in 2011. Since 2004, many have benefited from what Arti embraced as her own independent projects that she pursed with the experience and confidence she had gained. She was creator and editor of the artsNOW e-newsletter that was circulated to thousands and showcased South Asian cultural events around the world. Her regular art column in Desi News, arti-Facts, brought together her love of research and her desire to help others appreciate culture like she did. And her iArts initiative allowed her to work with craftsmen to promote traditional handicrafts and mentor young artists to bring affordable, contemporary art to the Toronto public.
Arti lived by the belief that "a candle looses nothing by lighting another candle," a line she put at the end of all her emails. Indeed her name means "light" and she always liked how her name had the word "art" in it. She was that candle for many. Sometimes even when you didn't want to be lit, you were lit! Arti had an insatiable appetite not only to learn but also to share what she learned with others, so their lives could be enriched as much as hers had.
Despite all her achievements, I think Arti would be the first to say that her proudest was her family. She was so proud of her children Ankesh and Avni and never gave up an opportunity to talk about them. She was proud of how Ankesh had grown from a boy to a man, what a sensitive writer he was, and how levelheaded he seemed with a maturity beyond his years. And she was proud of the incredibly poised young woman Avni had become, her fiercely independent spirit (like her mother's), and her keen creative and business sense. Arti's unique bond with her husband Pulin was a quiet and constant source of her strength. He was her collaborator and co-conspirator in each achievement, quietly working behind the scenes, but a constant voice in her ear and in her mind, in such a way that even when he wasn't in the room he was still present with her.
Arti battled cancer on and off from 1995 onwards. All the achievements I have mentioned occurred after she encountered the disease. And yet she lived each day with vigor and enthusiasm, never letting cancer impede her from a life of discovery. Textiles were her first true love—each one she owned and wore had a story—and she came back to them as a focus in the last few years in between and despite the intense cancer treatments she was receiving. She collaborated with a travel agency to organize a textile tour of western India, bringing together her various personal passions and her desire to give people experiences that were intellectually and spiritually uplifting. Up until this past December she visited the ROM's textile collection weekly, a walker in her hands and determination in her heart, she came to gaze for hours at the delicate fabrics in storage with a sense of wonder and fascination. Even on a recent trip to Portugal with her family over the holidays—on which she was determined to go despite her doctor's reservations—it was Arti who forced the family after a long day of site-seeing to spend hours at a museum gazing at each and every amazing object, taking photos and writing down the label information. Through her strength and determination, Arti taught us how to live and how to cross over to the other side with integrity and grace. She planned for this moment long ago, preparing her children by giving them the space to experiment in their lives and, as a result, raising them to be independent in all senses of the word. She also prepared all of us through her regular email health updates and her unwavering positive thinking.
Arti's ability to inspire during her life continues even now. There is a persistence and endurance about her passion and energies. The kind of endurance needed to make real change in the world. And that she did. Her life is as an example of how steadfast belief and incredible will power can transform vision into reality. For Arti, thoughts became things. There was no obstacle she couldn't overcome. She lived every minute of her life knowing in the depths of her soul that she was part of something larger. With that came a humility and detachment that most of us come close to and may touch only for a moment during our own lives, but to Arti it was as natural as breathing.
She is missed. There already feels like there is a gap in the world. But as I get older, more and more I can feel the spirits of those who have crossed over around me. And Arti is here. She is at peace. And she lives on in the ways that she changed and shaped each of our lives.