Visitors have a new and entertaining way to experience
the ROM's treasures with the touch of a smartphone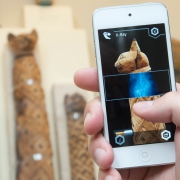 (Toronto, Ontario – October 2, 2013) The Royal Ontario Museum (ROM) is pleased to announce the launch of ScopifyROM, an exciting new smartphone application that allows visitors to experience ROM objects in fun and interactive ways, including Animating a dodo, X-raying a mummy, and Skinning a dino.
Developed by Toronto-based production company Kensington Communications, ScopifyROM is a digital discovery platform that allows visitors to interact with select objects throughout ROM galleries in ways never before possible in any museum. By using their smartphone as a series of "scopes", visitors can uncover exclusive ROM research and curatorial secrets.
To download this free app, links and information about device compatibility are available on the ROM Website.
"ScopifyROM is an exciting and important enhancement to how our visitors experience the ROM. With the debut of the app, a first for all museums, visitors can gather information about our changing natural and cultural worlds from a range of experts throughout the Museum, all in the palm of their hands, " said Dan Rahimi, Vice President, Program, Royal Ontario Museum.
How it works
With the exclusive range of custom-made ScopifyROM tools, visitors can Animate, X-Ray, Scan, Magnify and otherwise "Select" ROM objects. Be sure to visit the Schad Gallery of Biodiversity to Animate the ROM's Dodo skeleton with ScopifyROM. As a famed extinct species, this metre-tall flightless ancestor of the common pigeon and dove comes to life in an instant, moving as it would when Dodos populated the island of Mauritius. Or, check out the Galleries of Africa: Egypt; with ScopifyROM, you can CT Scan, and Decode a Mummy.
Other ScopifyROM tools include:
Restore: Allows user to restore destroyed structures to their original form
Periscope: Allows user to travel high up in the air to examine objects from a unique perspective
Decode: Allows user to decipher various codes and languages
Discover: Allows user to see an object in its original setting or where it was discovered
Skin: Allows user to add skin to skeletons and see what they once looked like
There are over a dozen objects to investigate with ScopifyROM, spread over the ROM's Ancient Cultures, Biodiversity, Earth & Space, World Art & Culture, and Canada Centres of Discovery.
After visitors Scopify the ROM, using the app, users can unlock five games in order to interact with the ROM's collection and challenge their investigative skills up close:
Footprints: in this time-sensitive, Mix 'n Match memory style game, users are required to match up footprints to animals as quickly as possible. In a unique ScopifyROM twist, a right or wrong answer leads to a pop-up with more information about the animal they have selected.

Bat Hunt: an arcade-style game where players let their device come alive in order to fly and steer one of three bats, using echolocation to avoid obstacles and catch prey.
The other ScopifyROM games are Coin Conundrum, Crossbow Defender, and Dino Dig.
"We're pleased to work with the ROM as the debut museum for the Scopify app," said Robert Lang, Executive Producer, Kensington Communications. "Scopify is the latest project in Kensington's long commitment to produce innovative interactive media; working with the ROM and its world-renowned curators builds on a wonderful collaboration which began with our hit TV series project, Museum Secrets."
For more information and video trailer, please visit www.scopify.com.
Kensington Communications
Kensington Communications (www.kensingtontv.com) creates and produces exceptional, award-winning international television programs and interactive media. From high-profile television events to moving personal stories, from ground-breaking science to performing arts and interactive experiences, its diverse productions share a commitment to imagination, intelligence, and passion.
-30-
The Royal Ontario Museum is an agency of the Government of Ontario. Opened in 1914, Canada's largest museum of natural history and world cultures has six million objects in its collections and galleries showcasing art, archaeology and natural science. The ROM is the largest field research institution in the country, and a world leader in research areas from biodiversity, palaeontology, and earth sciences to archaeology, ethnology and visual culture - originating new information towards a global understanding of historical and modern change in culture and environment.
For 24-hour information in English and French, please call 416.586.8000 or visit the ROM's web site at www.rom.on.ca. Tickets are available online at www.rom.on.ca.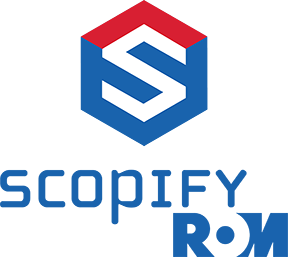 Created by

Made possible with the support
and participation of:
The Ontario Media Development Corporation
Developed with the participation of:
Bell Fund
Ryerson University
RTA Transmedia Centre
Government of Canada
Ontario Centres of Excellence
In collaboration with

iPhone is a trademarks of Apple Inc., registered in the U.S. and other countries.