Generous donation from Jeff Willner and Stacey Madge will create a new palaeontology gallery dedicated to life before dinosaurs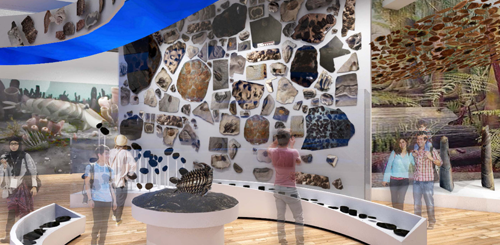 TORONTO, November 14, 2018 — Toronto philanthropists Jeff Willner and Stacey Madge have generously committed $5 million to the Royal Ontario Museum (ROM) for the Willner Madge Gallery, Dawn of Life. This investment will establish a new 10,000 square foot permanent gallery that explores the beginnings of life on Earth.
"We are very grateful to ROM Governor Jeff Willner and his wife, Stacey Madge, for their transformational gift," says Josh Basseches, ROM Director & CEO. "Every part of the Earth's story—our shared history—is written in the rocks of Canada. The Willner Madge Gallery, Dawn of Life will inspire people to marvel at how life evolved on our planet, and to do so through a lens that is distinctly Canadian in physical origin."
The Willner Madge Gallery, Dawn of Life will trace the story of life from its earliest beginnings, about four billion years ago, to the emergence of the first dinosaurs and mammals. The Gallery will complement the James and Louise Temerty Galleries of the Age of Dinosaurs and the Reed Gallery of the Age of Mammals on the second floor of the ROM.
"I'm very pleased to join other leadership donors and the ROM in telling the story of life on Earth through this exciting new gallery—the first of its kind in North America," says Jeff Willner. "This is a story for all people, told from a uniquely Canadian perspective, which will help us understand not only our past, but also the world we'll live in tomorrow."
The Willner Madge Gallery will interpret and showcase hundreds of specimens drawn mainly from the ROM's superb early life fossil collection, many of which have never been on public display before. The epic story of life's origins will be illustrated with a spectacular range of scientifically important specimens originating from Ontario and across Canada, most significantly from the renowned Burgess Shale in Yoho and Kootenay National Parks (British Columbia).
The Gallery will also feature specimens from other Canadian UNESCO World Heritage Sites including Joggins Fossil Cliffs (Nova Scotia), Mistaken Point (Newfoundland and Labrador) and Miguasha National Park (Quebec).
"Through its long journey, life evolved, diversified, and faced major crises," says Dr. Jean-Bernard Caron, Richard M. Ivey Curator of Invertebrate Palaeontology, who will oversee the gallery development. "This new Gallery will invite the public to become time travellers and to discover where we all come from."
The Willner Madge Gallery, Dawn of Life has received generous support from additional leadership donors, including, Richard M. Ivey & Family, The Salamander Foundation, Elinor Gill Ratcliffe, The Dorothy Strelsin Foundation, The Louise Hawley Stone Charitable Trust, and the Albert and Barbara Milstein & The Polk Family Funds. The ROM is grateful to all supporters of this new gallery project, which has garnered community funding from over 100 donors with gifts ranging from $10 dollars to $5 million.
Many of the specimens displayed in the Gallery were purchased through the Madeleine A. Fritz Palaeontology Funds or the Louise Hawley Stone Charitable Trust. The ROM also wishes to thank and acknowledge the many volunteers, students, partners and private donors who have facilitated fieldwork, enabled research and the development of the ROM collections, and generously given several impressive specimens that will be on display. The Museum would also like to acknowledge its important partnership with Parks Canada, which has spanned over 40 years and resulted in extraordinary discoveries from the Burgess Shale in Yoho and Kootenay National Parks that will be featured in the new Gallery.
Visitors can currently enjoy a preview display of the Willner Madge Gallery, Dawn of Life on the ROM's second floor. Construction of the permanent gallery is slated to begin in 2019 with an anticipated public opening in 2021.
About Jeff Willner & Stacey Madge
Jeff Willner joined the ROM Board of Governors in October 2017. He is Owner and CEO of Travel Edge Group, which includes Kensington Tours. Travel Edge is a $600 million luxury travel agency with 13 offices in Canada, the U.S., and Bermuda. Kensington Tours is a $170 million luxury tour company specializing in international private guided travel. Kensington Tours will be developing a special series of trips in conjunction with Parks Canada, to showcase the world-class Canadian fossil sites that contributed significantly to the new gallery.
Previously, Mr. Willner was a consultant at McKinsey & Co. He became a Fellow of the Royal Geographic Society and Explorer's Club after driving his Land Rover Defender around the world through 80 countries. Mr. Willner holds an MBA in Finance and Public Policy from Wharton and was the recipient of the Lauder medal for his public policy work on developing countries.
Stacey Madge has been President of Visa Canada at Visa U.S.A. Inc. since April 28, 2017. Ms. Madge's extensive experience in financial services and strong leadership traits uniquely position her to lead the critical Canadian market for Visa. She joined Visa from Scotiabank, where she lately served as Senior Vice President in the International Banking Group, was responsible for retail and small business across 30 Latin American and Caribbean markets.
Previously, Ms. Madge was a Partner at McKinsey & Company, where she was a leader in the areas of retail banking, mergers and acquisitions and sales force effectiveness. Ms. Madge graduated from Queen's University before earning her MBA at the University of Chicago.
-30-
ROM MEDIA CONTACT
David McKay, Communications Coordinator
416.586.5559