Discover Toronto's architecture and history
One of the greatest ways to explore the city is walking at street level through Toronto's neighbourhoods. Guided walking tours are offered for free by ROMwalks every Wednesday evening and Sunday afternoon from May through October. Tour leaders from the Royal Ontario Museum's (ROM) Department of Museum Volunteers present thoroughly researched guided tours through some of the city's most distinctive neighbourhoods, visit historic landmarks and illuminate the architectural and historical significance of Toronto's building.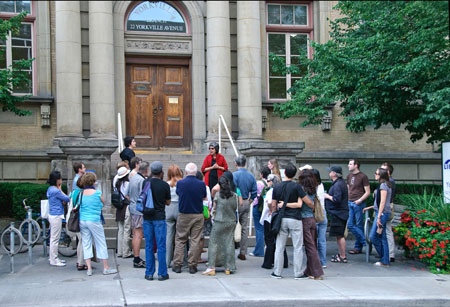 The 2013 ROMwalks season of guided walking tours starts on Wednesday, May 1 at 6 pm with Jarvis Street: Mansions & Churches of the Rich & Religious. Then on Sunday, Along the Front is) being presented as part of the annual citywide Jane's Walk weekend. Along the Front will cover some of Toronto's best known buildings including the St. Lawrence Market, Old Warehouses, Flatiron Building, Berczy Park, BCE Place, Dominion Public Building, Royal Bank Plaza, Royal York Hotel and Union Station.
ROMwalks are popular with local residents and tourists alike, whether out for a pleasant stroll or out of interest in Toronto's history. With so many walks to choose from, such as Whiskey, Wharf & Windmill, Cabbagetown, Historic Toronto, ROM & Its Neighbours and many others, there's always a great time to get out and explore Toronto. All walks are free (with the exceptions of ROMwalk Plus) and last under two hours. For the free ROMwalks just show up at the designated starting point and look for the ROMwalks Tour Guide with the blue umbrella. Please call 416.586.8097 or visit www.rom.on.ca for a ROMwalks brochure or additional information.
ROMwalks for hire
Does everyone in your office eat their lunch at their computer? Do you have a group of out-of-town visitors in Toronto for business? Is your community group or your family gathering looking for a private group ROMwalk? You can hire ROMwalks specifically for your group and go on a guided walk at any time. Choose from our full roster of 25 walks. The cost is $10 per person with a minimum of 10 people. Please call 416.586.8097 to find out more about a Private Group ROMwalk