Kent Monkman: Being Legendary will showcase new artworks in dialogue with ROM's collection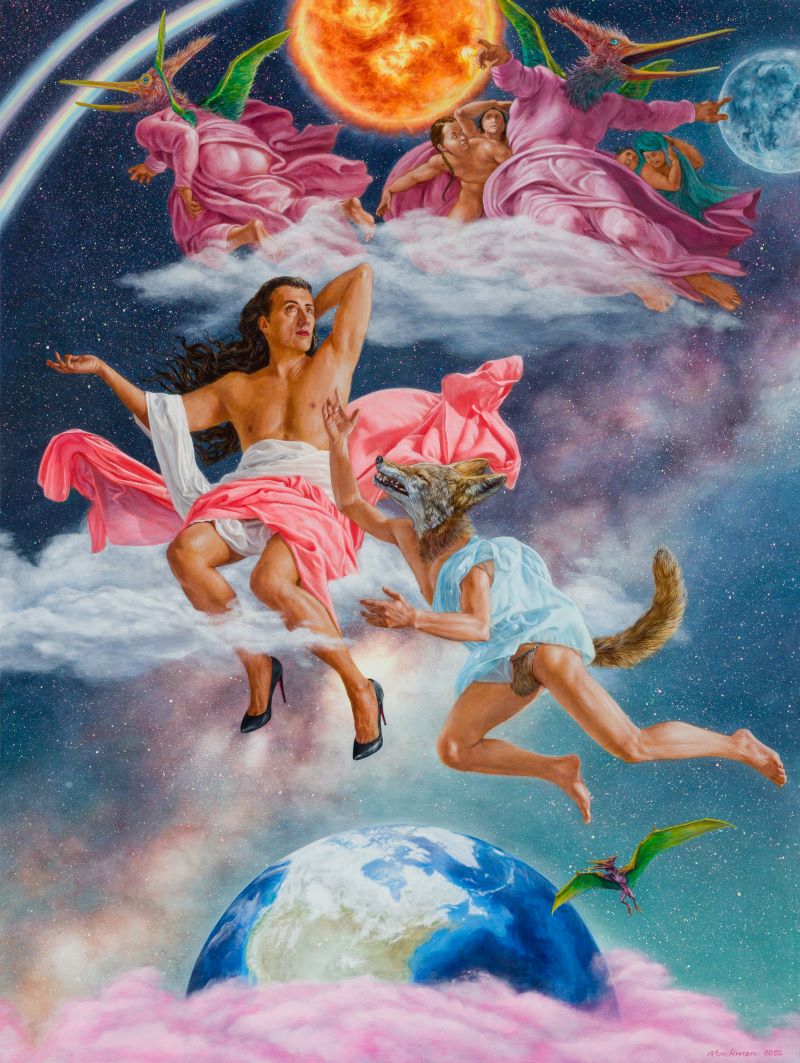 TORONTO, May 30, 2022 – This fall, ROM (Royal Ontario Museum) will present Kent Monkman: Being Legendary, a major solo exhibition conceived by acclaimed Cree visual artist Kent Monkman from October 8, 2022, to March 19, 2023. Bringing together 35 new works by Monkman, which were painted especially for the exhibition, alongside objects from ROM's own holdings, Kent Monkman: Being Legendary creates a dialogue between the artist's work and the Museum's collection.
"With Being Legendary, I am exploring how Indigenous presence and knowledge is embedded in this land much longer and deeper than how it's been presented in the colonial version of history here on Turtle Island," says Kent Monkman. "Using storytelling, this exhibition refers to the interruption of knowledge caused by the colonial attempts to erase us, but it also talks about life before Europeans arrived and how leaders in our communities shine a path for us to move forward into the future."
"This exhibition is quintessential Monkman—subversive, playful, and brilliant," says Josh Basseches, ROM Director & CEO. "It is also a tribute to Cree storytelling and creativity, which challenges the way we think about everything from museum collections to origin stories. For ROM, it represents an ongoing commitment to reconciliation and exhibitions amplifying Indigenous voices."
"Kent Monkman's intervention in the museum space complicates our understanding of history and truth in profound and thought-provoking ways," says Dr. Silvia Forni, co-curator of Being Legendary and Senior Curator at ROM. "It also sheds light on the deep connection between museums and colonialism in ways that push us to reconsider the meaning and importance of 'collections'."
"Being Legendary showcases art, culture and science from a Cree perspective while confronting the limitations – and violence of – Western ways of knowing and being in the world," says Dr. Craig Cipolla, co-curator of Being Legendary and Isabel and Gino Vettoretto Curator of North American Archaeology at ROM.
Kent Monkman: Being Legendary centers Cree world views, challenges accepted narratives and offers an expansive understanding of the past. In this new body of work, Monkman is in conversation with artifacts from ROM on display, using a Cree lens to reference and depict a number of objects drawn from the collection including fossils, meteorites, and moccasins, among others.
Narrated by Monkman's shape-shifting, time-travelling, gender-fluid alter ego, Miss Chief Eagle Testickle, the exhibition illustrates the cosmic origins of Miss Chief and other Cree legendary beings as well as prehistoric dinosaurs and mastodons that once roamed the earth. Transporting visitors through to the present day, Miss Chief Eagle Testickle bears witness to the forced interruptions of the colonial project in the lands now known as Canada and honours leaders in the community who inspire future generations.
About Kent Monkman
Kent Monkman (b.1965), is an interdisciplinary Cree visual artist widely known for his provocative interventions into Western European and American art history. A member of Fisher River Cree Nation in Treaty 5 Territory (Manitoba), he lives and works in Dish With One Spoon Territory (Toronto, Canada). Monkman explores themes of colonization, sexuality, loss, and resilience—the complexities of historic and contemporary Indigenous experiences—across painting, film, performance, and installation.
Monkman's gender-fluid alter ego, Miss Chief Eagle Testickle, often appears in his work as a time-traveling, shape-shifting, supernatural being who reverses the colonial gaze to challenge received notions of history and Indigenous peoples. Monkman's paintings and installation works have been exhibited most recently at institutions such as the Metropolitan Museum of Art, the National Gallery of Canada, the Hayward Gallery, the Philbrook Museum of Art and Palais de Tokyo, among others.
Tickets to Kent Monkman: Being Legendary are included with general admission. A fully illustrated catalogue published by the Art Canada Institute in partnership with ROM will accompany the exhibition.
-30-
Image Credit
Kent Monkman, Study for I Come from pakwan kisic, the Hole in the Sky 2022, Acrylic on canvas, 36" x 27", Image courtesy of the artist.
CONTACTS:
ROM Communications
General inquiries: media@rom.on.ca
For further information: Sophie von Hahn, Senior Publicist, svhahn@rom.on.ca
ROM Social Media
Instagram: @romtoronto
Facebook: @royalontariomuseum
Twitter: @ROMToronto
ABOUT ROM 
Opened in 1914, Royal Ontario Museum showcases art, culture and nature from around the world and across the ages. Among the top 10 cultural institutions in North America, Canada's largest and most comprehensive museum is home to a world-class collection of 13 million art objects and natural history specimens, featured in 40 gallery and exhibition spaces. As the country's preeminent field research institute and an international leader in new and original findings, ROM plays a vital role in advancing our understanding of the artistic, cultural and natural world. Combining its original heritage architecture with the contemporary Daniel Libeskind-designed Michael Lee-Chin Crystal, ROM serves as a national landmark, and a dynamic cultural destination in the heart of Toronto for all to enjoy.