Addition of 20 important works from notable Canadian-Pakistani artists to mark Pakistan's 75 Years of Independence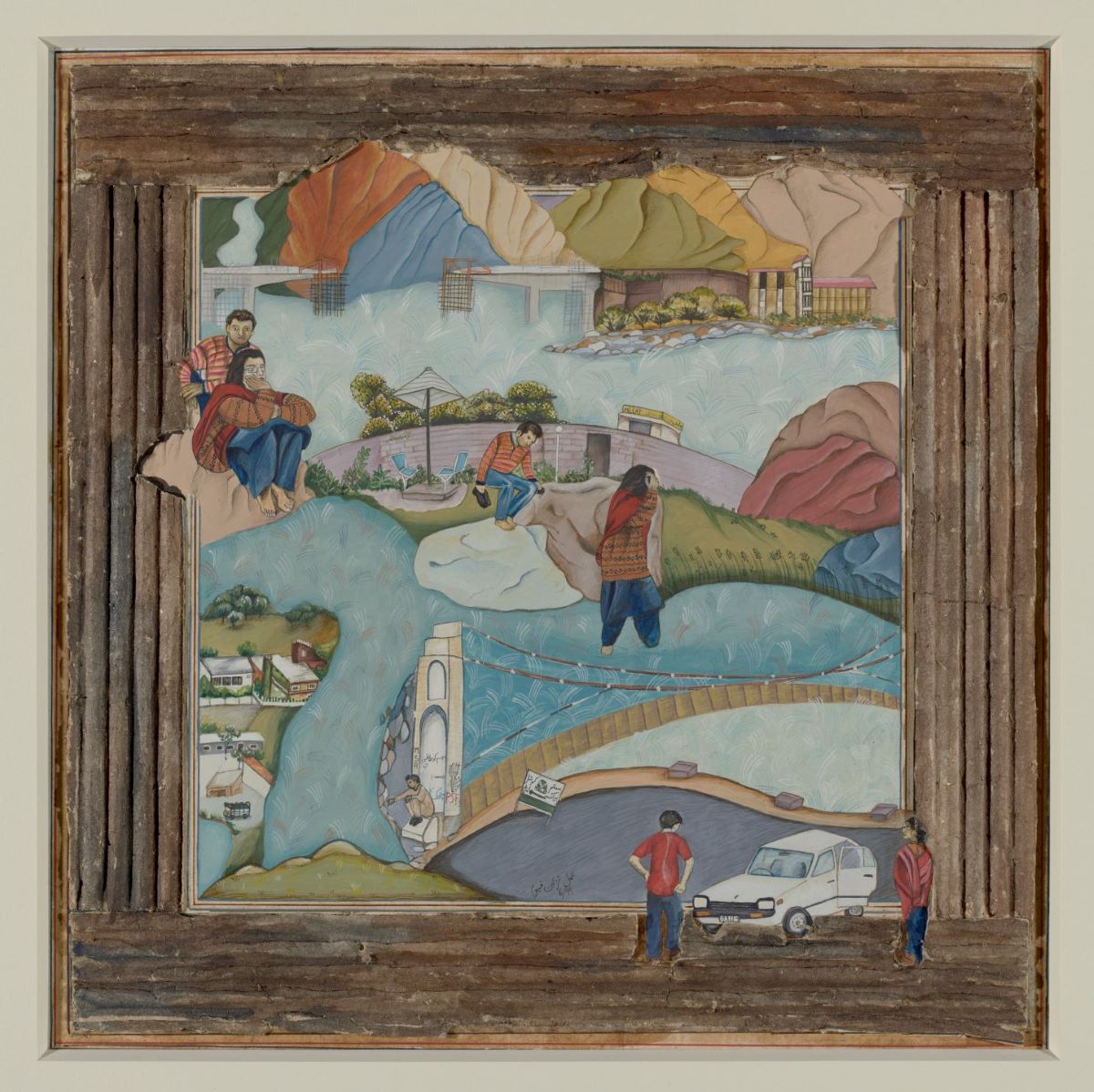 TORONTO, October 19, 2022 - ROM (Royal Ontario Museum) is pleased to announce the acquisition of 20 remarkable Pakistani contemporary miniature paintings, donated by Toronto-based private collector and philanthropist Ali Adil Khan. This donation marks Pakistan's 75 Years of Independence, celebrated this year, and coincides with Islamic Heritage Month.
The gift is comprised of works by Tazeen Qayyum, Sumaira Tazeen, and Reeta Saeed –acclaimed Canadian artists of Pakistani origin who are recognized as leading practitioners of contemporary miniature art. The three artists, based in Ontario, were trained at the National College of Arts (NCA), in Lahore, Pakistan. Their contemporary miniature paintings, also known as neo-miniature art, reference the style and technique of ​historical painting from South Asian and Islamic worlds which is distinguished by fine-line work, natural pigments, bold colour, and geometric pattern. Informed by history but updated for the present day, neo-miniature art has become a unique form that has attracted a new wave of international attention to modern art ​from Pakistan and the Pakistani diaspora.
These artworks will contribute to ROM's growing Global South Asia collection of contemporary art – the largest of its kind in Canada – and supports ROM's Dan Mishra South Asia Initiative of enriched programming, exhibitions, and research across the Museum. "This donation amplifies the voices of female-identifying artists," says Dr. Deepali Dewan, ROM's Dan Mishra Curator of Global South Asia. "While their work is shaped by their experiences as women from the South Asian Islamic world and as diasporic people, each has a unique approach and is an important contemporary artist who deserves to be represented in one of Canada's major institutions. I am grateful to Ali Adil Khan for supporting these artists for over two decades and having the foresight to collect their work as it evolved, and for having the vision to share it with the world through ROM's collection."
The works of artists Tazeen, Sumaira, and Reeta push the boundaries of miniature painting tradition through subversive expression, highlighting important political and social issues including societal taboos, women's rights, global conflict, and the lasting impact of colonialism. With this set of 20 paintings, the artists also reflect on their personal artistic journeys and the immigrant experience in Canada.
Khan holds an extensive collection of South Asian art that consists of more than 700 objects gathered over a period of 25 years. In celebration of Pakistan's independence, these important pieces are being donated to share more broadly with a public audience. "ROM has been a leader among art institutions in acknowledging multi-culturalism in Canada and was one of the first museums in this country to open a dedicated gallery of South Asian art, actively showing works of important contemporary artists," says Khan. "Through this gift to the Museum, I hope to elevate further the contemporary miniature art practice originating from Pakistan that is steeped in South Asian tradition and culture."
Several of the donated pieces will be included in an upcoming ROM exhibition, to open in summer 2023. The pieces will also be available online in ROM's eMuseum collection later this year. A public talk is also being planned for late November 2022, when the artists will introduce their work in more detail.
In addition to this gift to ROM, Khan's philanthropy extends to the funding of new programs at the Shehla and Adil Giving for Art Foundation (SAGA Foundation), established by Ali Adil Khan and his son Adnan Ali Khan in 2019 as a not-for-profit organization in Canada. The organization supports a wide range of visual art forms emanating from South Asia, encouraging learning, enhancing appreciation, and building community art initiatives such as the Karachi Biennale 2022 (KB22).
Image credit: Muzzaffarabad. Gouache on wasli, corrugated card-board, 10.5 x 10.5 in, 1998. Signed and dated in Urdu in bottom center (Tazeen Qayyum, 1998).
-30-
CONTACTS:
ROM Communications
General inquiries: media@rom.on.ca
ROM Social Media
Instagram: @romtoronto
Facebook: @royalontariomuseum
Twitter: @ROMToronto
ABOUT ROM
Opened in 1914, ROM (Royal Ontario Museum) showcases art, culture, and nature from around the world and across the ages. Today, ROM houses more than 13 million objects, from Egyptian mummies to contemporary sculpture, from meteorites to dinosaurs. ROM is the most visited museum in Canada and one of the top ten museums in North America. It is also the country's preeminent field research institute, with a diverse range of experts who help us understand the past, make sense of the present, and shape a shared future. Just as impressive is ROM's facility—a striking combination of heritage architecture and the cutting-edge Michael Lee-Chin Crystal, which marks the Museum as an iconic landmark and global cultural destination.
We live on in what we leave behind.
ABOUT SAGA FOUNDATION
Shehla and Adil Giving for Art Foundation (SAGA Foundation) is a not-for-profit organization dedicated to promoting South Asian art and culture in Canada and globally. It supports a wide range of art forms emanating from South Asia and offers a platform for exhibitions, private as well as public art projects, artist development and residencies, publications, and art archiving-related initiatives.
Website: www.sagafoundation.ca
Instagram: @saga.foundation