Unique contest will award five memberships for a lifetime, and beyond.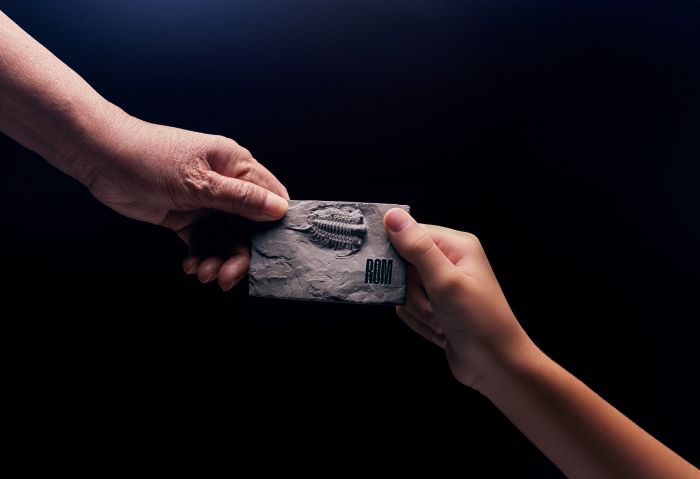 TORONTO, January 9, 2023 – Become a member. Become Immortal. ROM, one of the world's foremost cultural institutions, today announces a contest awarding unique lifetime memberships that will live on beyond the member. In April 2023, the Museum will complete a draw to grant the Immortal Membership to five lucky winners. This remarkable prize will provide lifetime access to ROM and an extraordinary heirloom, a membership that can be passed on to the next generation, after the initial holder passes on.
Members are essential to the Museum's story and mission, and the Immortal Membership contest celebrates that vital connection.
Each Immortal Membership will include a distinctive one-of-a-kind membership "card" – an original, hand-made display piece containing a genuine trilobite fossil. These unique specimens from an entirely extinct group of marine invertebrates are approximately 450 million years old, and will be delivered in a handsome wooden crate worthy of housing a rare and significant object.
All new and existing ROM members will automatically be entered in the Immortal Membership draw. The contest closes on March 31, 2023 - full details and information about no purchase entry are available here. To learn more about purchasing or gifting a ROM Membership – providing unlimited annual access to 4 billion years of the beauty and wonder in ROM's collections and exhibitions - please visit the Museum's Membership page.
ROM Immortal: we live on in what we leave behind.
-30-

CONTACTS:
ROM Communications
General inquiries: media@rom.on.ca
ROM Social Media
Instagram: @romtoronto
Facebook: @royalontariomuseum
Twitter: @ROMToronto
About ROM
Opened in 1914, ROM (Royal Ontario Museum) showcases art, culture, and nature from around the world and across time. Today, ROM houses more than 13 million objects, from Egyptian mummies to contemporary sculpture, from meteorites to dinosaurs. ROM is the most visited museum in Canada and one of the top ten museums in North America. It is also the country's preeminent field research institute, with a diverse range of experts who help us understand the past, make sense of the present, and shape a shared future. Just as impressive is ROM's facility—a striking combination of heritage architecture and the cutting-edge Michael Lee-Chin Crystal, which marks the Museum as an iconic landmark and global cultural destination.
We live on in what we leave behind.