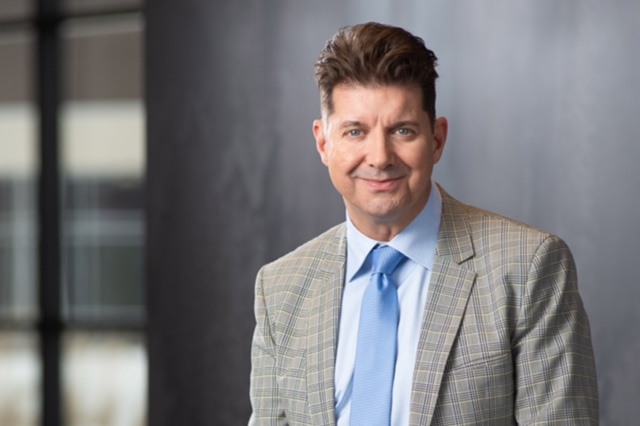 Photo: Thomas Fricke
TORONTO, Jan. 31, 2022 – ROM (Royal Ontario Museum) Board of Governors today announced the appointment of John Kearsey as the new President & CEO of ROM Governors, the foundation responsible for all philanthropic activities in support of the Museum's priorities. Kearsey assumes the role as of January 31, 2022.
Kearsey is a seasoned, mission-driven philanthropic executive with 30 years of diverse leadership experience across the university, healthcare, and private sectors. He recently concluded almost 12 years as vice-president (External Relations) at the University of Manitoba, where he was recognized for outstanding leadership and outcomes in a robust portfolio that included philanthropy, strategic events, government engagement, alumni relations, and marketing/communications. During his career, Kearsey has led high-performing advancement teams and worked on major fundraising campaigns both in Canada and in Australia.
The search committee, led by Jeff Willner, Chair of the ROM Board of Governors, included ROM Board of Trustees Chair Stephen Bowman, ROM Director & CEO Josh Basseches, and ROM Board of Governors Vice-Chairs Rob Pitfield and Patricia Olasker.
"We are delighted to welcome John to the ROM Governors team and particularly excited about his proven international experience leading major fundraising campaigns and building synergetic relationships with donors," said Jeff Willner. "His professionalism and integrity will continue the strong leadership of his predecessor. He has exciting plans for new growth that will be vital for the support of ROM."
"With his exceptional leadership experience and strong personal commitment to the cultural sector, John will be an important partner as we guide the Museum into the future," said Josh Basseches. "This is a pivotal moment in this institution's ongoing transformation to become a truly 21st century museum and a focal point for community and cultural engagement. With John's proven leadership skills, he will play an instrumental role in helping us achieve our strategic ambitions."
At the University of Manitoba, Kearsey initiated and led its Front and Centre campaign, the most ambitious fundraising campaign in Manitoba's history. Successfully completed in 2020, the University raised more than $626 million – exceeding the $500 million goal. The campaign created more than 700 new scholarships and bursaries, 21 research chairs, and professorships from 91,935 donors – more than 13,000 of whom were making their first-ever gift to the University. During Kearsey's tenure as vice-president, the University received local, national and international recognition for its Trailblazers story campaign, its new visual identity, various engagement activities, and the University's media platforms and publications designed to engage prospective and current students, faculty and staff, donors and alumni and the community more broadly.
Kearsey has a strong history of community leadership as a volunteer and donor. He passionately champions culture, arts and artists. He served as a member of the Board of Directors of the Royal Manitoba Theatre Centre from 2012-2019 and has been involved on many boards including the I.H. Asper School of Business Associates, the International Distinguished Entrepreneur Award, and the James W. Burns Leadership Institute Advisory Board.
Kearsey credits Terry Fox as his inspiration and was one of 40 Canadians to write about Fox's impact in the book, Forever Terry: A Legacy in Letters. In 1985, Kearsey received the Terry Fox Humanitarian Award and today is board chair of the program which celebrates the humanitarian service, determination, and courage of young Canadians and supports their academic pursuits. He also serves as a board member of the Terry Fox Foundation.
"I am thrilled to join the ROM community and help advance its work through philanthropy," said John Kearsey. "I'm curious...I'm curious about others' curiosity...and I'm excited that we get to explore the past, live the present, and shape the future together."
-30-
CONTACTS:
ROM Communications
media@rom.on.ca
ROM Social Media
Instagram: @romtoronto
Facebook: @royalontariomuseum
Twitter: @ROMToronto
ABOUT ROM GOVERNORS
Established in 1992 as the ROM Foundation, ROM Governors is responsible for all philanthropic activities in support of the Museum's highest priorities. Its work enables the ROM to better serve its diverse and ever-changing community, by fostering long-term sustainable relationships of exceptional value both to the institution and its donors. ROM Governors is supported by an independent Board which provides leadership in a wide range of philanthropic activities supporting ROM programs, research, collections, galleries, exhibitions and outreach programs.
ABOUT ROM
Opened in 1914, Royal Ontario Museum showcases art, culture and nature from around the world and across the ages. Among the top 10 cultural institutions in North America, Canada's largest and most comprehensive museum is home to a world-class collection of 13 million art objects and natural history specimens, featured in 40 gallery and exhibition spaces. As the country's preeminent field research institute and an international leader in new and original findings, ROM plays a vital role in advancing our understanding of the artistic, cultural and natural world. Combining its original heritage architecture with the contemporary Daniel Libeskind-designed Michael Lee-Chin Crystal, ROM serves as a national landmark, and a dynamic cultural destination in the heart of Toronto for all to enjoy.