Landmark solo exhibition confronts ROM's collection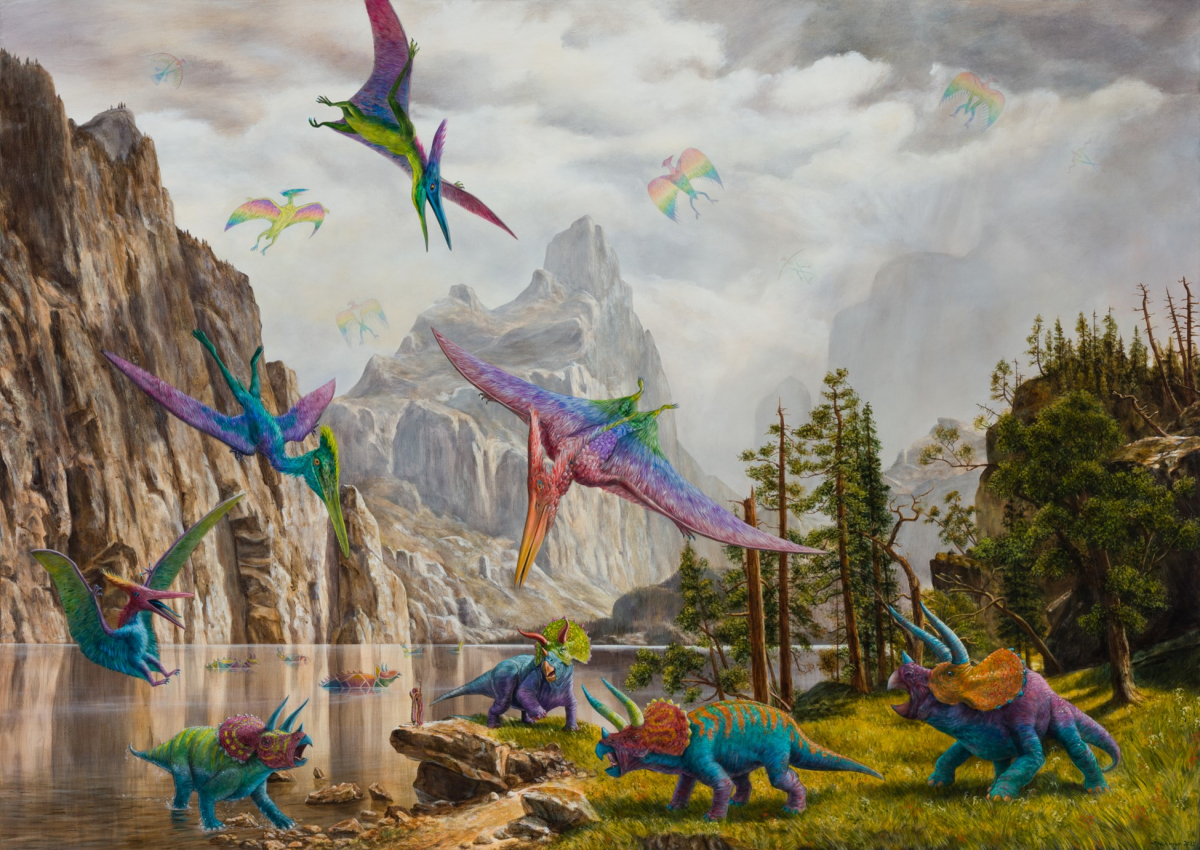 TORONTO, September 21, 2022 – Acclaimed Cree artist Kent Monkman's major solo exhibition Being Legendary will open to the public on October 8, 2022, running to March 19, 2023, at ROM (Royal Ontario Museum). Years in the making, Monkman created this new body of work in direct response to artifacts and natural history specimens in ROM's permanent collection. Through his paintings and other artworks, Monkman reframes history through his Cree perspective to interrogate the role of museums and ask crucial questions about how collections are presented in the 21st century.
Being Legendary introduces 35 paintings, the majority of which were created for this exhibition, as well as new sculptures and etchings by the artist. Monkman collaborated with ROM to place these artworks in conversation with carefully chosen pieces from the Museum's collections, ranging from dinosaur fossils to intricately beaded moccasins. Using his alter ego—the gender-fluid, shape-shifting legendary being, Miss Chief Eagle Testickle—Monkman employs his unique painting vocabulary in collaboration with text written in Miss Chief's voice by long-time writing partner Gisèle Gordon, to present a unique narrative that challenges the dominant Western perspective of history.
"My goal with this exhibition is to convey the incredible depth and richness of Indigenous existence on Turtle Island. Indigenous peoples have been present here much longer than previous estimates of Western science suggest, and the ongoing devastation of the colonial period is a relatively short blip on the vast timeline of a very rich existence. I want to emphasize the power of Indigenous peoples in keeping many of our cultures, histories, and knowledge systems intact and pay tribute to all those involved in reviving our languages and cultural practices across Turtle Island. Through our stories and artworks, we are continually passing on and renewing knowledge," says Kent Monkman.
"Like Monkman, Being Legendary contains multitudes," says Josh Basseches, ROM Director & CEO. "Oscillating between grief and joy, it manages to reckon with the enduring trauma of colonialism, while celebrating the beauty and continuity of Cree and other Indigenous cultures."
With this seminal new exhibition, Kent Monkman presents a powerful reckoning with the colonial past and conventional historical and museum narratives. Being Legendary amplifies Cree worldviews that existed for millennia before the colonial period, and spotlights the incredible resilience of Knowledge Keepers, activists, academics, and artists who illuminate our way forward. Being Legendary challenges institutions to consider a new way of thinking that involves Indigenous voices in everything that concerns Indigenous peoples.
"Being Legendary is a powerful disruption of mainstream museological language. Guided by the wisdom of Kent Monkman's artistic alter ego, Miss Chief Eagle Testickle, we are invited to think about the continuity and interconnectedness of ancient and recent history. Monkman's layered work and compelling narrative demonstrate the continuing relevance and foresight of Indigenous ancestral knowledge," says Dr. Silvia Forni, co-curator of Being Legendary and Senior Curator, Global Africa, at ROM.
"Monkman offers a fresh and vitally important perspective on encyclopedic museums and settler colonialism in general. This exhibition reveals the colonial legacies that continue to colour the world in which we live and work while shedding much-needed light on Cree knowledge and perseverance," says Dr. Craig Cipolla, co-curator of Being Legendary and Assistant Professor of Anthropology at Tufts University.
Taking visitors on a journey from the earliest beginnings of life in the cosmos through to the present day, Being Legendary shows how Indigenous presence on Turtle Island goes back many thousands of years longer than settler-held theories of Indigenous inhabitation. Monkman references Cree cosmology and legendary beings in his paintings with a liberal dose of artistic licence and his distinctive humour. He retells the history of Turtle Island through the story of Miss Chief and her fellow Cree legendary beings, challenging the colonial version of history with a Cree perspective reinforced by a text narrative as told by Miss Chief in the first person.
Interruptions of knowledge through colonial violence such as the forced removal of children to residential schools are addressed, but the focus is on the continuation of wisdom, language, and culture. Monkman's lushly painted canvases, displayed alongside fossils, bones, and a meteorite from ROM's collection, provide context for works such as We Are Made of Stardust. This painting depicts Miss Chief's origin story, in which her stilettoed human form bursts forth from stardust, leaving a trail of glowing pink cosmic gas high above an emerald halo of Aurora Borealis as she plummets gleefully toward earth.
The glittering, expansive painting Constellation of Knowledge illustrates the depth of Cree knowledge and how, since time immemorial, Indigenous knowledges and sciences have been intrinsically tied to the land and carried in stories, songs, and art. Other works in the exhibition include paintings to honour Indigenous children, their ways of learning and knowing pre-contact, and those who were forcibly taken to residential schools. Portraits of prominent leaders, activists, water walkers, and Knowledge Keepers close out Being Legendary on a powerful, inspiring note.
Accompanying the Being Legendary exhibition will be a catalogue published by the Art Canada Institute in December containing full colour reproductions of the artworks and narrative text. The catalogue also provides deeper context and insight with interviews and essays written by prominent Indigenous writers and scholars such as Wilfred Buck, Keith Goulet, Paulette Steeves, and Luana Harper-Shirt, among others.
Tickets to Kent Monkman: Being Legendary are included with general admission to ROM. A program of public events with Kent Monkman will run throughout the exhibition, with additional information to be announced.
About Kent Monkman
Kent Monkman (b.1965) is an interdisciplinary Cree visual artist widely known for his provocative interventions into Western European and American art history. A member of Fisher River Cree Nation in Treaty 5 Territory (Manitoba), he lives and works in Dish With One Spoon Territory (Toronto, Canada).
Known for his provocative interventions into Western European and American art history, Monkman explores themes of colonization, sexuality, loss, and resilience—the complexities of historic and contemporary Indigenous experiences—across painting, film/video, performance, and installation. Monkman's gender-fluid alter ego Miss Chief Eagle Testickle often appears in his work as a time-traveling, shape-shifting, supernatural being who reverses the colonial gaze to challenge received notions of history and Indigenous peoples.
Monkman's paintings and installation works have been exhibited most recently at institutions such as the Metropolitan Museum of Art, the National Gallery of Canada, the Hayward Gallery, the Philbrook Museum of Art, and Palais de Tokyo, among others.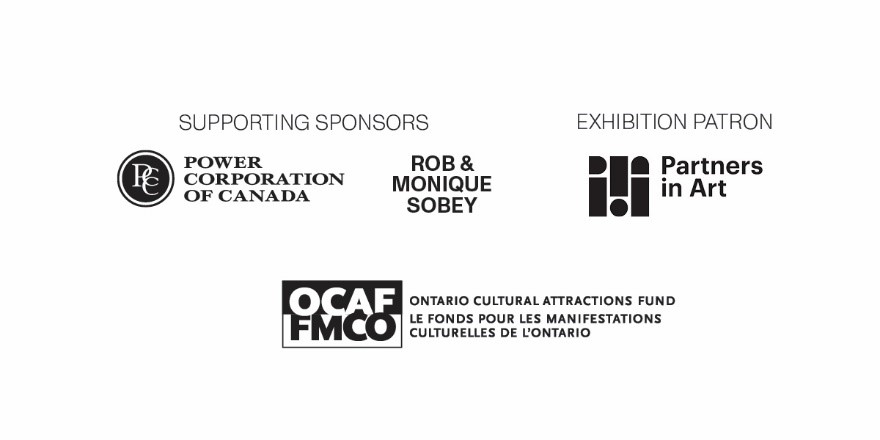 This exhibition has been financially assisted by the Ontario Cultural Attractions Fund a program of the Government of Ontario through the Ministry of Tourism, Culture and Sport, administered by the Ontario Cultural Attractions Fund Corporation. With additional support from the Phyllis Lambert Foundation.
This exhibition is generously supported by the Royal Exhibitions Circle.
-30-
Image credit: Kent Monkman, Battle of the piyêsiwak and the misipisiwak, 2022, Acrylic on canvas, 51" x 72", Image courtesy of the artist.
CONTACTS:
ROM Communications
General inquiries: media@rom.on.ca
For further information: Sophie von Hahn, Senior Publicist, svhahn@rom.on.ca
ROM Social Media
Instagram: @romtoronto
Facebook: @royalontariomuseum
Twitter: @ROMToronto
ABOUT ROM
Opened in 1914, ROM (Royal Ontario Museum) showcases art, culture, and nature from around the world and across time. Today, ROM houses more than 13 million objects, from Egyptian mummies to contemporary sculpture, from meteorites to dinosaurs. ROM is the most visited museum in Canada and one of the top ten museums in North America. It is also the country's preeminent field research institute, with a diverse range of experts who help us understand the past, make sense of the present, and shape a shared future. Just as impressive is ROM's facility—a striking combination of heritage architecture and the cutting-edge Michael Lee-Chin Crystal, which marks the Museum as an iconic landmark and global cultural destination.
We live on in what we leave behind.