ROM Friday Night Live
Fall Season Line-up Announced
_____________________________________________________________________________
#FNLROM is back with a fourth season of fresh entertainment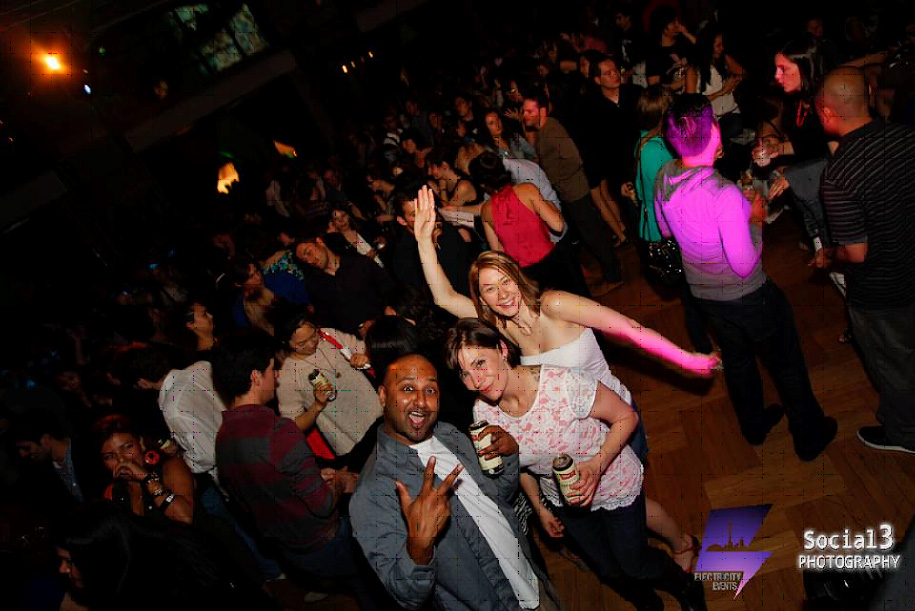 (Toronto, Ontario – October 10, 2013) – The Royal Ontario Museum (ROM) stays up late as ROM Friday Night Live (#FNLROM) returns for its fourth season of eight cutting edge Friday nights in Toronto. This popular adult only event (ages 19 +) redefines the museum experience from 7 pm to midnight each Friday night from October 18 to December 6, 2013.
#FNLROM continues to offer hip and eclectic entertainment and inventive programming, including dance, film presentations, music, art, interactive conversations and contesting. ElectriCITY Events returns to deliver the city's hottest house DJs every week, as well as live house jazz by Jamie Ruben Trio and U of T JazzProgram. Local and international spoken word poets also perform weekly. Friday Night Live continues to serve up some of Toronto's best known and best loved pop-up food vendors, including City Gourmet, Pimenton, The Saucy Pierogi, Curbside Bliss, Gourmet Gringos, HotBunzz Street Cuizine, Kanto by Tita Flips, LaRivolta, and Little Tomato Catering, New this season FNL features international and domestic craft beer Peroni and Amsterdam.
Friday Night Live currency, ROMBucks cost $6 each and can be used to purchase any drink or food item.
To help you navigate your Friday Night Live experience, the ROM has partnered with Flybits to create a digital "What's Up" program and building map. The app will heighten your visit to the ROM through creating a connected museum where visitors receive personalized information and customized promotions direct to their mobile device.
Each week, early bird tickets are available on-line at www.rom.on.fnl as well as at the door. Admission starts at $12 and $10 for students. Online early bird tickets are always complimentary for ROM members, Young Patron Circle (YPC) and Royal Patron Circle (RPC) members. Special combination ticket pricing is available for those wishing to take in Mesopotamia: Inventing our World, presented by RSA Insurance, and, from November 22, Wildlife Photographer of the Year. To avoid disappointment and ensure entry, arrive early.
Selected #FNLROM Season 4 Highlights
October 18
Fashion
It's all about the fashion as the season launches. The ROM celebrates all things couture with Art of Fashion's, Past Behaviour. This annual contest for emerging Canadian fashion designers announces its winner with celebrity judges, including TV host Glen Baxter, designer Izzy Camilleri, and ANOKHI Magazine's Jacqueline Parrish, making the very tough choices. Award-winning urban spoken word poet Dwayne Morgan performs, and music to suit all tastes will be heard throughout the ROM, including music from The Walkervilles and Craig Stickland.
October 25
Trick or Treat
The ROM opens our cabinet of curiosities to showcase the weird and wacky. Things get ghoulish as Brianna Love, from the Broadway-acclaimed hit show Evil Dead, The Musical performs "All the Men In My Life Keep getting Killed by Candarian Demons." Join Quebec's Juno-nominated MAZ for the CD launch of modal jazz and trance-inducing modern melodies. Learn about some of the ROM's most gruesome objects in Meet the Dead and join the conversation with ROM educator Gayle Gibson in Mad About Mummies as she tells tales of murder and mayhem from ancient Egypt. Dress like the dead and win ROM prizes! Music accompanies all the tricking and treating.
November 1
Climate/Culture
The newest exhibition on display at the ROM, Carbon 14: Climate is Culture is the focus of tonight's #FNLROM. Discover how climate informs culture with Carbon 14, presented by Cape Farewell Foundation and ROM Contemporary Culture. Burning Ice, Art from the Arctic film screens. Interested in the challenges to our climate? Then, think about engaging in conversation with a number of Carbon 14 artists in the Roloff Beny Gallery. Other components of the evening include documentary film screenings, and a CD launch of For All We Know by R&B, soul and pop singer, Juno-nominated Gavin Hope.
November 8
Planet Asia
While celebrating Asian contemporary arts, this evening also includes a sneak peek at centuries-old objects from the ROM's upcoming feature exhibition, The Forbidden City: Inside the Court of China's Emperors. Kollaboration is the largest non-profit organization and movement that works to bring the Asian Pacific Islander (API) talent into the mainstream entertainment industry, staffed by volunteers who believe in "empowerment through entertainment." Emerging Asian-Canadian artists from Kollaboration 2013 perform at #FNLROM.
Friday Night Live partners with The Reel Asian Film Festival, as well as screening The Last Emperor (1987), the multi award-winning film by acclaimed director Bernardo Bertolucci. Toronto's Raging Asian Women Taiko Drummers will inspire #ROMFNL audiences with their fierce drumming performance. Feel like having a Conversation with a Samurai? Then seek our martial arts expert George Hewson in the ROM's Gallery of Japan. If you're feeling really adventurous, test a host of video games which were created at the ROM in Ancient Arcade, located in Earth Rangers Studio.
November 15
Let's Dance
ROMFNLers love to dance! So much so, we're celebrating with historic and contemporary dance at the ROM. Performers from Toronto's renowned Opera Atelier deliver dazzling dance from Abduction from the Seraglio and Der Freischütz. Toronto Loves Kicks, Beat Box Canada and Break Dance artists perform live to urban artists embellishing high top sneakers. Take in pop-up dance performances throughout the galleries. Listen to University of Toronto, Kappa Alpha Literary Society, the oldest Undergraduate Greek Letter Society in North America and has existed at the University of Toronto since 1892 perform spoken word poetry, followed by the smooth sounds of local R&B artist Aion Clarke in GlassRoom Lounge. Not interested in just watching and listening? Maybe this night is the night you learn to belly dance - in three easy steps!
November 22
Get Wild
Be among the first to see the ROM's new exhibition Wildlife Photographer of the Year, a celebration of nature and wildlife through stunning and surprising photography. ROM, international book publisher, Taschen and National Geographic celebrate National Geographic's 125 Years with a limited edition 3 volume book. Spoken word poet/author/actor and journalist Duke Redbird performs. In conversation up close and personal meet and greet opportunity with photographers from the Environmental Visual Communication. Featured music by award winning Canadian folk artists, The JD Edwards Band, as well as The Wildness of Manitoba. Take your pic and pose like a polar bear in our ROM Wildlife Photo Studio!
November 29
Light it Up
Celebrate the holidays and discover how light is both an incredible natural phenomenon and a cultural celebration. Video mapping and light artist Jackie Levitt use light and colour to express her artistic vision live while you groove to featured #FNLROM DJs. In Conversation: Bling! lets you engage with ROM expert Katherine Dunnell who explains why gems sparkle and shine. Explore the night sky inside the ROM's portable planetarium. Vocalist, Tia Brazda harkens back to a different era with her music, the Globe and Mail declares as, "Technicolour swing that's just the thing".
December 6
Season Finale
'Tis the season to celebrate! The Classical Theatre Project brings Shakesbeer to FNL in this highly interactive production. Singer/songwriter Derek Miller, a journeyman musician with eclectic tastes and knack for roots inflected rock performs. The Beauties nominated for Best Band in Toronto by NOW Magazine also take the FNL stage. A special performance by renowned world champion spoken word poet/artist/journalist Ian Keteku takes place in the GlassRoom and is followed by JUNO award winning U of T Jazz Program Professors performing live. As the ROM's Mesopotamia engagement winds down, ROM curators explain how the inventions of Mesopotamia – including ancient beer – are still relevant today.
Friday Night Live presents Drink Like a Mesopotamian: Beer & Food from Mesopotamia to Now. The program includes special guests; Master Brewers from Ontario and Faculty of University of Toronto Scarborough Campus who explore beer and food through the ages. Taking place in c5 Restaurant, this talk and tasting with food pairings, showcases Jamie Kennedy Frites. This event is available at a special ticket price of $50 plus HST, which includes Friday Night Live admission.
For more information, visit www.rom.on.ca/fridays and join the conversation on twitter @ROMToronto #FNLROM
Special thanks to our partners