Discover how nature inspired the imaginary creatures of the Wizarding World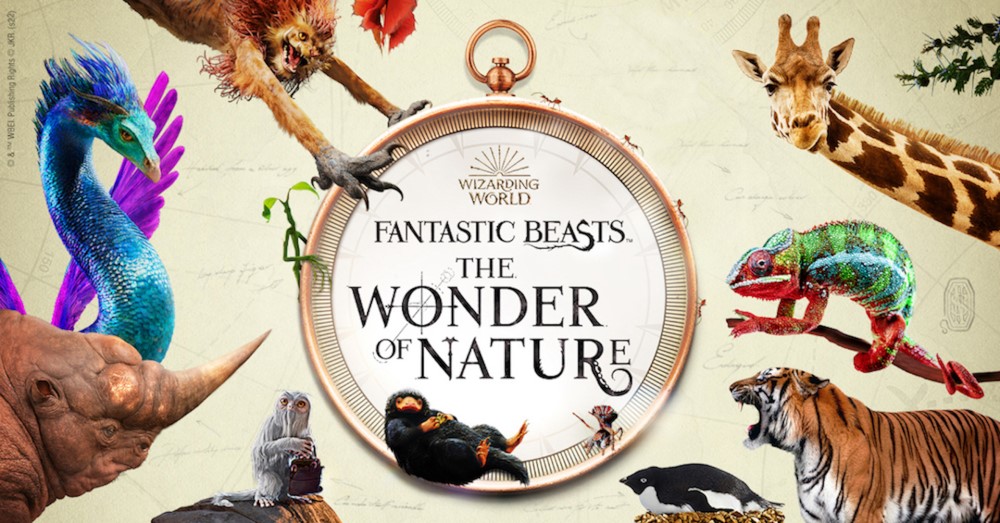 TORONTO, ON, June 1, 2022 – This June, ROM (Royal Ontario Museum) visitors will explore the natural wonders of the animal world and the mythical creatures they inspired in Fantastic Beasts™: The Wonder of Nature. This exhibition, created by Warner Bros. Themed Entertainment and the Natural History Museum in London where it originally debuted, juxtaposes animal species from nature with the magical creatures that inhabit the Wizarding World, will be on display at ROM from June 11, 2022, to January 2, 2023.
Following in the footsteps of Fantastic Beasts' fictional Magi-zoologist Newt Scamander™, visitors embark on an adventure into the wild where objects are not always what they seem and the creatures on display can be endlessly surprising. Visitors journey to a place in time where some people believed that unicorns roamed the earth, merpeople swam beneath the waves and sea monsters attacked ships. On display are an array of fascinating objects, including real animal specimens and their astonishing fictional counterparts, alongside immersive digital installations, costumes and props from the Fantastic Beasts™ and Harry Potter™ films.
"Fantastic Beasts: The Wonder of Nature lives at the intersection of natural history and pop culture, deftly exploring the connections between the real and the imaginary," says Josh Basseches, ROM Director & CEO. "In doing so, it reminds us of the extraordinary beauty and diversity of the natural world—and the urgent need to protect it."
This exhibition explores how real animals have been reimagined as mythical, legendary and magical creatures that have shaped our storytelling throughout the ages, extends those stories to include a narrative of science, discovery and conservation. Among the real-world creatures on display, the exhibition showcases a dragon-like dinosaur species discovered in South Dakota in 2004, which scientists named Dracorex hogwartsia in honour of the fictional and famed Hogwarts School of Witchcraft and Wizardry. Visitors will be delighted by a host of fantastical creatures on display, including the fictional platypus-like Nifflers and the stick bug-like Bowtruckle. While drawing parallels between magical creatures and real animals, visitors discover how animals from the natural world are as extraordinary as the imaginary ones. And by highlighting endangered imaginary beasts like the Erumpent, the exhibition also shines a light on the real-world creatures that are struggling for survival. This spellbinding exhibition combines science, nature and the creative power of literature and film to spark curiosity about the animals we share this planet with and the importance of wildlife conservation.
"The natural world around us is both familiar and exotic, from the beginning of life on Earth through eons of evolution and extinction," says Dr. Kevin Seymour, vertebrate palaeontologist and curator for the ROM engagement of Fantastic Beasts: The Wonder of Nature. "As we study and learn more about nature, we can connect this knowledge with past myths about some incredible living creatures. For visitors, the exhibition beautifully combines the kind of work we do at ROM while also firing our imagination about truly magical, mythical creatures."
Exhibition layout
Entering the exhibition, visitors meet Newt Scamander, Magi-zoologist and authority on fantastic beasts. The first stop is the "magical museum" where audiences compare and contrast magical creatures with those of the natural world. Did the tales of dragons owe their origins to sightings of enormous snakes and dinosaur bones? And what may have contributed to myths of merpeople, and unicorns?
"A glance through Muggle art and literature of the Middle Ages reveals that many of the creatures they now believe to be imaginary were then known to be real."
Newt Scamander
In the next section, visitors venture out to explore the wilderness and discover the incredible abilities and characteristics of several creatures, both real and imaginary. Visitors see maps and other tools Newt uses to study and care for fantastic beasts, including his notebooks, and even his prized lunascope for identifying phases of the Moon. Other items on display include those of real-life naturalists such as the entomology collecting tools of Michael Chalmers-Hunt, an explorer's kits from Nicholas Polunin, a book by butterfly collector Margaret Fountaine, and a notebook of nature drawings by naturalist and painter Olivia Tonge from her travels in the early 1900's. In this section visitors learn about real and remarkable animals like the elusive Canada lynx, colour shifting chameleon and cuttlefish, translucent shrimp-like amphipod, pebble collecting Adélie penguin and more, all who share some of their traits with characters in Newt's fantastical world.
"From darkest jungle to brightest desert, from mountain peak to marshy bog… I have visited lairs, burrows and nests across five continents."
Newt Scamander
The last section highlights creatures under threat and in need of Newt and our protection. The real-life animals under threat include the flightless Kākāpō bird of New Zealand currently undergoing repopulation by conservationists, the Sunda pangolin and helmeted hornbill both of which are prized by hunters, and one of the most endangered species on our planet, the vaquita, the world's smallest porpoise. Visitors also learn about the Caspian tiger which became extinct in the1970s due to hunting and habitat loss. Through the inspiring work of scientists and conservationists like Newt, visitors will leave the exhibition with a better understanding of why it is more important than ever to care for and protect the rich biodiversity of our planet from threats such as climate change and habitat destruction.
"It is my fondest hope that a new generation… will find in its pages fresh reason to love and protect the incredible beasts with whom we share magic."
Newt Scamander
Tickets
Member and Public tickets are available for advance purchase now.
Membership
Members will have the first opportunity to experience the new gallery at the Member Preview on Friday, June 10 and Saturday, June 11, 2022. Members have advanced access to reserving exhibition tickets beginning April 27, 2022. Timed-tickets are free for ROM Members, as well as access to galleries and exhibitions included with a membership.
Google Arts & Culture Digital Experience
Delve into the Fantastic Beasts™: The Wonder of Nature collection with Google Arts & Culture; a curated digital exhibition created in partnership with the Natural History Museum, London. https://artsandculture.google.com/project/nhm-fantastic-beasts
Notes to the Editors:
Fantastic Beasts™: The Wonder of Nature closed at the Natural History Museum, London, after a seven-month run which attracted over 135,000 visitors. An accompanying documentary from the BBC Studios Natural History Unit presented by Stephen Fry aired on BBC One in February 2022. The documentary was broadcast on 1 April on HBO Max and in Canada on Crave.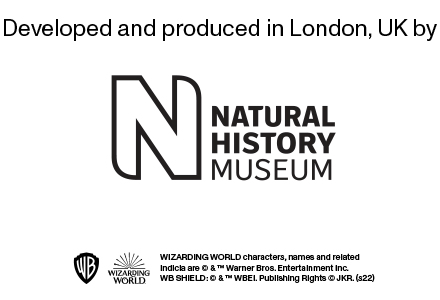 -30-
Image Credit
WIZARDING WORLD: © & ™ WBEI. Publishing Rights © JKR. (s22)
Visiting ROM: Visitors are encouraged to purchase timed tickets in advance. Please see our Visitor Policy online for up-to-date information about entering the Museum.
Summer Hours: ROM is open seven days a week, 10:00 am to 5:30 pm, from July 1, 2022 through to September 5, 2022.
Third Tuesday Night Free: Every third Tuesday of each month the Museum is free to the public from 5:30 pm to 8:30 pm. Third Tuesday Night Free includes access to all the Museum's galleries and special exhibitions at no charge. Tickets (complimentary) are required for access and it is recommended to book online in advance.
PRESS CONTACTS
ROM General: media@rom.on.ca
Natural History Museum, press@nhm.ac.uk
Lindsay Kiesel, Warner Bros. Themed Entertainment, Lindsay.Kiesel@warnerbros.com

ROM Social Media
Instagram: @romtoronto
Facebook: @royalontariomuseum
Twitter: @ROMToronto
About ROM
Opened in 1914, ROM (Royal Ontario Museum) showcases art, culture and nature from around the world and across the ages. Among the top 10 cultural institutions in North America, Canada's largest and most comprehensive museum is home to a world-class collection of 13 million art objects and natural history specimens, featured in 40 gallery and exhibition spaces. As the country's preeminent field research institute and an international leader in new and original findings, ROM plays a vital role in advancing our understanding of the artistic, cultural and natural world. Combining its original heritage architecture with the contemporary Daniel Libeskind-designed Michael Lee-Chin Crystal, ROM serves as a national landmark, and a dynamic cultural destination in the heart of Toronto for all to enjoy.
About the Natural History Museum
The Natural History Museum is both a world-leading science research centre and the most visited natural history museum in Europe. With a vision of a future in which both people and the planet thrive, it is uniquely positioned to be a powerful champion for balancing humanity's needs with those of the natural world.
It is custodian of one of the world's most important scientific collections comprising over 80 million specimens. The scale of this collection enables researchers from all over the world to document how species have and continue to respond to environmental changes - which is vital in helping predict what might happen in the future and informing future policies and plans to help the planet.
The Museum's 300 scientists continue to represent one of the largest groups in the world studying and enabling research into every aspect of the natural world. Their science is contributing critical data to help the global fight to save the future of the planet from the major threats of climate change and biodiversity loss through to finding solutions such as the sustainable extraction of natural resources.
The Museum uses its enormous global reach and influence to meet its mission to create advocates for the planet - to inform, inspire and empower everyone to make a difference for nature. We welcome over five million visitors each year; our digital output reaches hundreds of thousands of people in over 200 countries each month and our touring exhibitions have been seen by around 20 million people in the last 10 years.
About Warner Bros. Themed Entertainment
Warner Bros. Themed Entertainment (WBTE), part of Warner Bros. Discovery Global Brands and Experiences, is a worldwide leader in the creation, development and licensing of location-based entertainment, live events, exhibits and theme park experiences based on Warner Bros.' iconic characters, stories, and brands. WBTE is home to the groundbreaking global locations of The Wizarding World of Harry Potter, Warner Bros. World Abu Dhabi, WB Movie World Australia, and countless other experiences inspired by DC, Looney Tunes, Scooby, Game of Thrones, Friends and more. With best-in-class partners, WBTE allows fans around the world to physically immerse themselves inside their favorite brands and franchises.
About Wizarding World
In the years since Harry Potter was whisked from King's Cross Station onto Platform nine and three quarters, his incredible adventures have left a unique and lasting mark on popular culture. Eight blockbuster Harry Potter films based on the original stories by J.K. Rowling have brought the magical stories to life and today, the Wizarding World is recognised as one of the world's best-loved brands.
Representing a vast interconnected universe, it also includes three epic Fantastic Beasts films, Harry Potter and the Cursed Child – the multi-award-winning stage-play, state-of-the-art video and mobile games from Portkey Games, innovative consumer products, thrilling live entertainment (including four theme park lands) and insightful exhibitions.

This expanding portfolio of Warner Bros. owned Wizarding World tours and retail also includes the flagship Harry Potter New York, Warner Bros. Studio Tour London – The Making of Harry Potter, Warner Bros. Studio Tour Tokyo, and the Platform 9 3⁄4 retail shops.

The Wizarding World continues to evolve to provide Harry Potter fans with fresh and exciting ways to engage. For the worldwide fan community, and for generations to come, it welcomes everyone in to explore and discover the magic for themselves.
WIZARDING WORLD and all related trademarks, characters, names, and indicia are © & ™ Warner Bros. Entertainment Inc. Publishing Rights © JKR. (s22)