Internationally-renowned artist Dale Chihuly recently visited the ROM
CHIHULY to be displayed at the Museum from June 25, 2016 to January 2, 2017
Exhibition will feature breathtaking works of art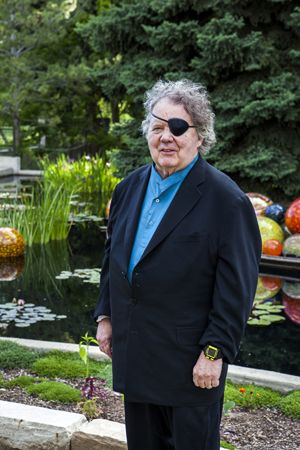 (TORONTO, November 5, 2015) — The Royal Ontario Museum (ROM) announced today an exhibition featuring the extraordinary work of Dale Chihuly. On display from June 25, 2016 to January 2, 2017, CHIHULY will include several astonishingly colourful and dramatic works of art. Acclaimed for his site-specific installations, the Seattle-based artist was in Toronto recently, touring the Museum in preparation for the upcoming exhibition.
"I'm pleased to be able to bring an exhibition of my work to the ROM," said Dale Chihuly. "Having been on-site at the museum, I'm really looking forward to presenting my work in this uniquely designed space."
Chihuly has explored the potential of blown glass for over 50 years and his massive installations defy the apparent fragility of the material, astonishing and inspiring his audiences. CHIHULY at the ROM will be an immersive, visual experience for visitors of all ages. CHIHULY will be displayed in the Museum's Garfield Weston Exhibition Hall. Tickets are expected to go on sale in January 2016.
About Chihuly:
Chihuly is credited with revolutionizing the Studio Glass movement and elevating the perception of the glass medium from the realm of craft to fine art. He is renowned for his ambitious architectural installations around the world, in historic cities, museums and gardens. Chihuly's work is included in more than 225 museum collections worldwide including the Metropolitan Museum of Art, the Smithsonian American Art Museum and the Corning Museum of Glass. Major exhibitions include Chihuly Over Venice (1995-96), Chihuly in the Light of Jerusalem (1999), Garden Cycle (2001–present), de Young Museum in San Francisco (2008), the Museum of Fine Arts, Boston (2011), Virginia Museum of Fine Arts, Richmond (2012) and the Montreal Museum of Fine Arts, Montreal (2013).Chihuly Garden and Glass opened at Seattle Center in 2012.
- 30 -
This Exhibition is organized by the Royal Ontario Museum in co-operation with Chihuly Studio.
Supporting Sponsor


ROM Media Contact
Marilynne Friedman, Senior Publicist
marilynf@rom.on.ca
416.586.5826
ROM Social Media
Like: ROM Facebook
Follow: @ROMtoronto #Chihuly
ROM Instagram
Watch: ROM YouTube