On display at the ROM from June 25, 2016
Exhibition features world renowned artist Dale Chihuly's spectacular art
ROM visitors will enjoy this colourful, visual, and immersive experience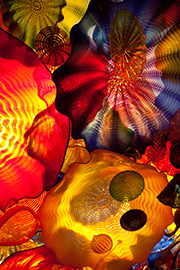 TORONTO, June 24 2016 — The Royal Ontario Museum (ROM) is proud to present CHIHULY, featuring the dramatically colourful creations in glass by internationally acclaimed artist Dale Chihuly. On display from June 25, 2016 to January 2, 2017 in the Museum's Garfield Weston Exhibition Hall, CHIHULY includes installations created especially for the ROM's exhibition, in addition to series favourites.
Dale Chihuly has been exploring glass as a medium and creating striking installations for 50 years.His monumental works defy his material's fragitilty. Chihuly's pieces bring together a centuries-old team approach to glass-blowing with his unique artistic vision - resulting in ground-breaking artworks. Chihuly said, "I want people to be overwhelmed with light and colour in a way they've never experienced before."
"CHIHULY is a mesmerizing exhibition highlighting the monumental works of this singular artist. His stunning installations transform the ROM—encouraging us to think differently about both art and nature," said Josh Basseches, ROM Director and CEO.
Diane Charbonneau, Curator of Modern and Contemporary Decorative Arts at the Montreal Museum of Fine Art, is the guest curator of CHIHULY at the ROM. She commented, "With Nathalie Bondil, MMFA director and chief curator, we are pleased to have helped this initiative from the very beginning with the ROM, our great partner. A key figure in the realm of studio glass, Dale Chihuly executes works that reveal a fertile imagination expressed through an extensive vocabulary borrowing freely from nature, his main source of inspiration. His wondrous pieces are the result of a perceptive exploration of colour, form, light, and space. To experience Chihuly's installation works is a must!"
Exhibition
Dale Chihuly is renowned for his site-specific installations. CHIHULY features 11 immersive installations; some newly created for the ROM's exhibition. These include:
Lime Crystal Tower, standing over 14 feet high, greets visitors in the entrance of the ROM. Its 118 crystals are made of solid Polyvitro, a term for a type of plastic coined by Chihuly, and a material that transmits light and colour very much like glass. However, at 3,000 pounds, this transparent work weighs much less than if created in glass.
Boats: Two weathered boats, Ikebana Boat and Float Boat are presented on a black Plexiglas surface. Chihuly first filled boats with his glass pieces in Nuutajärvi, Finland in June 1995 during the Chihuly over Venice project. At one point, Chihuly began tossing glass elements into the river, allowing them to float downstream. As local teenagers in small wooden rowboats gathered them, the artist recognised the opportunity for a new installation.
Laguna Torcello creates an intricate garden of glass. Introduced in 2012, this is part of Chihuly's long-standing series, Mille Fiori ("thousand flowers" in Italian). Visitors can stroll around this garden, taking in an outstanding range of Chihuly's forms. The installation's name references a lagoon island in Venice, Italy, the artist's favourite place in the world, and pays respect to that city's glass-makers.
Jerusalem Cylinders are bold and dramatic. Taking preformed glass elements in the shape of sharp-edged crystals, Chihuly fuses them onto cylindrical vessels. Part of a series launched in 1999 when Chihuly was preparing an exhibition in Jerusalem, the crystals evoke the massive stones making up the walls of the ancient city's Citadel.
Sapphire Neon Tumbleweeds: Chihuly has created neon sculptures throughout his career. Neon Tumbleweeds were first exhibited in 1993 as part of a larger neon and ice exhibition in Tacoma, Washington.
Red Reeds on Logs are presented atop a cascading composition of Ontario-sourced white birch logs. First created in 1995, this series is brilliant on many levels but especially for Chihuly's use of materials giving strong contrasts between colours, densities, and textures. Incredibly, some of the reeds reach three metres long, his glassblowers achieving this by pulling the hot molten glass downwards from a mechanical lift.
.Persian Ceiling stands as one of Chihuly's most popular and enduring works. Brightly coloured Persians dominate, arranged in layers over plate glass, while many of the artist's hallmark elements also appear in this installation. Subtle lighting ensures the ceiling creates a colourful kaleidoscopic effect.
Fire Orange Baskets: Impressed by a presentation of Northwest Coast Indian baskets in the Washington State Historical Society in Tacoma, Chihuly sought to replicate the effects of weight, gravity, and time and started the Basket series in 1977. With this site-specific grouping, Chihuly continues to push scale with his artworks. These Baskets are among the largest he's created.
Icicle Chandeliers and Towers display two forms that complement each other like cave stalagmites and stalactites. Chihuly began his Chandeliers series in 1992, achieving great massing of colour by taking hundreds of pieces of blown glass, assembling them around sturdy steel frameworks, and lighting them from external sources. His Towers followed soon after as an upside-down version. The exhibition's installation comprises two chandeliers and two towers. The artist, choosing icicles as a unifying theme, has created a wholly new triple tower.
Persian Trellis, created specifically for the ROM, features Chihuly's Persians. From their 1986 origins, the making of these forms involves blowing glass to produce a herringbone pattern. Striking arrangements of them can be mounted anywhere—including on ceilings, in wall displays, on chandeliers or, in this instance, mounted on a large wooden trellis framework, allowing visitors to walk through to enjoy the artwork from a number of angles.
The Northwest Room presents selections from Chihuly's early experiments in the Baskets series.It is augmented by a sampling of the artist's personal collection of Northwest Coast Indian baskets, American Indian trade blankets, and Edward S. Curtis photogravures.
Admission to CHIHULY is timed ticketed: Members: FREE; Adults: $29.00; Seniors/Students: $26.50; and Children (4-14 years): $21.00. Tickets are now on sale.
Visitors of all ages can enhance their exhibition experience with outstanding programming offered throughout the ROM's presentation of CHIHULY. Visit rom.on.ca/chihuly for details.
About Dale Chihuly
Dale Chihuly, an American sculptor, has mastered the alluring, translucent, and transparent qualities of ice, water, glass and neon, to create works of art that transform the viewer experience. He is globally renowned for his ambitious site-specific architectural installations in public spaces, and in exhibitions presented in more than 250 museums and gardens worldwide. Major exhibitions include Chihuly Over Venice (1995-96), Chihuly in the Light of Jerusalem (1999), Garden Cycle (2001–present), de Young Museum in San Francisco (2008), the Museum of Fine Arts, Boston (2011), Virginia Museum of Fine Arts, Richmond (2012), and the Montreal Museum of Fine Arts, Montreal (2013.) Chihuly Garden and Glass opened at Seattle Center in 2012.
- 30 -
This exhibition is organized by the ROM in cooperation with Dale Chihuly. The work displayed is protected by copyright and any copying is expressly prohibited.
The artist permits and encourages photography of the artwork in this exhibition for educational and non-commercial uses only.
This exhibition has been financially assisted by the Ontario Cultural Attractions Fund, a program of the Government of Ontario through the Ministry of Tourism, Culture and Sport, administered by the Ontario Cultural Attractions Fund Corporation.

CONTACT
Marilynne Friedman, Senior Publicist
416.586.5826
ROM SOCIAL MEDIA
IMAGE CREDIT
Dale Chihuly
Persian Ceiling (detail), 1999
Chihuly Garden and Glass, Seattle, installed 2012.
© 1999 Chihuly Studio. All rights reserved.