Celebrate Black History Month with Carnival at the ROM
Includes Family Day Programming and
Exploring the Cultural Identity of Mas Symposium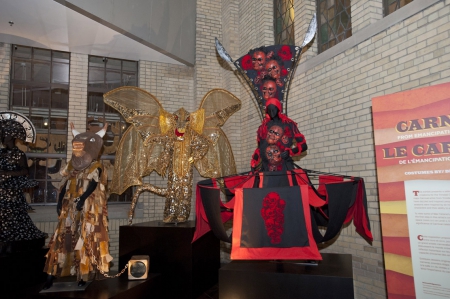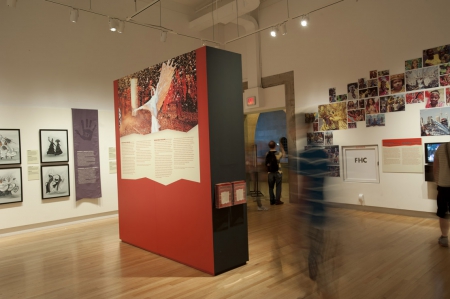 (Toronto, Ontario – January 29, 2013) The Royal Ontario Museum (ROM) celebrates Black History Month 2013 with programming to mark the closing of the Carnival: From Emancipation to Celebration exhibition. The exhibition, which features the work of internationally renowned masquerade designer Brian Mac Farlane, along with photographs of Scotiabank Toronto Caribbean Carnival, has been on display since July 2012 and closes February 24, 2013.
Visitors of all ages will enjoy special programming on Family Day Long Weekend, February 16 to 18 and at the two day Carnival Symposium February 23rd and 24. Carnival: From Emancipation to Celebration, the ROM's sixth consecutive exhibition presented in partnership with the Scotiabank Toronto Caribbean Carnival, is the Museum's longest Carnival exhibition to date.
"We are delighted to celebrate Black History Month at the ROM with the communities of Toronto and share this exciting and innovative extended programming that captures the diversity of Carnival from both a local and global perspective", said Janet Carding, ROM Director and CEO.
Carnival at the ROM takes place this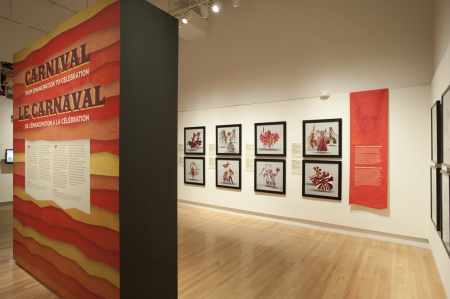 Family Day Long Weekend, offering a last chance to experience Carnival – a journey through Mac Farlane's stunning carnival costume creations. Full of dazzling colour and vibrant displays, ROM visitors are invited to take part in drumming performances and workshops, face painting, mask making and storytelling. This includes Sandra Whiting sharing the rich oral traditions, mythology and folklore of West Africa and the Caribbean, and Carnival Revolution, who are joining us for workshops on how to create carnival headpieces. The public will also be able to take part in creating a competitive Carnival King costume. Carnival at the ROM is taking place throughout the Museum from Saturday, February 16 to Monday, February 18 from 11 am to 4 pm. All programming is included with ROM general admission.
Black History Month continues at the ROM the following weekend with the Carnival Symposium.
Day One
Exploring the Cultural Identity of Mas begins at 10 am with experts giving short presentations on the history and cultural significance of Carnival. Denise Herrera Jackson, Chief Executive Officer, Festival Management Committee is the moderator of a discussion which features local and international Carnival experts including:
Gena Chang Campbell, York University - We Playing Mas? Power and Identity in Carnival
Amanda Carlson, University of Hartford- Calabar Carnival: A Trinidadian Tradition in Africa
Osei Brand, band leader - Home for Carnival: The Adoption and Evolution of Carnival
Direct from Trinidad and Tobago and annual national Carnival celebrations, the day closes with a keynote address by Brian Mac Farlane.
Day Two
Join us for the screening of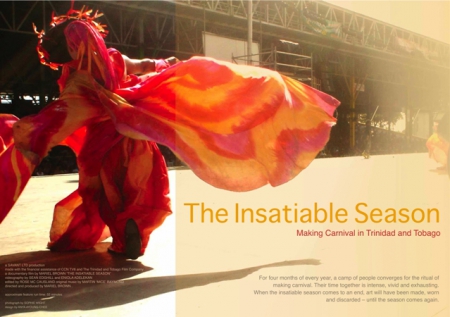 Mariel Brown's 2007 documentary The Insatiable Season followed by a discussion with the Mas Man himself, Brian Mac Farlane. The Insatiable Season is a fun and intimate look at the creations, crises and passion of the Mac Farlane camp as they produce a beautiful costumes band for Trinidad's Carnival. Journalist Herman Silochan is the moderator.
The Carnival Symposium is included with ROM general admission. RSVP is required.
Be sure to make time for c5 and Food Studio throughout February where you can indulge in delicious Carnival inspired menu offerings. In c5, don't miss
Bean & Rice Soup with Spiced Kale Chips, or Braised Oxtail with Lentils & Potatoes; at Food Studio save room for Blackened Whitefish served with Pigeon Peas & Rice and Sweet Plantain Loaf with Coconut Buttercream and other specially selected items made with the freshest organic and seasonal ingredients. For a keepsake of your day, stop by the ROM Museum Store for the Carnival companion book and other unique gifts.
For more information on this programming, a full list of speakers and to purchase tickets, visit http://rom.on.ca/en/activities-programs/events-calendar/carnival-symposium-day-1
About Brian Mac Farlane:
Trinidadian-born Mac Farlane, a legend of local costume craft and an internationally respected artist, recently designed 2,500 costumes for the 2012 Summer Olympic Games in London, England. Mac Farlane is a record-holding six time Trinidad and Tobago carnival costume champion since starting to design Carnival costumes in 1984. His work is visionary and thoughtful, deeply engaged with history, politics, social, and environmental issues. Many consider Mac Farlane's "Mas" work as the ultimate representation of the valour, vibrance, vigour, and vitality of Carnival. In the last two decades, Mac Farlane has won countless awards and accolades for his awe-inspiring designs. His work has also been recognized by the United Nations for its environmental and critical content.
- 30 -
The Royal Ontario Museum is an agency of the Government of Ontario. Opened in 1914, Canada's largest museum of natural history and world cultures has six million objects in its collections and galleries showcasing art, archaeology and natural science. For 24-hour information in English and French, please call 416.586.8000 or visit the ROM's web site at
www.rom.on.ca. Tickets to the ROM are available online at www.rom.on.ca.