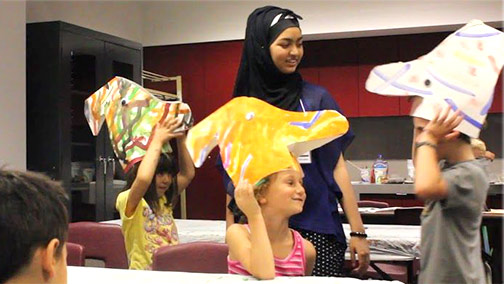 ROMKids and Family Programs uses hands-on learning to highlight our amazing collection and cutting-edge research, takes a multi-disciplinary approach to programming, and works to connect children and their families to the exciting life-long learning available through our camps and public programming. Our programs seek enthusiastic, dedicated volunteers who love sharing the ROM with children and families.
Our volunteers help prepare materials, facilitate children's activities, provide excellent service, and escort children. Through this experience volunteers are exposed to many subject areas and experts, allowing them to learn about the various careers available in a museum.
During the 2013/2014 programming season, our 327 volunteers contributed over 28,000 hours! Check out what our volunteers have to say about their experience with ROMKids HERE. Interested in joining our team? See below!
Upcoming Opportunities
If you are responsible, enthusiastic and enjoy working with children, then we want you for March Break!
March Break Galleries: March 14 to 22
March Break Galleries (MBG) is based on the Museum's exhibits and collections. MBG will feature crafts, scavenger hunts, special shows and other fun activities. Volunteers will be stationed throughout the museum, working with other museum staff, interacting with visitors, and assisting with a variety of hands-on activities
Download the March Break Galleries Application HERE.
March Break Camp: March 16 to 20
One of the city's most creative and diverse March Break Camps (MBC), we offer an exciting array of fun, activity-based programs inspired by the collections and research of a world-class museum. The ROM's fascinating galleries, authentic artifacts and outstanding professional staff guarantee that your camp experience will be hard to beat.
Download the March Break Camp Application HERE.
How do I Apply?
Simply fill out the above form and return it by mail, e-mail or in person no later than 5:00 PM on Tuesday, March 3rd, 2015. Forms received after this date will not be processed and you will not be eligible to volunteer for the session. To provide everyone with a clear idea of how March Break Galleries works and what the role of a volunteer is, we are holding an orientation/information session on Saturday, March 7th, from 1:30 PM – 5:00 PM. Attendance is mandatory. Only those who attend orientation will be considered for a position. Meet at the Staff Entrance on the south side of the Museum no earlier than 1:15 PM (between the ROM and the Planetarium).
More Information
Summer Club Applications go out in late April. Check back then or email studio@rom.on.ca to be added to mailing list.
Email: studio@rom.on.ca
Phone: 416 586 8043
Email us to join our mailing list and get the latest updates on our volunteering opportunities!
For more information on our programs, click HERE!
Follow us on twitter @ROMKids and on tumblr at romkids.tumblr.com!
ROMKids volunteer positions are ideal for high school and post secondary students, as well as those interested in a museum, history, science or education based career.