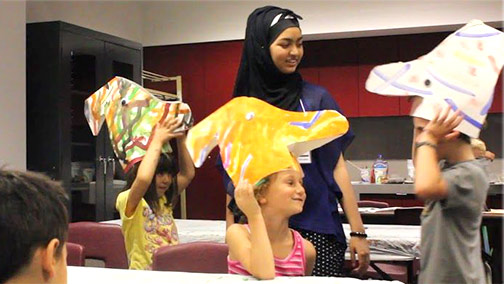 ROMKids and Family Programs uses hands-on learning to highlight our amazing collection and cutting-edge research, takes a multi-disciplinary approach to programming, and works to connect children and their families to the exciting life-long learning available through our camps and public programming. Our programs seek enthusiastic, dedicated volunteers who love sharing the ROM with children and families.
Our volunteers help prepare materials, facilitate children's activities, provide excellent service, and escort children. Through this experience volunteers are exposed to many subject areas and experts, allowing them to learn about the various careers available in a museum.
During the 2013/2014 programming season, our 327 volunteers contributed over 28,000 hours! Check out what our volunteers have to say about their experience with ROMKids HERE. Interested in joining our team? See below!
Upcoming Opportunities
Click the links below for applications and more information on ROM Camp and ROMKids Galleries.
Please note that applications for ROM for the Holidays 2014/2015 will go out in early November. Applications for March Break will go out in early February. Check back then or email studio@rom.on.ca to be added to mailing list.
More Information
Email: studio@rom.on.ca
Phone: 416 586 8043
Email us to join our mailing list and get the latest updates on our volunteering opportunities!
For more information on our programs, click HERE!
Follow us on twitter @ROMKids and on tumblr at romkids.tumblr.com!
ROMKids volunteer positions are ideal for high school and post secondary students, as well as those interested in a museum, history, science or education based career.