FREE
Zoom program. RSVP Required.
Curator Conversations
Beyond the Western Gaze: Reclaiming Identities in the Art of Sama Alshaibi
Tuesday, October 3, 2023, 12:00 pm to 1:00 pm EDT
How did 19th- and early 20th-century European and North American depictions of the Middle East and North Africa influence Western perceptions of the Islamic world and especially of women from the region? In this digital Curator Conversation, Fahmida Suleman and Mohamad Tavakoli-Targhi chat with Iraqi-Palestinian artist Sama Alshaibi about her photographic works and how the artist explores this theme by using traditional printing processes from the colonial era.
Program Partner:


Speakers:
Sama Alshaibi
Sama Alshaibi (b. 1973, Iraq) is an artist working between photography, video and installation. Her practice explores the notion of aftermath—the fragmentation and dispossession that violates the individual and a community following the destruction of their social, natural, and built environment. In her work, she often complicates the coding of the Arab female figure found in the image history of photographs and moving images. In 2021, Alshaibi was named a Guggenheim Fellow and the recipient of the Phoenix Art Museum's Arlene and Morton Scult Artist Award. Her work has been exhibited in numerous biennales and museums, including the 55th Venice Biennale, the 2020 State of the Art (Crystal Bridges Museum of Art), Museum of Modern Art (NYC), Institut Du Monde Arabe (Paris) and Barjeel Foundation (U.A.E.), among others. In 2015, Aperture published her monograph Sama Alshaibi: Sand Rushes In, featuring the artist's Silsila series. Alshaibi is a Regents Professor of Art at University of Arizona, USA.
Fahmida Suleman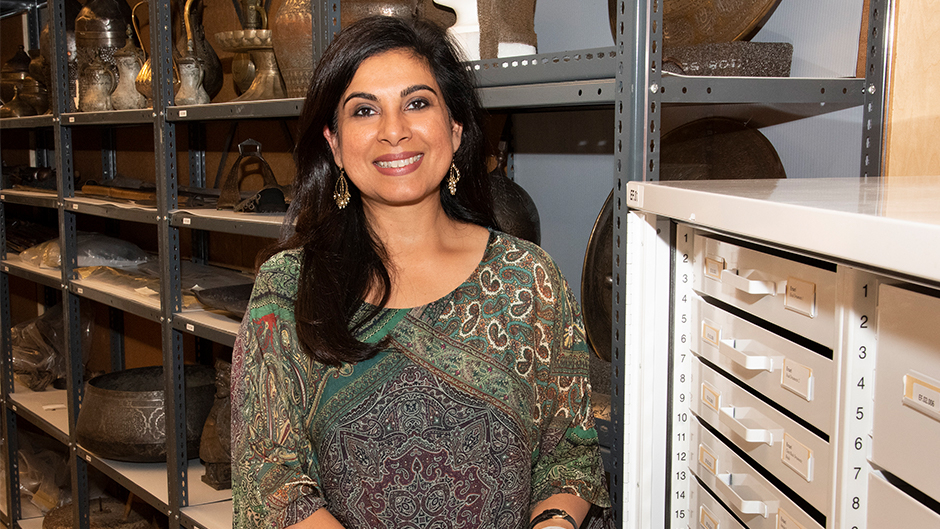 Fahmida Suleman is Curator of the Islamic World collection at ROM, and lead curator of the exhibition Being and Belonging. She recently curated the ROM-original exhibition Unmasking the Pandemic: From Personal Protection to Personal Expression (2021). Formerly the Phyllis Bishop Curator for the Modern Middle East at the British Museum, her publications include Textiles of the Middle East and Central Asia: The Fabric of Life (2017), and most recently the companion volume to Being and Belonging: Contemporary Women Artists from the Islamic World and Beyond (2023).
Mohamad Tavakoli-Targhi is the Inaugural Director of the Elahé Omidyar Mir-Djalali Institute of Iranian Studies and Professor of Historical Studies, History, and Near and Middle Eastern Civilizations at the University of Toronto. 
This Zoom program will feature a 20-minute conversation with the speakers, followed by a live audience Q&A. Questions may be sent in advance to programs@rom.on.ca.
Please indicate the "Curator Conversations October 3, 2023, Q&A" in the subject line.
All registrants will be emailed a link to access the program 24 to 48 hours in advance.
Reserve Tickets
All sales are final. Order is non-refundable
Date & Time
Tuesday, October 3, 2023 12:00pm EDT