FREE
Zoom program. RSVP Required.
Curator Conversations
Aquatic Supervillains of the Great Lakes
Tuesday, August 16, 2022, 12:00 pm to 1:00 pm EDT
Explore local invasive species and the current and upcoming threats they pose to Ontario's freshwater ecosystems with Department of Fisheries and Oceans Senior Aquatic Biologist David Marson and ROM's Nathan Lujan.
Hear why and how these species have the potential to irreparably damage Ontario's rivers and lakes, and what scientists, government bodies, and ordinary citizens can do to prevent it.
ROM's latest edition of A Field Guide to Freshwater Fishes of Ontario is now available for sale. Shop online at ROM Boutique. Email shoprom@rom.on.ca for more details.
About the Book:
A Field Guide to Freshwater Fishes of Ontario is the definitive guide to Ontario freshwater fishes. A beautiful and accessible full-colour field guide to all species of freshwater fish found in Ontario, this popular book has been revised and republished as a new edition. Containing more than 600 photographs, the book features new and revised species accounts, more than 150 new images and illustrations, as well as updated names, identification keys, range maps, and conservation statuses. Contributing authors: Erling Holm, Mary E. Burridge, Dr. Nicolas E. Mandrak.
ROM Field Guides
ROM Field Guides connect readers with nature and wildlife across the province of Ontario. Beautiful pocketbooks packed with information on the biology, habitat, and conservation of the featured species, each guide provides quick and easy access to trusted information for amateur and professional naturalists alike. Lavishly illustrated with hundreds of colour photographs and distribution range maps, they are the definitive guides to the diversity of life found in Ontario. A Field Guide to Freshwater Fishes of Ontario is one in a series of ROM Field Guides, which include A Field Guide to Butterflies of Ontario, the forthcoming A Field Guide to Trees of Ontario (December 2022) and an updated A Field Guide to Birds of Ontario (2024).
Speakers:
David Marson
David Marson started working with Fisheries and Oceans Canada in 2002 and has worked as both a fisheries technician and biologist during that time. His initial focus was on fish species at risk, but has now shifted the focus of his work to invasive fishes. As the field operations lead for the organization's Asian Carp Program, David supervises a group of biologists, technicians and students in Asian Carp early detection surveillance efforts in the Canadian waters of the Great Lakes basin.
Dr. Nathan K. Lujan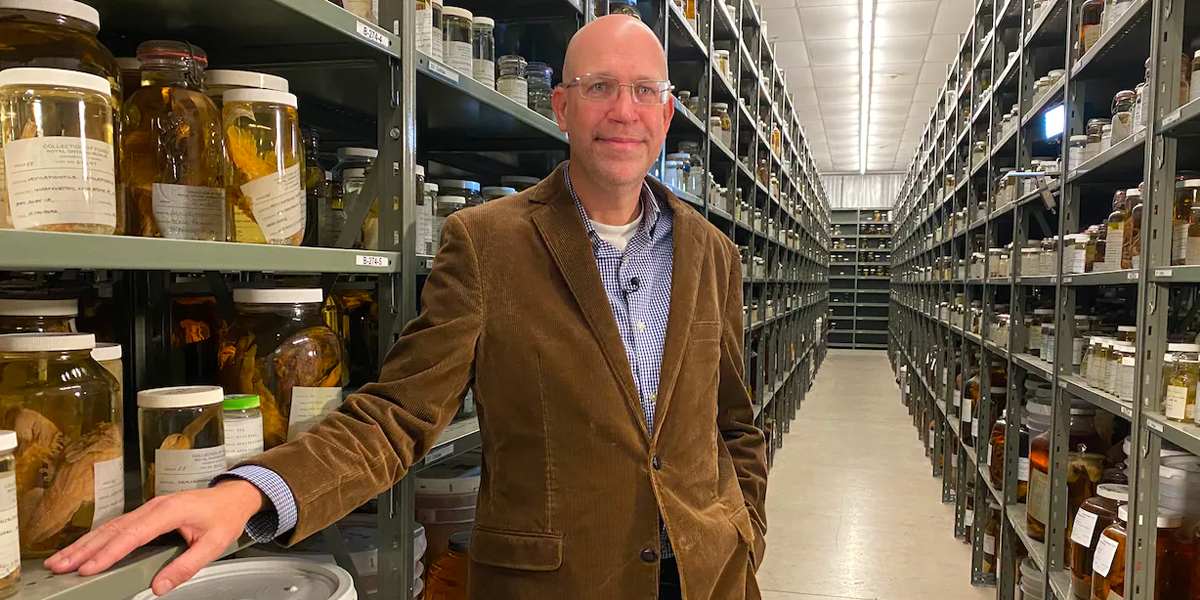 Dr. Nathan K. Lujan is the Associate Curator of Fishes at ROM and Assistant Professor in the Department of Ecology and Evolutionary Biology at the University of Toronto. Internationally recognized as an expert on ecology and evolution of the Amazon basin (the most biodiverse freshwater ecosystem on Earth), Nathan has led over 20 biodiversity inventories of remote river basins of Bolivia, Brazil, Colombia, Ecuador, Guyana, Peru, and Venezuela, and has discovered and described over 30 new fish species.
Nathan's research is motivated by the urgent need to catalog, conserve, and comprehend freshwater biodiversity in the face of pervasive environmental impacts on lakes, rivers, and streams. In Canada, he has collaborated with the Department of Fisheries and Oceans to map the genomic population structure of at-risk aquatic species, understand the effectiveness of Niagara Falls as a barrier to fish dispersal, and develop molecular tools for the early detection of invasive species.
Nathan has published over 50 peer-reviewed papers and book chapters, as well as New York Times editorials and popular articles. His research has been supported by the US National Science Foundation, the National Geographic Society, the Explorers Club, the American Museum of Natural History, and the Coypu Foundation.

This Zoom program will feature a 20-minute conversation with the speakers, followed by a live audience Q&A. Questions may be sent in advance to programs@rom.on.ca..
Please indicate the "Curator Conversations August 16, 2022, Q&A" in the subject line.
All registrants will be emailed a link to access the program 24 to 48 hours in advance.
Reserve Tickets
All sales are final. Order is non-refundable
Date & Time
Tuesday, August 16, 2022, 12:00 pm - 1:00 pm EDT