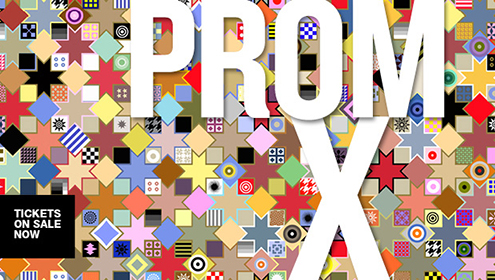 Join hundreds of Young Patrons Circle (YPC) members and guests for the 10th PROM at the ROM. PROM X is inspired by the work of Douglas Coupland.
Enjoy an unforgettable night of live entertainment and dancing, electric activities, gourmet fare and singular lounge areas. Experience a pop explosion party and pay homage to one of Canada's most celebrated contemporary artists, writers and thinkers.
Saturday, March 28, 2015
Royal Ontario Museum | 100 Queen's Park
Main Entrance, Michael Lee-Chin Crystal
PARTY 9 PM TO 1 AM
Cocktails, food, interactive activities and live performances.
Party Ticket $150 | YPC Member $125
PROM tickets will be available at the door for $175.
VIP EXPERIENCE 8 PM
An exclusive pre-party cocktail reception in c5 Restaurant Lounge with an opportunity to meet Douglas Coupland and receive a signed Polaroid picture of you taken by the artist. Includes access to exhibition, VIP lounge at party, private registration and coat check.
VIP $350 | YPC Member $300
TICKETS
To purchase a VIP Package, please call 416.586.5772. Partial tax receipts will be issued in the maximum allowable amount per Canada Revenue Agency guidelines.
ATTIRE
Curate an artistic ensemble that screams avant-garde, experimental and playful. Rock neon colours or celebrate contemporary Canadiana.
YPC provides museum enthusiasts with unique educational, cultural and networking opportunities at the ROM. Members enjoy behind-the-scenes experiences and exclusive access to exhibitions, galleries, curators, vaults and private collections across North America. To join or learn more about YPC, call 416.586.8003 or visit @YPCROM.
Contact
PROM X Ambassadors
Shimima Adam, Jonathan Alderson, Leen Al Zaibak, Simona Cara, Prerna Chandak, Chris Charron, Edmund Chien, Francisco de la Barrera, Hillary Connolly, Renae Farough, John Gomatos, Chris Issariotis, Bo Koch, Ruby Latif, Chris Le Pan, Fiona Lim Tung, Michael Lockhart, Courtney MacNeil, Sean Marsland, Shane McDowell, Adriana Morrison, Milan Panic, King Siu, and Claude Tambu
Artwork by Douglas Coupland, Aubusson, 2010-2013. Wallpaper, Courtesy the artist.