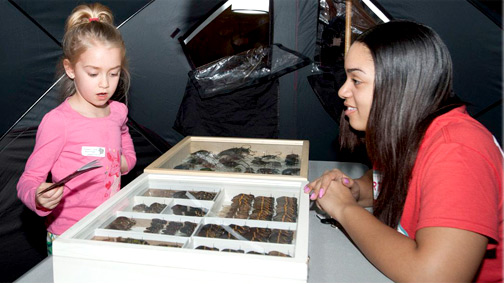 Who Can Volunteer
We believe everyone has different skills and experiences to bring to the ROM, and hope to welcome you all. We will make every effort to find a volunteer role that fits your unique lifestyle and matches your skills and availability. Please note that this process may take time, as we might not immediately have a placement that fits your needs.
The majority of our opportunities require volunteers be at least 18 years old. However, there are limited opportunities through ROMkids for young adults between the ages of 14 to 17.
A few volunteer areas require museum membership and a donation while some roles involve working with children or vulnerable populations. Please be aware we reserve the right to require a background check to ensure a safe learning environment.
How Can I Become A Volunteer?
If you are interested in volunteering with us, we would love to hear from you. Please check out our volunteer opportunities and contact us by online application or e-mail at info@rom.on.ca.
We will then determine if there is a suitable placement for you and will inform you of the next steps to take in your volunteering journey.
We greatly appreciate your interest and hope to find a fantastic volunteering opportunity that fits your unique skills and interests. However, if we are unable to find a placement for you, we wish you the best of luck in your future endeavors and would be delighted to provide additional feedback.