David C. Evans
Curator, Vertebrate Palaeontology
B.Sc., Integrated Sciences Program, University of British Columbia, 2003
Ph.D., Ecology and Evolutionary Biology, University of Toronto, 2007
Dr. David Evans is Associate Curator of Vertebrate Palaeontology, and he oversees dinosaur research at the ROM. He is also a cross-appointed Assistant Professor in the Department of Ecology and Evolutionary Biology at the University of Toronto.
David first laid eyes on dinosaur skeletons in the galleries of the ROM and has been interested in palaeontology and evolution ever since.
David's work has led to publications on systematics and evolution of dinosaurs, functional morphology, and phylogenetic methods and theory.
His research program at the ROM focuses on the evolution, historical biogeography, and palaeobiology of plant-eating dinosaurs and their role in Late Cretaceous terrestrial ecosystems. His aim is to clarify the evolutionary relationships and diversity of hadrosaurid and pachycephalosaurid dinosaurs, and to evaluate patterns of dinosaur evolution and biogeography as they relate to environmental changes leading up to the end Cretaceous extinction event.
Because new fossil discoveries have the potential to drastically change our perception of the history of life, Dr. Evans is also active in the field, searching for and collecting dinosaurs and other vertebrate fossils. Current projects include fieldwork in southern Alberta, the Canadian Arctic, Mongolia, and South Africa.
David is also known for "rediscovering" the skeleton of a huge long-necked Barosaurus within the ROM's own collections, which is now the centrepiece of the Museum's James and Louise Temerty Gallery of the Age of Dinosaurs.
Visit Evans Lab online
Follow @davide_rom on twitter
---
Matthew Vavrek
Contract Curator, Palaeontology
PhD, Palaeontology, McGill University, 2011
BSc, Palaeontology, University of Alberta, 2004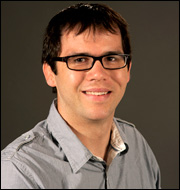 Matthew's research interests revolve around large-scale ecological patterns in the fossil record and the processes that can create them. This involves projects on species diversity in dinosaurs, latitudinal diversity gradients in plants, and species turnover in small fossil vertebrates. Much of his research involves fossils from northern Canada, as the Arctic holds a record of some of the biggest changes in climate and biodiversity. Matthew's field work has taken him across the world, from Canada to Lebanon and Panama. He currently spends much of his time in the field in northern Canada, including the Yukon, Nunavut and the Northwest Territories, digging up the dinosaurs and ancient forests that once lived above the Arctic Circle.