We're More Ancient than We Think
We're More Ancient than We Think: An afternoon with April Hawkins, New World Archaeology Collection Technician.
They stand at attention, arranged in rows, mute and stationary. Each face is a cartoonish riot captured mid-contortion and yet so still as to appear serene. Even in this fluorescent lighting they seem warm, as if they have the power to transform all available light into a warm amber glow.
These stoic characters are Peruvian human effigy statues, actually symbolic vessels constructed by master potters, and ancient—some of them 2,000 years old. The smell of this clean windowless room on the fourth floor of the ROM's Curatorial Centre is comforting and so common it's difficult to comprehend that I am looking at millennia-old artifacts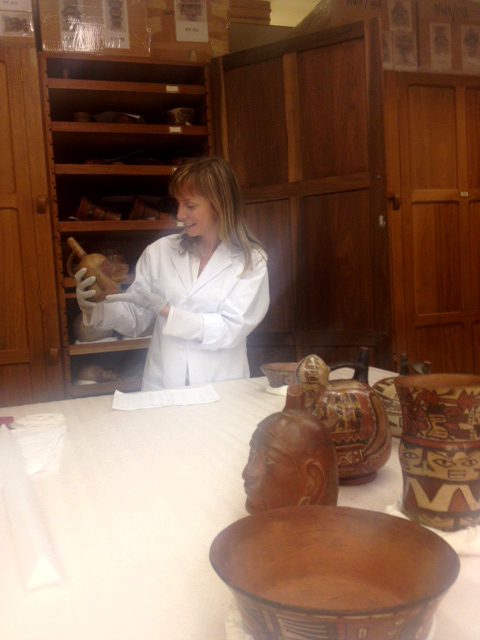 I'm standing in the New World Archaeology collection area of the ROM with technician April Hawkins as she shows me around her "office." It's a beauty. Floor-to-ceiling cabinets each filled with perfectly clean and painstakingly arranged artifacts from civilizations across the western hemisphere. In an hour with her I have toured from Oaxaca to Ontario, followed the fur trade route down the French River, and been privileged enough to see the collection's most recent acquisitions.
"This is where the real beauty is, it's hidden in these cabinets. It's just astounding. Every single one of these objects is a miracle – and then another miracle that each found it's way here." April is enthusiastic about her work and no wonder: she is charged with the care of collections that have been with the Museum for 100 years and she wants to ensure they're around for another century and more.
New World Archaeology is a bit of a misnomer. The objects we are looking at are from some of the world's oldest known civilizations. They are what April describes as a "lost language," the physical legacy of societies that often had no written language. "These storerooms are filled with a language of objects and material culture that we are only just beginning to understand," she says. "What were these people saying?" I'm not sure how much of it is her infectious passion but I am struck by the palpable sense that these objects are somehow connecting me not just to ancient civilizations but to ancient individuals.
The artifacts we are looking at were created with the same clay, the same wood and materials, the same techniques, available to us today and they have managed to survive hundreds or thousands of years. They remain as witnesses and connecting points between civilizations that share an object-making obsession. It's that obsession that is the root of museum collections and the reason that we need people like April to care for them. "I have such a deep respect for these objects," she says with near reverence.I "It is immensely satisfying to take care of them!"
But she hasn't always been locked away in collection areas. Her career began as a "shovel bum," moving earth at archaeological digs. Shovel bums are essentially manual labourers who clear away dirt at archaeological digs for a wage. It's dirty, back-breaking, palm-blistering work that, says April, "paid better than any other job I could find as a student."
It was working on one of these digs that she suddenly felt a personal connection to deep human history. Helping to excavate an earth structure, she brushed sediment from a piece of clay when her thumb sank into it. "For a moment I thought I had damaged it," but when she looked more closely she saw that her thumb had sunk into a thumb print made by the original maker of the piece so long ago, "It could have been me building that earth lodge hundreds of years ago!"
When she says this I recognise the affinity I felt looking at those Mayan statues, that gut feeling that I could understand something of the person who made this thing. And that I might be able to understand their "language" because, like them, I live in a society obsessed with making objects.
These mute and still statues secreted away in these beautiful cabinets remind us that we are so close to the people who made them that we might be able to understand, even across thousands of years, what they meant to their makers. And maybe through that, we can understand the significance of our own objects and ultimately even the impulse to make things at all.
"We're more ancient than we think", is something April is fond of saying. Spending the afternoon with her and this incredible collection of New World artifacts I feel I understand a little more what she means.
Want to see more of our collection? Head over to www.rom.on.ca/mysteries and here we will reveal seldom-seen objects and give you the chance to win gift vouchers and tours of our collection areas.
In June 2013, Maxine Kauter, a Project Coordinator in Research and Collections at the Australian Museum and Master of Museum Studies candidate at Sydney University, joined the ROM for a one-month stint as Digital Communications intern. Follow her on Twitter @museophiliac