The Ofrenda: Stunning Mexican altar on display at the ROM this holiday season
Posted: December 26, 2015 - 10:00 , by
ROM
by Sascha Priewe and Chloë Sayer
ROM for the Holidays is the last chance to see the ofrenda made by Sergio Alejandro Hernández Martínez. This altar was built by Sergio over the course of two weeks leading up to the ROM's Day of the Dead celebrations on 30 October. Let's have another look at these celebrations. The ROM welcomed back Chloë Sayer, ROM research associate and guest curator of ¡Viva Mexico! Clothing & Culture. She presented a lecture about Mexico's Days of the Dead. But she didn't come alone. Sergio Alejandro Hernández Martínez, paper artist, and Arturo Estrada Hernández, weaver extraordinaire of rebozos, came along and demonstrated their art.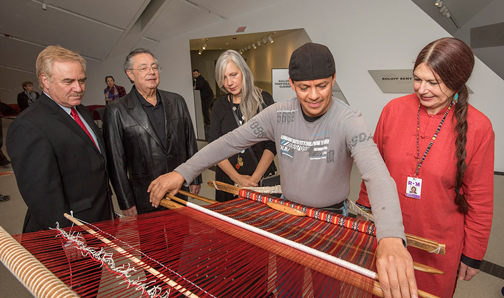 Arturo Estrada Hernández is a master dyer and backstrap weaver from Santa María del Río, San Luis Potosí. He is famous for his rebozos -- women's rectangular shawls with hand-knotted fringes. In Mexico, rebozos have come to represent femininity and to symbolize nationhood. Arturo weaves extremely fine rebozos using imported Chinese silk; threads are tie-dyed to create complex patterning in the cloth. A splendid example of his work is on view in the exhibition, and three more were added to the Museum's collections during his stay.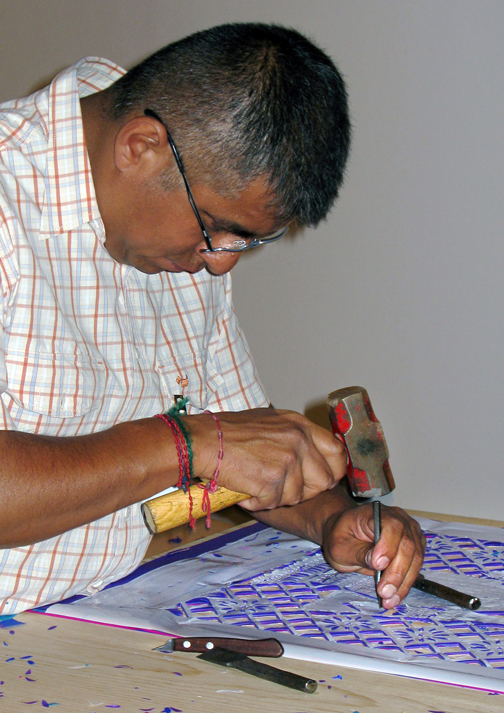 The Days of the Dead are celebrated each year on 1 and 2 November (All Saints and All Souls). Although this is around the time of Halloween, the two events should not be confused! Family and friends gather to remember deceased family members and friends. This is a more joyous occasion than the name may indicate, and involves the construction of ofrendas, or altars, dedicated to the deceased. Sergio Alejandro Hernández Martínez created magnificent paper cut-outs to grace his altar. Although it is traditional in inspiration, he built it on a much grander scale than is usual to suit the dimensions of the museum gallery with its soaring architecture.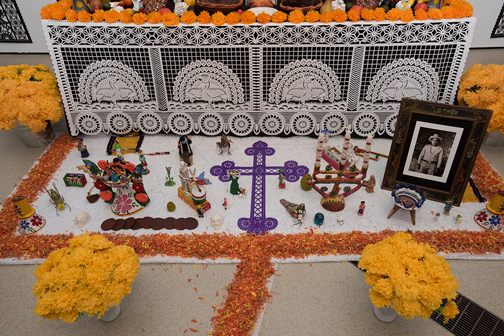 Ofrendas are lavishly decorated with a wide range of elements. These include the favourite dishes or drinks of the deceased, with perhaps a favourite toy if celebrants are commemorating the death of a child. These are usually displayed alongside images of saints, bread figures, skulls made from sugar, candles, and an abundance of brightly coloured marigolds and other flowers. Sergio has created a path of flower petals, as many families do, to guide the returning souls.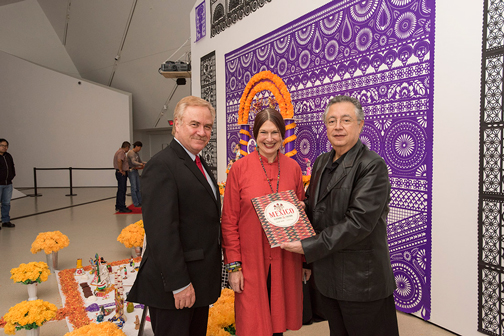 We welcomed back to the ROM the Consul General of Mexico in Toronto, Mauricio Toussaint, to meet the artists, join in our Day of the Dead celebrations and receive a copy of our newest book Mexico: Clothing & Culture, which accompanies the exhibition. The exhibition is on view until May 2016 but the ofrenda will come down after ROM for the Holidays.