Posted: December 23, 2015 - 10:37 , by
ROM
The ROM is a hotbed of Martian activity – along with our expansive collection of meteorites from Mars (out of only ~100 samples known on earth, we have pieces of 22 of them!), over the holidays we will play host to REX, a Mars rover prototype. REX (short for Robot EXplorer) is one of nine rovers developed by the Canadian Space Agency (CSA), in collaboration with over 40 Canadian companies and universities, for testing lunar and planetary vehicular tools. Thanks to the CSA, ROM visitors will have the chance to meet the six-wheeled robot.
Similar to Curiosity and Opportunity, NASA rovers presently exploring the Red Planet, REX is designed for collecting geological data and samples. Powered by rechargeable batteries and outfitted with a robotic arm, REX demonstrated its ability to successfully retrieve rock and soil samples during a 2010 joint NASA-CSA field test in Flagstaff, Arizona.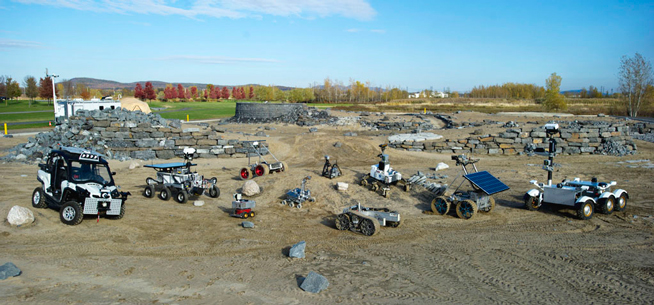 The importance of these types of simulation exercises cannot be overstated. While space technology is rapidly evolving, bringing scientists and engineers ever closer to sending humans to Mars, the fact remains that arriving at the Red Planet is no easy task. About half of all missions have failed to reach Mars in one piece. Being able to refine operational procedures and new equipment through field testing and prototyping only serves to increase the likelihood of a successful mission.
Robotic prototypes like REX play an important role in the preparation for future missions to Mars. As the Canadian Space Agency puts it, their fleet of rovers are the "grandparents of the robots that may one day explore the surface of new worlds."
Join us at the ROM over the holidays to learn more about the REX rover and Canada's contribution to space exploration.

REX factsheet:
Size (Length, width, height): 1.52 m x 1.42 m x 0.76 m
Mass: 140 kg
Speed: 0.14 km/h
Powered by: Electrical Power, rechargeable batteries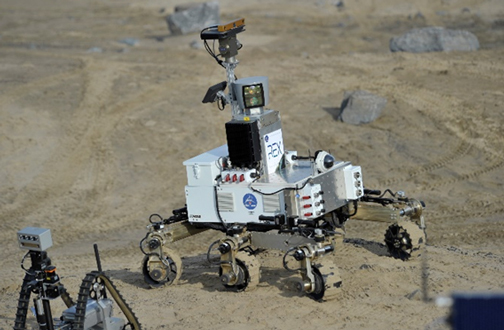 Get Your Photo Taken by REX
We've got your family portrait covered this holiday! Strike a pose for REX, a Mars rover prototype that has been outfitted with LiDAR 3D imaging technology.