Our first Google+ Hangout on Air
Posted: April 3, 2013 - 10:05 , by
ROM
Yesterday, we hosted our first Google+ Hangout on Air at Crestwood School here in Toronto. We tagged along with Burton Lim, Assistant Curator of Mammalogy, and Dave Ireland Managing Director of ROM Biodiversity, as they visited the school to talk about bats and to supervise a school program the ROM created in collaboration with our friends at Earth Rangers.
Google+ Hangouts on Air is a fairly new tool that has great promise for a whole host of projects in the museum: from behind-the-scenes tours and interviews and live chats with curatorial staff to real-time streaming of programs and events. As of April 1, 2013 there have only been two or three museums in the world that have used this tool on a regular basis. (My former professor, Deborah Howes, Director of Digital Learning at MoMA, hosted a very successful Hangout in February and MoMA is now launching a series called #ArtHang. Following Deborah's lead I wanted to bring these cutting-edge "gatherings" to the ROM.) Google+ Hangouts on Air combines the video conferencing tools of Google+ with YouTube's streaming platform. YouTube records the broadcast and automatically posts it to the host's own YouTube channel. When creating a broadcast the host is provided with an embed code that you can place on any website and share with others for use on their own blogs and websites. (I want to say thanks to our good friend Kris Abel for giving me the push to use this tool and Deborah for breaking the ground, I never would have gone through with it if it wasn't for them.)
The ROM's Google+ Hangouts on Air is a pilot program that will run throughout April, focusing on ROM Biodiversity curatorial staff. Every Tuesday and Thursday this month, we'll go behind the scenes, out into the galleries or the community to talk with curators and technicians about their research, their collections and why they do what they do. Our aim is to put a human face on the museum and have more conversations with our community, LIVE. We'll talk about Mammalogy, Mycology, Herpetology, Ichthyology, Entomology and more! You can find the schedule here.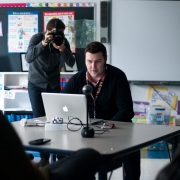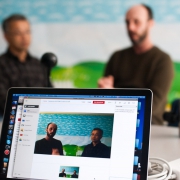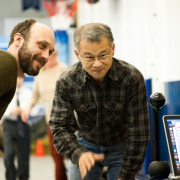 All photos by Brennan Caverhill
So, now for a recap on yesterday's hangout. I'm going to be fair and give it 2 out of 5 stars. The reason for this low score is because we were offsite at a school so I had to use a mobile internet stick and we had some connectivity issues during the hangout. Using the stick also created some lag-time between the video and audio and the picture was choppy at times. We also found out that the best browser to view these hangouts is Google's Chrome (no surprise there). Another challenge arose when we moved the hangout to a gymnasium full of school children during the middle of the hangout. It was great to see a live educational program that the museum helped create but the audio quality in the gym was not the greatest. It was difficult to hear the students' questions for Burton and there was a bit of an echo through this portion of the hangout. Other than those technical issues we felt the hangout was a great way to showcase our staff and highlight the stunning range of things the people at the Museum do, beyond designing exhibits and doing research.
Tomorrow we will host our second hangout with Jean-Marc Moncalvo and Simona Margaritescu in the Earth Rangers studio at Noon EST. I expect connectivity issues will be non-existent and we will have a controlled environment for video and audio. We hope you'll tune in, you can watch the hangout live on our YouTube channel or join the hangout on our Google+ page. We will also display the hangout on the ROM Biodiversity page.
Ryan
@wrdodger