National Philanthropy Day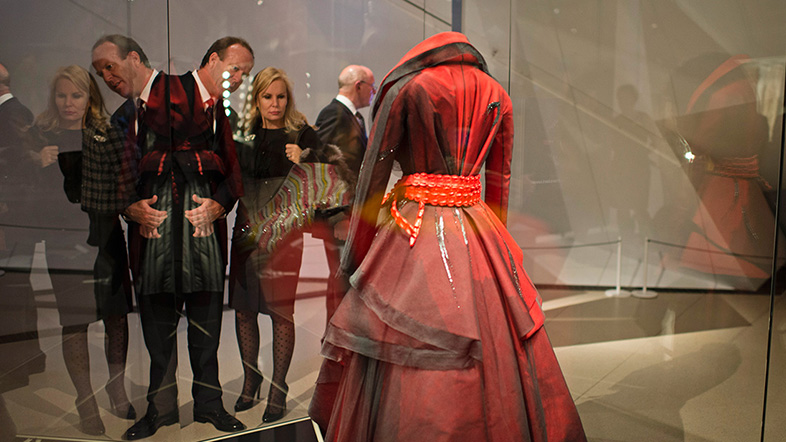 Special thank you to our volunteers, donors, patrons and supporters
On November 15, 2012, we celebrated National Philanthropy Day, a special day to recognize and pay tribute to the many contributions that philanthropy—and the great leaders in our philanthropic community—have made in Canada and around the world.
As the first country to declare National Philanthropy Day in 2009, Canada enjoys a long and rich history of charitable work and corporate giving. Here at the ROM, we are fortunate to have a philanthropic history that dates back nearly a century, and an extensive community of engaged supporters.
A significant part of our work at the ROM Governors is to create memorable experiences for donors that deepen the meaning of their philanthropic support of the ROM. Whether it's a fascinating behind-the-scenes tour, special exhibition preview or remarkable fundraising gala, we continually celebrate the support of our donors, patrons and sponsors.
One of the ROM's current exhibitions, BIG, is a perfect example of how we celebrate the generosity of our donors and the tremendous impact their philanthropic contributions have made on the Museum. A stunning display, BIG is exclusively drawn from the ROM's collection of nearly 50,000 textiles and costumes. It highlights 40 unique artifacts from around the world including a Christian Dior gown.
Patricia Harris—one of the top volunteers and supporters of the ROM's textiles and costume collection—was invited to the ROM for a private unveiling of the dress with Dr. Alexandra Palmer, Senior Curator of Textiles & Costume. "It's a day I will always remember," Patricia told me. "The Dior dress was nestled in folds of tissue paper and it was a gorgeous rich red."
In December 1999, Patricia's husband William surprised her with an early Christmas gift of $1 million towards the establishment of a permanent textile and costume gallery at the ROM, later to be named the Patricia Harris Gallery of Textiles & Costume.
Stories like Patricia's and exhibitions like BIG really remind us of how inspirational and important philanthropy is to the ROM. On National Philanthropy Day, and as always—we thank you for your support and generosity.