Mapping Canada from Space
Posted: December 15, 2015 - 09:00 , by
ROM
You don't need to be a sci-fi film buff to pull up in your mind's eye a view of Earth from space. You're familiar with this image: a blue orb with white swirls and brown spots, framed by the blackness of outer space. But if you zoom in on this image, focusing on particular area of Earth, what do you see?
Most of us have not had the opportunity to dig deeper, to view specific regions of the world as they appear from space. But thanks to a new educational program by the Royal Canadian Geographical Society, in collaboration with the Canadian Space Agency, we now have the chance to explore the topography of Canada through the lens of a satellite. "Canada from Space," the core feature of the program, is a giant floor map comprised of 121 satellite images, and measuring 11 by 8 metres.
RADARSAT-2, the Canadian satellite technology behind the map, was uniquely designed to capture the differences in surface types, such as terrain and ice, and to monitor environmental fluctuations using advanced object recognition software. The result of this enriched data from space is stunning: the cartographic view of our country bursts with life, the complexity of the data sets vivified in an array of colours.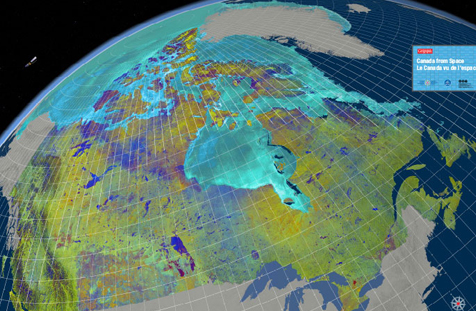 The colours of the space map are not only incredibly beautiful, they raise some interesting questions. As Chris Brackley, cartographer for the Canadian Geographic puts it, "There are secrets hidden in the colours and patterns of this map. Why do the edges of glaciers look like they've been tie-dyed? Why is half of Toronto bright orange and the other half green? … This map begs for creative minds to imagine, to deduce, to guess."
So, do you have what it takes to crack the mysteries of the space map? We're giving you the chance to find out over the break, when the floor map will make its debut at the ROM during ROM for the Holidays (Dec 26 – Jan 3).
Check out the ROM for the Holidays schedule to plan your visit to see Canada's Space Map.