Launch of Doodle 4 Google Exhibition
The winning doodle is part of the exhibition, Doodle 4 Google, that features the drawings of the top 73 regional finalists from across Canada from this year's contest. This national competition challenged Canadian students from kindergarten to Grade 12 to come up with creative and inspiring ways to redesign the Google logo using the theme "If I could invent anything, I would invent... ".
There were also four Regional Finalists. Their drawings are Age Reversing Machine, by David Isaiah Jeans; Underwater city, by Meriam Akkou; Electric Trees, by Xusheng Yu and A Virtual Reality Simulator, by Maria Angela Viaje. What was truly amazing though was the creativity that all of the submissions displayed, right from the students in grade 12 through to the submission by the youngest in kindergarten. At the ROM, our collections of world culture artifacts represent thousands of years of creative ways that people responded to the world around them, inventing things as they go and adapting items for their utility and meaning. And our natural history specimens are a treasure trove of the earth's natural environment. To protect it we will need students who can invent and create ways to conserve it. It is wonderful to see that these students have so much imagination and hopefully their drawings will inspire the thousands of kids who will no doubt see this exhibition that goes on display just in time for March break.

Chris O'Neill, Managing Director of Google Canada, presented Cindy with a $10,000 university or college scholarship to be used at the school of her choice along with a $10,000 contribution to the National Winner's school. The winner and four finalists were congratulated by the Honourable Kathleen Wynne, Premier of Ontario, who attended the morning event.
Following thousands of submissions, and nearly 200,000 votes, Ontario's Cindy Tang, age 17 was named the winner of the first ever Doodle 4 Google Canada competition for her illustration of an underwater sea telescope.
The National Winner and Regional Winners were selected from a field of 25 Regional Finalists by the public who voted online at the Doodle 4 Google website. The field of 25 Regional Finalists were narrowed down from among the 73 best drawings submitted to Google Canada by four distinguished judges that included Janet Carding, Director & CEO of the ROM as well as Chris Hadfield, astronaut and former commander of the International Space Station; Ann Makosinski, Google Science Fair Winner 2013 and Karine Vanasse, actor.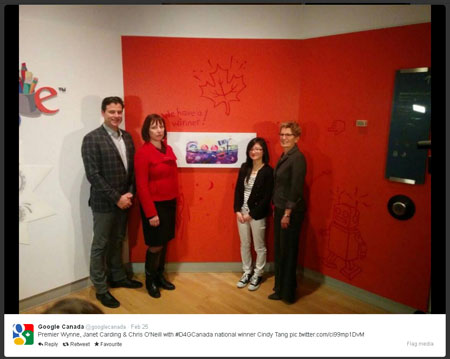 The exhibition runs until April 27 in the Museum's Weston Family Wing, Level 2. Cindy's winning doodle was seen by millions as the exclusive design on Google Canada's homepage on February 26, 2014.
The story of Cindy's winning doodle and the opening of the ROM exhibition was featured on CBC's The National and over 30 other news outlets, including the below:
CBC News Online: Cindy Tang's Sea Telescope wins Doodle 4 Google Canada contest
Torontoist: Toronto High-Schooler Wins Google Doodle Competition
Epoch Times: Cindy Tang Google Doodle: Toronto Student's Winning Doodle Appears on Google