Introducing Habitat the Game to Toronto (and Canada)!
Posted: May 8, 2017 - 13:44 , by
ROM
Biodiversity programmes at the Royal Ontario Museum strive to help our public better understand nature and to prevent its loss through communications, research, citizen science, and community engagement.
Which is why we're so excited to be partnering with Habitat the Game! Habitat is an interactive mobile game designed to teach seven to 12 year olds ecologically sustainable habits. The aim of the game? To keep your virtual polar bear happy and healthy. Players can help their bear(s) by scoring points in mini-games within the app and by completing real-life 'missions' in the real world, like recycling. They can also rack up points by visiting partner locations, such as the Royal Ontario Museum! Just walking through the door of a partner location triggers the game to bestow points on the player and unlocks exclusive location 'pins' to collect or swap with other players around the world!
Our unique pins, based on our collections, include: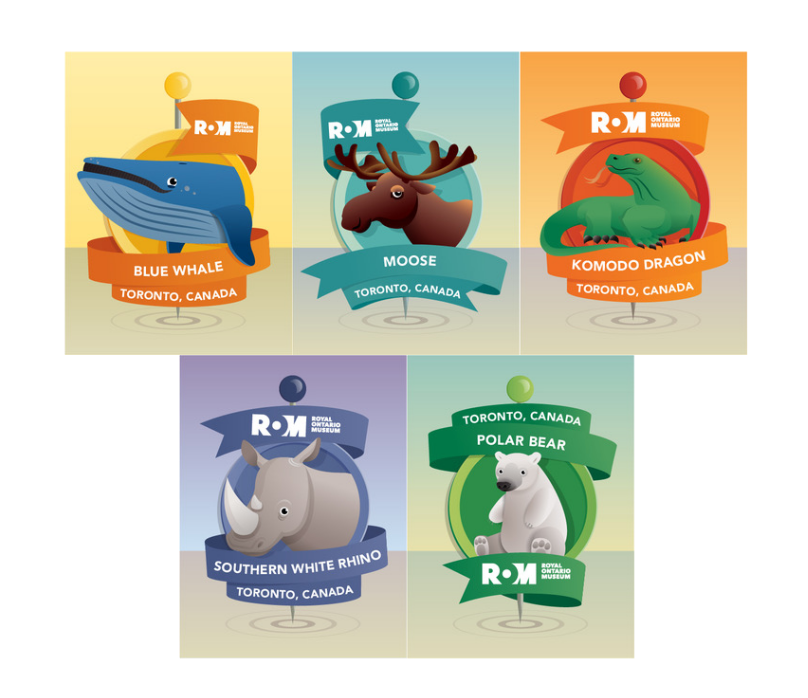 Finding ways to engage our young visitors and their families in meaningful discussions about ecology and environmental issues is a major part of our mandate in the Life in Crisis: Schad Gallery of Biodiversity. We strive to create opportunities for hands-on discovery of specimens and objects from our collection, while simultaneously appreciating the appeal of digital media. Games like the ROM-inspired Clash of the Talons, and mobile apps like iNaturalist variously inspire users to enjoy nature, to learn more, and to get out and explore!
Which is why we're excited to be introducing Habitat the Game to Canada: as an additional digital tool to engage children in discovering nature. Children have a deep-seated love of nature, respect for wild creatures, and wonder at the "endless forms most beautiful" (and weird) that inhabit our world. And they also have very strong feelings about what is "fair". As they become increasingly aware of the various environmental challenges we face as a global society, their desire to do something - to take action - is strong. Habitat players enjoy mini-games; but in order to take care of their virtual polar bears they must also visit real world locales and parktake in personal environmental challenges.
We're excited to have partnered with Habitat the Game, and we hope you and your family enjoy playing as much as we do! And stay tuned - while we currently have 5 ROM-exclusive pins, you never know what the future holds!