Hands on in the Archaeology Lab at University of California, Merced
This spring I packed my bags for the University of California, Merced. My colleague Dr. Holley Moyes invited me to talk about my research on ancient Maya ceramics. While at UC Merced I gave a lecture and a hands on workshop introducing graduate and undergraduate students to the study of archaeological ceramics using petrographic analysis.
Archaeologists can trace pottery by its geology back to the region where it was made by identifying the types of minerals in archaeological ceramics. By looking through the microscope we can see if pottery was made locally, or traded great distances. We can also quantify how pottery was distributed across whole regions - who had what types of ceramics, was it imported or local? Using ceramic petrology archaeologists can reconstruct trade networks and socio-economic relationships.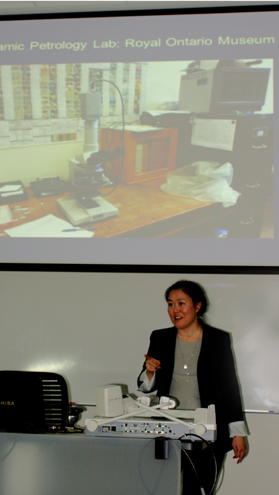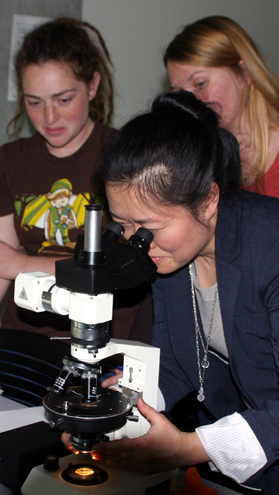 The UC Merced Department of Anthropology recently bought six new polarising light microscopes for their archaeology lab and they hadn't been used by anyone yet! In my suitcase I had stuffed two boxes filled with thin-section slides of ceramics prepared at the ROM.
In the images below you can see how we put the new microscopes through their paces... students examined thin-section samples from my research on ancient Maya pottery dated to 700-900 AD - the Late Classic Period.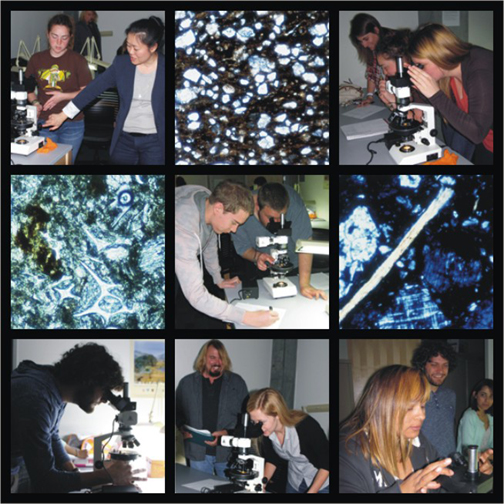 It was exciting to see that even in just one workshop session students were able to distinguish among several different types of minerals found in ancient ceramics such as calcite, volcanic glass, mica, quartz and feldspar. Sparking interest and sharing knowledge is always the best part of representing the ROM.
The ROM Ceramic Petrology Laboratory is a world leader in research and training of archaeologists in the use of ceramic petrology to answer questions about past peoples and cultures.
Photo credits: David Brantley, Holley Moyes & Kay Sunahara