Empty Skies: Resurrecting the Passenger Pigeon Backdrop
Posted: September 18, 2014 - 22:41 , by
ROM
Special thanks to ROM Ornithology technician Mark Peck
A long time ago, in a ROM gallery quite different from today's, there was a diorama that showcased a migrating flock of passenger pigeons. It gave the viewer a sense of what it might have looked like as they travelled in their vast groups over the Niagara Escarpment, and past a sugar shack during maple syrup season. This original exhibit was on display in the museum from 1935-1981, until it was taken down and its components put into storage to await their turn in the spotlight once more.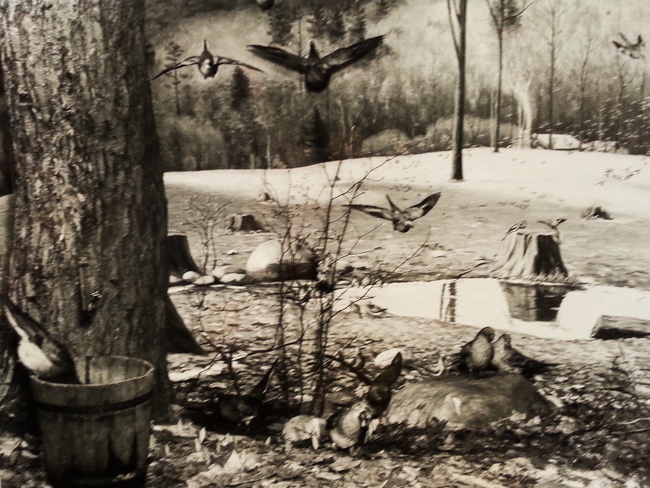 One of the main components that set the scene of the diorama was a beautiful backdrop painting created by a ROM artist in the early 1930's. Fast forward to the ROM's current passenger pigeon exhibit, Empty Skies, and you will see that the backdrop has been given new life in the museum. But the process of resurrecting this piece of the diorama puzzle was not an easy one.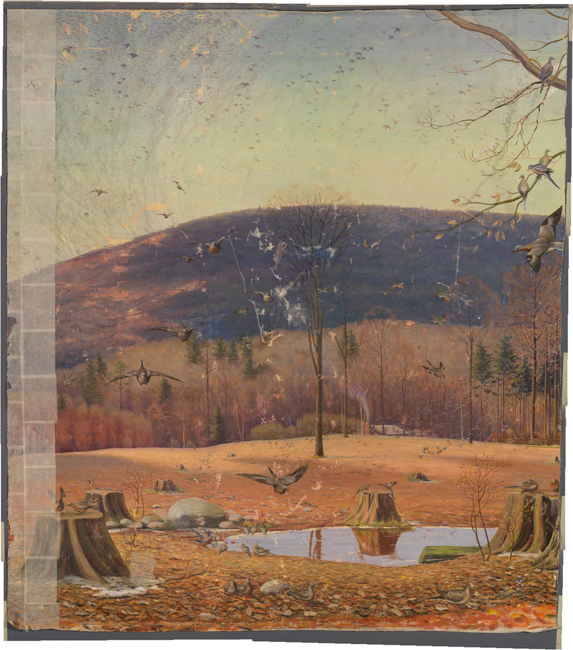 After the original exhibit was dismantled, the backdrop was placed on top of the specimen cabinets in the Ornithology collections room within the Natural History curatorial centre. When the development team for the new exhibit went to retrieve the painting, they discovered it had experienced quite a bit of wear and tear over the years, with a large area of one side of the piece badly damaged. A visit to Heidi Sobol, senior conservator of paintings at the ROM, revealed that it would be incredibly expensive in both time and financial resources, to restore the painting in a traditional way. Undaunted, the team turned to ROM photographer Brian Boyle, and digital image tech Wanda Dobrowlanski to create a digital replica of the diorama that could be used instead. Brian captured high resolution images of the whole backdrop, and Wanda retouched and restored the final image digitally to create what is displayed in the exhibit today.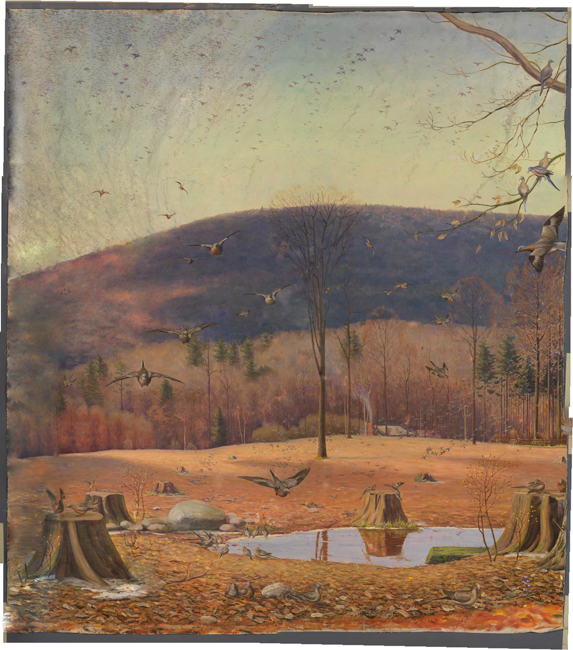 The backdrop that visitors can see now (spoiler alert for those who are yet to visit Empty Skies), is only a partial section of the original painting, since the space is configured differently from the original diorama. It is also cropped to highlight the immensity of the flock of passenger pigeons in the sky, and try to give visitors a chance to glimpse a snapshot of the incredible spectacle of this migratory species that we have lost.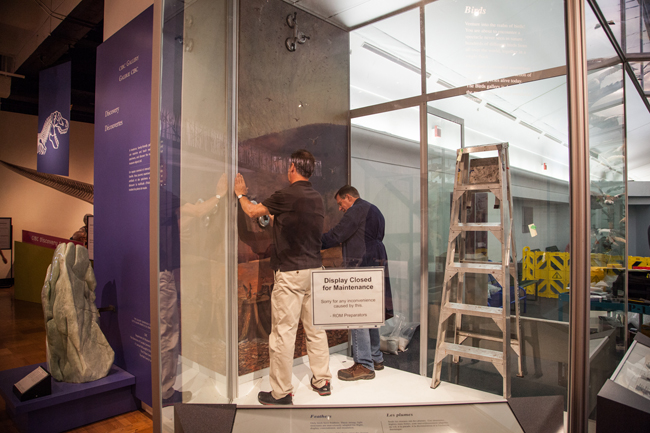 For more information, check out the Empty Skies Exhibit with your own eyes on your next ROM visit, located on Level 2 in the Gallery of Birds. You can also learn more at the upcoming event, De-Extinction Dialogues on September 26th, with speakers Dr. Joel Greenburg and Dr. Ben Novak. Get your tickets now!