David Evans: Palaeontologist. Educator. Model?
David Evans is our latest feature palaeontologist for Dino Days! Meet him Sunday November 25th, but get to know him HERE! So get ready, let's talk about David Evans!
David Evans, so chill, he's not even fazed by the dinosaurs fighting behind him.
THE PALAEONTOLOGIST
David is a busy guy. He's always on the go, onto some new and exciting project, even when he's completely busy building his latest dinosaur exhibit (the wonderful #ultimatedinos!). I mean, he could have stayed and enjoyed the moment for a little bit, but instead he was out in the field again. If he's not writing his latest article, doing a TV spot, or attending some dinosaur-related conference, he's out digging! Just look at his 2012:
He's published TONS of articles this year alone, including the well-known "Oldest Dinosaur Nesting Site Unearthed", "New Leptoceratopsids from Alberta" and "Xenoceratops, Canada's Oldest Ceratopsid".
He's been all over the world this year (Alberta, Argentina, Sudan etc, etc), digging, researching, generally having a good time.
Oh, and he debuted one of the most special dinosaur galleries OF ALL TIME: Ultimate Dinosaurs: Giants of Gondwana!
THE MODEL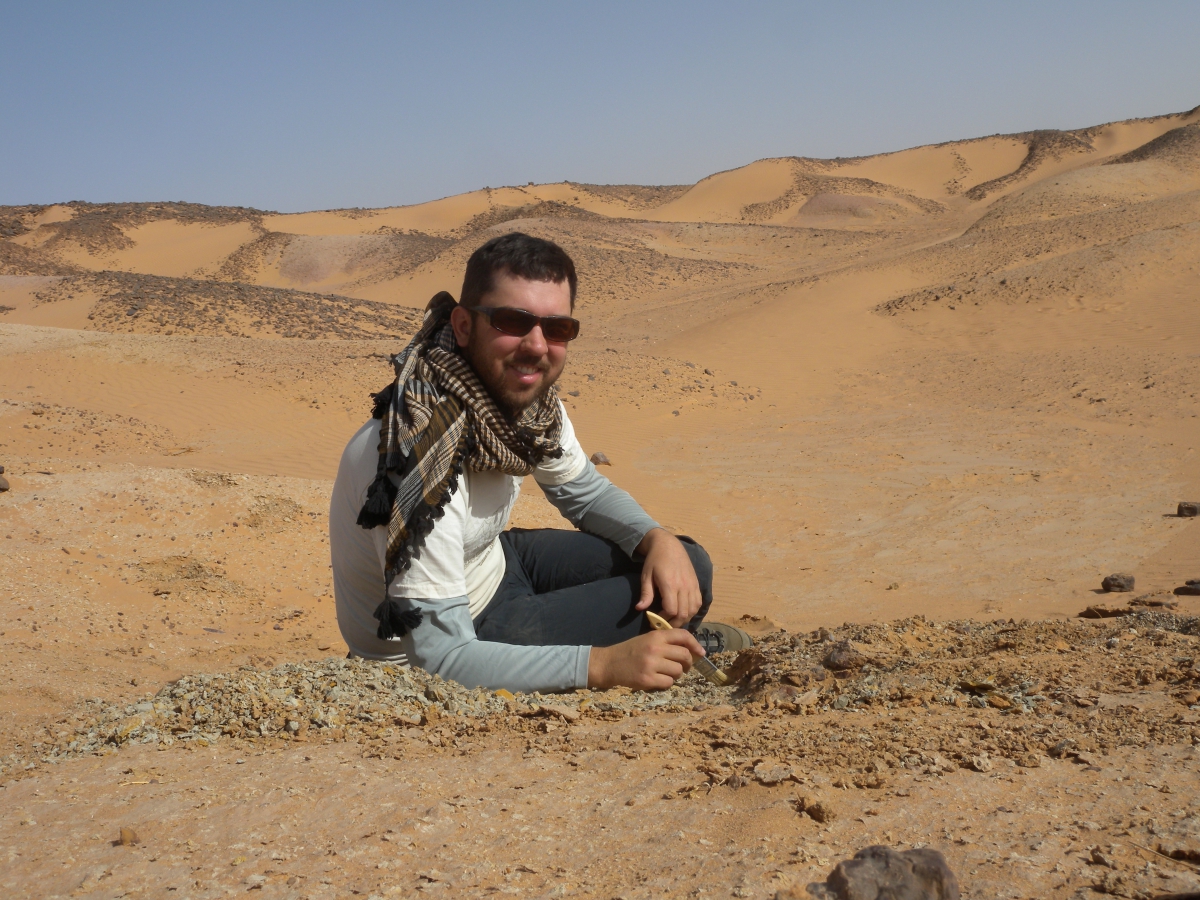 Look at this fashionable dude, rocking the t-shirt over long sleeved shirt look.
I don't mean this in a fashion sense of the word (though he does rock plaid and a fitted cap quite well) but rather that he is the embodiment of the model modern scientist.
I believe that the future of science educators, from teachers to the people who work in the field, is based on an accessible, personable approach with evidence of a deep interest in working with and educating children. I believe this is because of the way social media and the public persona have seeped into every aspect of our media-rich life. Engagement is key, and those who successfully and proactively work with the public are more likely to gain the exposure they need to continue their academic work.
I believe David is a wonderful example of this ideal for the reasons below (and for those who are interested, @DrScottSampson would also be an example of this ideal):
He's accessible and personable.
Digs dinosaurs so much, he'll wear a Parasaurolophus headdress no sweat.
He tweets. And I'm not taking about an automated tweet kind of dude, he will legit respond back to you and is always tweeting about his palaeontology interests.
He blogs.He's always posting from the field, expanding on his latest finds, or taking about the exhibits. He is one of a growing number of curators who represent the future of the museum presence online. You can also check out his personal site too!
He'll talk to you. At every single Dino Day we've had held this Fall, he's been available to talk to the public, engaging with kids, parents, students, enthusiasts, dino nerds, everyone! He takes that time and listens.
He's committed to children's education.
Digital Learning
Even though David and I work in the same museum, the first time I met him was actually virtually. About 5 years ago, while David was out working in the Badlands, we ran a series of Skype sessions between him and our Summer Club campers. It was one of my first adventures into digital learning and the first of its kind we ever attempted at the Museum. On my end, our 6 to 7 year-old dinosaur group came up with questions for David about dinosaurs, palaeontology, and his opinions on Indiana Jones.
On his end, he was set up not in a coffee shop, not in a hotel, but actually out where they were digging up fossils! It was great for the kids (and for me, really!) to be able to talk to David in real time over Skype, and to see where he works when he's not here.
Perhaps the greatest part was David showing the kids what he'd just recently dug up. It really hit home just how many fossils there are out in the badlands, and was such an authentic, awe-inspiring experience for the kids.
#ultimatedinos
Our #summerclub2012 meeting the AWESOME @davide_rom! #ultimatedinos twitter.com/ROMKids/status…

— Kiron/ROMKids (@ROMKids) August 9, 2012
I've spoken about my absolute adoration of Phil Currie many times here, with one of the greatest moments of my life meeting him out in the Badlands as a 7-year old. What was maybe just as special was seeing this moment happen with some Summer Club kids and David.
At one point a local TV station came in to do some publicity for #ultimatedinos. We invited some of our most dinosaur-loving campers to join in and hang out with David and the TV personalities. David engaged heavily with the kids, even while the cameras were no longer running. He hung out with the kids for the entire session, even scheduled break times, answering questions, asking his own and generally just having a good time with the kids. I'm not sure if the kids will truly appreciate what happened that morning until they're older, but it was a very touching sight.
MEET HIM!
As always, he'll be around for you to meet him this Sunday November 25th, at our Dino Day. He's also giving what's bound to be a great talk called, "In Search of African Dinosaurs: New Discoveries from South Africa & Sudan" at 2. Still a few tickets left!
Stay up to date with all the ROMKids action on twitter and tumblr!