Challenge your views at Rome & Greece Weekend
Ancient Rome & Greece Weekend is fast approaching and we've just installed this year's temporary display of objects 'Out of the Vaults'. The two showcases in the corridor between the Rome gallery and the Byzantium and Roman East gallery on Level 3 have a selection of objects from the Greek and Roman storerooms. They aren't the most stunning pieces in the collection (which are already out in the galleries), but they still have a lot to tell us if we examine the details.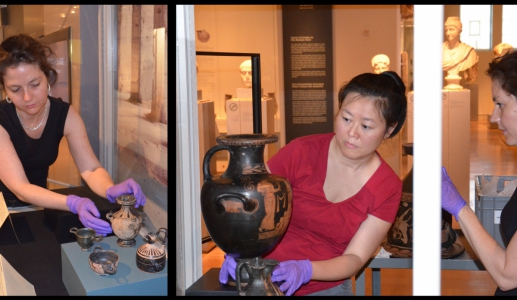 Kate & Kay Sunahara install the temporary display in the gallery. photos R. Mason
'Getting a taste for the Ancient World' is all about challenging the traditional assumptions of many experts about the function of ancient Greek pottery. All the pottery in this display is made in the Classical Greek tradition and is usually thought to be part of the drinking equipment used at the Greek symposium (drinking party). But these particular pots are from Italy, not Greece, where the people making and buying them could have been Greek settlers or Italians with different social customs. Their decoration varies and so does their size, raising questions about whether they were really used for drinking at a Greek symposium.
'Casting a light on the Ancient World' explores the world of Greek, Roman and Byzantine lamps – how they were made and used, and why they look the way they do. They may not seem very attractive, but they were essential technology in an age when you couldn't just flick the light switch when the sun went down.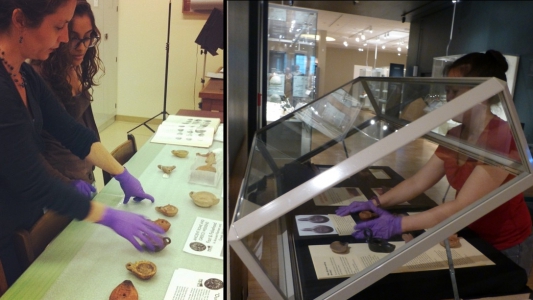 Arranging the lamp display in the workroom with Kate & Natasha Ali, and in the gallery with Kay
Sunahara. photos L. Britton & K. Cooper
While putting together this year's display I've had lots of help from two summer interns – Lindsay Britton and Natasha Ali. They are both university students studying the Greek and Roman world who are now getting some museum experience. Working on the display has given them a chance to see what goes into creating a museum display (on a very small scale) – from making a wishlist of objects and the stories they will tell, to deciding which objects and information to leave out when it all becomes too crowded!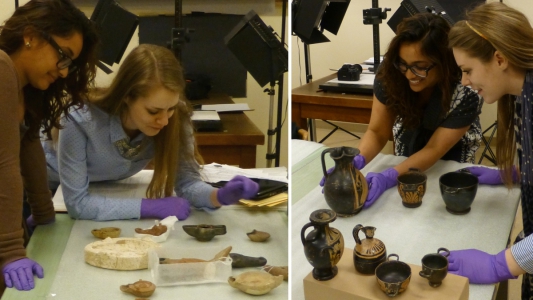 Lindsay & Natasha puzzling over which lamps to include, and much more excited about the pots!
photo K.Cooper
Come along to the ROM THIS WEEKEND to see the displays and to meet the summer interns. If you can't make it, watch out for Lindsay and Natasha's blog post about the event.