Beneath the Surface: Photographing at the Edge of Imagination
Posted: January 6, 2016 - 17:54 , by
ROM
Guest Blog written by Environmental Visual Communication student Sam Rose Phillips
Walking through the ROM's Wildlife Photographer of the Year (WPY) exhibition is a powerful experience. Backlit photograph after backlit photograph, we are immersed within and invited into the most stunning moments, landscapes, and natural beauties that this world has to offer.
I couldn't help myself from shaking my head in disbelief of a spider's silk blanket cast over a meadow. From raising a hand to my chest, in awe of a perfectly-lit Louisiana swamp. From my jaw literally dropping at the sight of the metallic colouration of an Ecuadorian weevil. The impact of these photos was written all over my body language.
As an aspiring wildlife photographer, each photo reminded me that these are the types of moments I, too, have decided to pursue. I went home that night and wondered how to get my projects from my camera to that perfectly lit gallery at the ROM. I thought back on one of my favourite photographs from the exhibit, David Doubilet's "Turtle Flight" (featured above). He captured all of the elements needed to bring this vibrant underwater moment to life.
In search of guidance from the master of moments himself, I called David and his partner Jennifer Hayes, renowned photographers whose work can often be found among the pages of National Geographic Magazine. They are enthusiastic, lovely, and generous - and their perspective is filled with insights that I am thrilled to share with you here.
S: How did "Turtle Flight" come to be?
D: This is a wonderful turtle. Usually a turtle will look at you underwater, you make a picture and it swims off - that's your moment with a turtle. But this little hawksbill, a female of about 15 years old, stayed with us. Jennifer had two sets of lights on a long cord away from the camera so we could backlight the schools of batfish and chevron barracuda that were swimming around the turtle. It was just that moment when the turtle put her flippers out and pulled herself through the water like flight. The slightly slow shutter speed brought out this royal blue background in this very clear, unbelievably beautiful water. I knew that this was the exposure I wanted. There were other images from that dive that we submitted as well. The judges liked this one best. That's the wild card. They liked the moment.
S: What do contests like WPY achieve for you? For conservation?
D: We live and die by the word snapshot but a contest isn't a snapshot, a contest is a lot of images put together to provide a much broader, more extraordinary picture of the world we live in and that's why I love to participate.
J: Truthfully, National Geographic selects a number of images and says hey, we're going to enter these for you. It gives our image and storytelling one more global platform. That's another way to elevate these stories into a whole other stratosphere.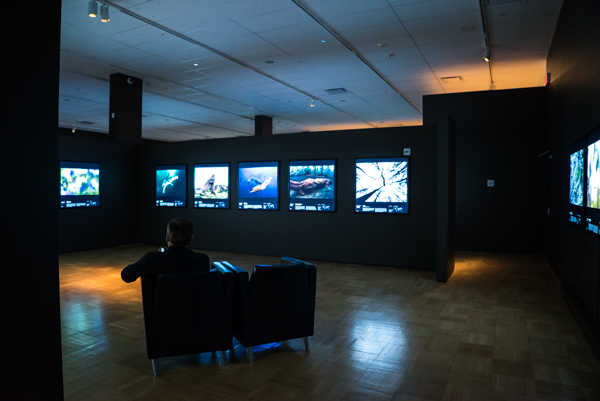 S: How do you develop your stories?
D: The core and the base of why we are interested in a story is an insatiable curiosity. Why does something work? What is this all about? We're dealing with a world that makes up 70% of our planet. Which for the most part is unknown and unseen. This is a worldwide quest. Somebody is finding something new every day underwater.
At the same time, to be a successful storyteller, you have to have an image that transcends what the story is about. Make people stop in their tracks. This is what changes people's minds. Pictures have the power to illuminate, humiliate, and celebrate. They also have the power to convince the unconvinced. If anything, what Jennifer and I are after in telling a story is to open people's minds to the sea.
S: When did you each realize you were going to pursue photography?
D: It was almost an automatic thing in my life. The minute I put my head underwater when I was a kid I realized this is the environment that I was destined for. After swimming around for a couple of years, what I really wanted to do was be an underwater photographer. At the same time I was reading The Silent World by Jacques Cousteau, and I saw the path that my life was going to rush down with very few other choices. It just seemed so logical. I was a much better person underwater. I was weightless and free and could see all sorts of things and what I began to see were things as close to the edge of imagination one could ever get.
J: I was always collecting animals, watching them grow and letting them go, trying to figure out the wonders of nature. And when I went into science I would talk at symposiums and put up these incredible charts and pie graphs. And then I discovered I had it all wrong. I needed to talk about the data and show pictures of the animals. So I did. All of a sudden I realized that they're listening to the data, to me, because I'm putting this amazing picture up. I came to photography that way. It was a need. A way to get people's attention and share the story of an organism.
S: How have our oceans changed since you first dove beneath the surface?
D: The first coral reef I saw was in the late 50's. I went underwater in the Bahamas and found this brilliant wonderful coral reef that I dreamed about. And it was a reef full of fish, moving like quicksilver over the tops of the reef and swirling around great forests of this great brown coral. The reef was alive. All these years later, the Caribbean has none of that. From Belize to Barbados, from St. Lucia to Bonaire, there's coral but no fish. And I've witnessed the disappearance of sharks. Collectively, we spent three years underwater swimming throughout Indonesia and in that time we saw only three sharks. They're gone.
S: What gives you hope for the well being of our oceans?
J: Over a year ago, we were on the other side of the planet in Indonesia. It took days to get there by ship. We rolled off our zodiac next to the Island of Banda Run and onto the reef. We have never seen anything like it. There were a million vampire triggerfish in the water. For two miles on that reef, they surrounded the island. Later on, an expert told us that we had stumbled upon a triggerfish aggregation. We had no idea that it would be there. Secretly, without people knowing about it, this stuff is still happening, producing the next generations. I'll probably never see anything like that again. But to know it's happening gave us great peace.
S: Have you photographed a story that has had a more profound impact than the rest?
D: Stories that I did a long time ago on stingrays in the Cayman Islands eventually developed a national park and stingrays became a protected species. Now it's the most dived place in the world. The story that we did in the Red Sea years ago became a part of the Ras Muhammad National Park. We did a story on goliath groupers for the magazine. One of the things that's happening is they want to take them off the protected list and fishermen want to start fishing these large fish again because there's so many gathered on a shipwreck off Florida. But when you see big aggregations like that, it's likely that those are all that's left. Our story ensured they hold off on taking them off the list.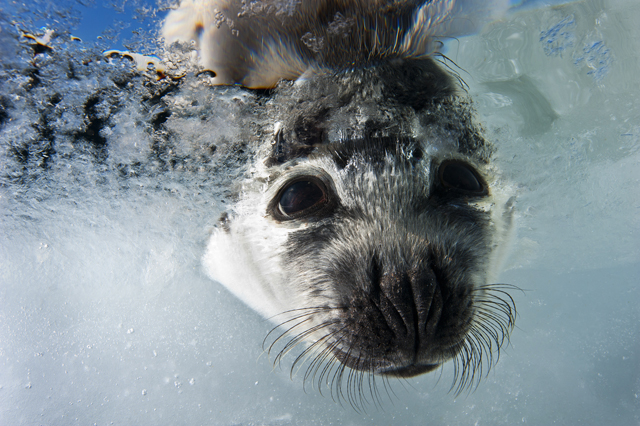 S: What adventures await you in 2016?
J: Wish us luck in Cuba! Right now it is a time capsule for the Caribbean. What is going to happen when Cuba opens up and becomes open to the American masses? We want to get it started down the road to absolute protection. It's a National Park so we're going to propose a story to illuminate Gardens of the Queen and bring attention to it, then bring people to it, and hopefully by people knowing, the UNESCO World Heritage Site people will see how important it is and we can get it designated as a World Heritage Site. That's the ultimate goal.
We're also headed to Norway for orcas. Antarctica. Harp seals in the Canadian ice maybe. Our next big story push for the magazine is in the Philippines.
S: Any final advice for the budding photographer?
D: I would say first, photography is about following your interests and your dreams with a camera. That's what people want to see. And that's what you have the power to produce. Photography is about chasing your interests. But it's also about light and moment and time and the history of imagery. What are you interested in? Pursue that and then look at photography as much as you can. That's the best advice I can give you. You have to be as passionate about composing and light and pictures and lenses and cameras as you are about your subject. The final analysis? You make imagery that can wake people up.
__________
We hope to see you at the ROM on January 26, 2016, 7:00 pm - 8:00 pm, where we have the chance to hear even more of David and Jennifer's incredible stories. They will take us on a journey through a year of National Geographic assignments, sharing their successes, failures, humiliations, and joys. Make sure you order your tickets here before they sell out!