Baby bison are found, four Canadian girls win experience of a lifetime
Posted: January 18, 2012 - 10:08 , by
royal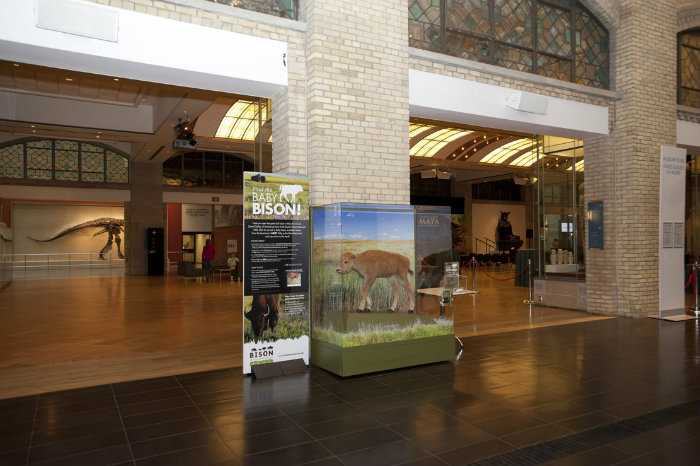 Kids loved the mystery of the lost baby bison.
They searched the 285 hectares of the Toronto Zoo. They inspected the great halls, galleries and dark corners of the Royal Ontario Museum. They probed the online world of Bison Collaborative websites. They left no stone unturned. They were dedicated, passionate about the mystery of the lost baby bison.
And, they succeeded. They found a baby bison. They are:
Amelia, age 9 from Peterborough Ontario
Jayda, age 8 from Saskatoon Saskatchewan
Rielle, age 4 from Courtenay British Columbia
Rachel, age 11 from Toronto Ontario
Actually, as of December 31, 2011, a total of 1,156 kids from across Canada had found baby bison, and had entered the Find the Baby Bison contest.
Amelia, Jayda, Rielle and Rachel were just the four lucky kids to be randomly drawn for a prize to mark the half-way point of the contest. All entrants should be congratulated! (and all are eligible for the grand prize draw after the contest close on February 25, 2012).
The contest is sponsored by the Bison Collaborative, a group of like-minded organizations consisting of Parks Canada, Earth Rangers, the Toronto Zooand the ROM. The contest challenges children and young adults to find a hidden baby bison. The baby bison was either a life-sized cut-out hidden within the ROM or the Toronto Zoo, or was an online icon hidden on sponsor websites.
Prizes included ROM memberships and behind-the-scene tours, a VIP tour of the Animal Health Centre at the Zoo and an afternoon helping keepers care for the resident Wood Bison herd, and an immersive experience at the award winning Earth Rangers Centre where kids will learn how staff train animals for their Bring Back the Wild Show.
Indeed, our lucky winners should inspire more kids to enter: there are 3 more secondary prizes to be drawn (February 14, 2012), and a grand prize trip for a family to Grasslands National Park in Saskatchewan. The grand prize winner and their family will spend 3 days and 3 nights in the Park helping biologist in the field with a variety of research projects including monitoring the recently reintroduced, and highly endangered black-footed ferret. They may even get to help re-introduce more ferrets!
The Bison Collaborative will also sponsor a symposium about grassland ecosystems for scientists, policy makers, educators and the public. The Symposium Program is complete and includes a panel discussion of leading bison research scientists, an evening with Director Kenton Vaughn and his documentary Return of the Prairie Bandit, and keynote talks by the the Nature Conservancy of Canada on the status of Ontario's grassland systems, and by Dr. Gerald Oetelaar, Archaeologist from the University of Calgary on worldviews of bison management on the Northwestern Plains. The Symposium is scheduled for February 22 and 23, 2012 at the ROM. Register at any sponsor website or at the contest website.