Experience a choral performance like no other with a libretto by the Dogs and Boats and Airplanes Choir, inspired by the ROM's collections from 1:30 PM to 2:30 PM on Sunday, December 4th, 2016. Joined by dedicated choristers from Toronto's da Vinci School and Lord Lansdowne Junior Public School, this musical group is the largest choir of its kind in the world, with an entire repertoire consisting of sounds from animals, industry, and culture. Access to the performance is by General Admission to the Museum.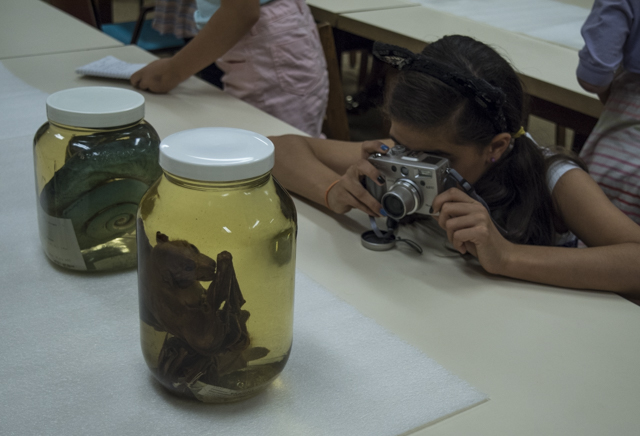 Bill Burns and collaborators, along with the choir students, visited the backroom collections at the ROM over the course of an 18 month research residency at the Museum, preparing for this experimental libretto. Based on their research, the resulting Great Chorus was written under the choral direction of Alan Gasser, in partnership with Krys Verrall, choir students, and ROM scientists.
The Great Chorus will be the second performance in the series following the success of The Great Goat Milking - a project that explored the connection between the Museum, animals, milk, and honey. The Great Chorus will travel through the Museum's galleries; an experimental libretto based on the research of the students and artists.
About the collaborators:
Bill Burns' work about nature and civil society has been shown at the Institute of Contemporary Arts, London, England, the KW Institute for Contemporary Art, Berlin, and MoMA, New York. He is Artistic Director of Big Pond Small Fish and has produced collaborative projects with Alan Gasser and Krys Verrall for festivals and exhibitions in Canada, Australia, UK, and Argentina. His most recent book Hans Ulrich Obrist Hear Us is published by YYZ BOOKS: Toronto, and Black Dog Publishing: London. Bill is represented by MKG127 in Toronto.
Alan Gasser has worked throughout his professional life as a voice teacher, singer/chorister and music director. His major performance outlets have been as Co-Director of the Echo Women's Choir, Toronto (since 1993) and singer with Trio Kavkasia, Toronto (of which he is a founding member). Alan has performed widely nationally and internationally.
Krys Verrall is an educator, experimental writer and artist. She has presented her art and research about young peoples' culture in Argentina, Canada, Denmark, USA, and Australia. In 2013 she produced an experimental libretto in collaboration with 100 children for the Dogs and Boats and Airplanes Choir in Tasmania, Australia. She is adjunct faculty in the Department of Humanities at York University, Toronto.
Carrie Perreault is a multidisciplinary artist. She has participated in cultural exchanges at University of Mumbai, India and Zhejiang Gongshang University, China. She has worked in arts education in Canada, Hong Kong and Taiwan. Her varying social and political environments influence her work.
More information: http://billburnsprojects.com