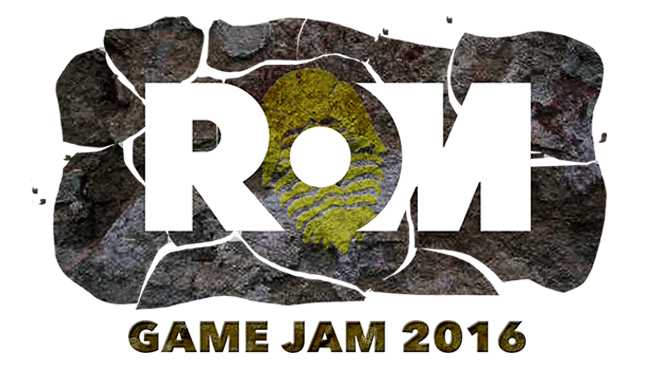 It's baaaaaaaaaaaaack...and registration is now open.
The ROM Game Jam has returned for its fourth consecutive year!
From September 16 to 18, 2016 participants will be challenged to create digital games that animate the museum's future permanent gallery: Dawn of Life.
---
The ROM Game Jam invites creative, motivated, and inspired video game developers to work in a collaborative environment over the course of a weekend to create digital games. The ROM Game Jam is unique in offering a theme inspired by our collections and research, and providing content experts who can be resources for the developers. Completed games live on long after the Game Jam weekend ends. Showcase opportunities feature selected games throughout the year during ROM public programs, school visits, and on the online ROM Arcade.
What is the story of Life on Earth? The future Dawn of Life permanent gallery at the ROM will tell the story of life on Earth - from the origins of life to the origins of dinosaurs. It will showcase not only samples from Earth's early history when life first started, but key fossils throughout the Earth's history that reveal how life diversified over time and faced major crises. This gallery is essentially the 'missing link' between the Teck Suite of Galleries: Earth's Treasures and the James and Louise Temerty Galleries of the Age of Dinosaurs on the second floor of the ROM.
Participants in the 2016 ROM Game Jam will be inspired by this revolutionary (and evolutionary) gallery in the making. And in turn, we hope to be inspired by you! The future gallery will be an immersive experience using virtual animations, interactive technology, and 3D printing. Video games are a unique way to animate these ancient stories!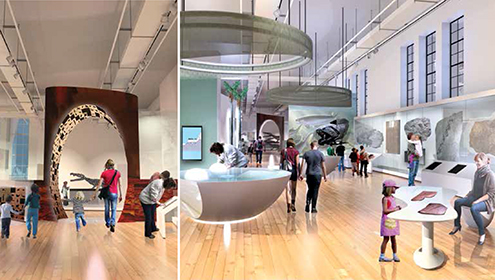 Who

100 motivated and inspired participants.

Teams of up to 4 people.

When

September 11, 2016 Optional Behind-the-Scenes Workshop

Learn from ROM Curators about the Dawn of Life gallery and get a behind-the-scenes tour!

September 16-18. 2016 GAME JAM EVENT!

Where

Bronfman Hall, 2nd floor, Royal Ontario Museum - The future home of the Dawn of Life gallery!

ROM Game Showcase!

Completed games live on long after the Game Jam ends. With this in mind, showcase opportunities will feature your creation with ROM visitors! ROM assets that are available to showcase games include: PC laptops, iPads,

Google Cardboard

, and a

multi-touchscreen game table

.

Inspire next generation - shown to student groups who visit the ROM.
Engage thousands of visitors during a public arcade that will run during our epic ROM For The Holidays program.
Completed games, at the discretion of the ROM, will be play-tested at various ROM events between October 2016 and March 2017. Other confirmed dates will be posted here later – please check back!

Or see what game developers created in previous ROM Game Jams, visit the

ROM Arcade

!
Registration is now closed. The Game Jam committee is going over the applications and get back to teams by Friday, August 26, 2016.
We expect to have about 100 participants. Each team can have up to 4 members.
Criteria for choosing teams:
Motivation of team
Diversity: The ROM is committed to creating inclusive programming that is accessible and inclusive. Participants who self-identify as women, gender fluid, non-binary, LGBTTIQQ2SA, Indigenous peoples, persons of colour, persons with disabilities and/or the Deaf community are strongly encouraged to apply
Experience: This is an inclusive Game Jam and we encourage developers of all levels of experience. We aim to have a balance of entry level, student and professional participants and teams.
This section provides background information about the theme: Dawn of Life.
Dawn of Life Gallery
High on a mountain ridge in Canada's spectacular Yoho National Park in British Columbia is one of Earth's most important fossil deposits: the Burgess Shale. Preserved with exquisite detail within the rock layers for the last half-billion years are the remains of soft-bodied and often bizarre animals and algae dating from the Cambrian period. These exceptional fossils include some of the oldest members of many animal groups still alive today.
The Burgess Shale has a rich History of discoveries which span more than 125 years. In this website you will discover these extraordinary creatures through images of their remains in the Fossil Gallery and also through reconstructions including digital animations in the Virtual Sea Odyssey. You will learn about the Science, about how fossils are discovered and studied, and about the current research being done — as well as how to learn about, visit, share and help protect the sites today with Parks Canada.
Observe the creatures who lived in the Burgess Shale community from a "virtual submarine".
Using the latest web technology and high-resolution images you will be able to browse through hundreds of images of fossil specimens in the Main Gallery or use the Advanced Search tool, to filter particular types of information. Additionally, because the fossils are usually flattened within the rock layers, the latest in digital animation techniques brings many species to life. Discover some highlights here:
ROM Research
Hallucigenia was just one of the weird creatures that lived during the Cambrian Explosion, a period of rapid evolutionary development starting about half a billion years ago, when most major animal groups first emerge in the fossil record. Visit The Burgess Shale website to learn more about one of the world's first complex marine ecosystems.
Metaspriggina is an ancient vertebrate species, and a the starting point of a story which led to animials like later fishes, dinosaurs and mammals (even humans!)
Spartobranchus tenuis is an acorn worm, marine animals that belong to the phylum hemichordates, a group which is closely related to today's sea stars and sea urchins.
Pikaia gracilens is the most primitive member of the chordate family, the group of animals that today includes fish, amphibians, birds, reptiles and mammals.
---
The 4th annual ROM Game Jam is brought to you by the ROM's Centres of Discovery:
With support from:
Contact
416.586.8000
info@rom.on.ca
---
ROM membership is your best value! Join now and save on selected programs and events.