"Scopify the ROM": decode the ancient coffin, x-ray the cat mummy, or make the dino come to life!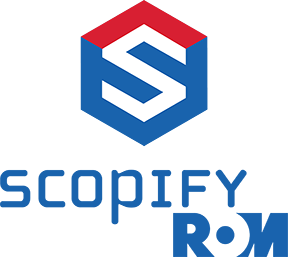 What is ScopifyROM?
Explore Museum objects
ScopifyROM is the world's first ScopifyTM smartphone app. It puts digital tools similar to those used by curators and scientists into your hands. Interact with selected museum objects in ways never before possible as you investigate, make discoveries and reveal the larger story each object represents: a story about life, history, or the planet.
Uncover exclusive ROM curatorial secrets by using your smartphone* as a series of "scopes":
Add skin to skeletons and see what they looked like when alive
Decipher various codes and languages
Travel high in the air to examine objects from a unique perspective
Restore aged objects to their original state
See an object where it was discovered.
Suitable for both adults and families, ScopifyROM offers over a dozen objects to investigate, spread over the ROM's Ancient Cultures, Biodiversity, Fossils & Evolution, Earth & Space, and Canada collections.
Play games
Scopifying the ROM lets you unlock five games:
Footprints: in this time-sensitive, Mix 'n Match memory style game, users are required to match up footprints to animals as quickly as possible. In a unique ScopifyROM twist, a right or wrong answer leads to a pop-up with more information about the animal they have selected.
Bat Hunt: an arcade-style game where players let their device come alive in order to fly and steer one of three bats, using echolocation to avoid obstacles and catch prey.
The other games are Coin Conundrum, Crossbow Defender, and Dino Dig.
How can I use ScopifyROM?
(1) We recommend downloading and installing ScopifyROM before coming to the Museum.
Get the free app:
* On iOS, ScopifyROM is compatible with the iPhone 4 and later, iPod Touch (4th generation) and later, as well as iPad 2 and 3 and iPad mini. On AndroidTM, the app will run on most high-end newer devices.
You can also download the app at the Museum. If you'd like to do this without using your data plan, you can use the ROM's WiFi. Time to download and install the app at the ROM may range from 3 to 15 minutes depending on where you are in the museum and the WiFi signal strength. Signal is usually strongest in the folllwing locations:
Main floor: directly outside the doors leading to the Gallery of Canada: First Peoples
Level 2: in the Schad Gallery near the dodo
Level 2: in the Temerty Dinosaur Galleries near the T. Rex
Level 2: in the Teck Suite of Galleries: Earth's Treasures, near the Bvlgari diamond tremblant brooch in the Gallery of Gems and Gold, and the Allende Meteorite
Level 3: in the Eaton Gallery of Rome, near the gladiatorial helmet.
(2) At the ROM, launch the app on your device and look at the Inventory screen, or look for QR codes near objects, to find out which Museum objects are ready for you to put your Scopifying talents to work!
(3) Follow instructions on the screen to aim the scope at the QR code and unlock the discoveries for each object.
Further information
One app, many ways to see. Find out more about Scopify
Your comments or questions on ScopifyROM are welcome: feedback@scopify.com. For technical questions, support@scopify.com.
Media inquiries: Please contact Wendy Vincent, Bilingual Publicist, at 416.586.5547 or wendyv@rom.on.ca.
Who developed ScopifyROM?
Created by

Made possible with the support and participation of:
The Ontario Media Development Corporation
Developed with the participation of:
Bell Fund
Ryerson University
RTA Transmedia Centre
Government of Canada
Ontario Centres of Excellence
In collaboration with

App Store is a service mark of Apple Inc. Apple, iPhone, are trademarks of Apple Inc., registered in the U.S. and other countries. IOS is a trademark or registered trademark of Cisco in the U.S. and other countries and is used under license. Android and Google Play are trademarks of Google Inc.