Canada and the world are facing serious challenges. The Dawn of Life Gallery will help us to understand how the changes we face today will shape the world we'll live in tomorrow.
In the past 40 years, the earth has lost more than half of its recorded biodiversity (World Wildlife Fund 2014). Unfettered deforestation, overdevelopment and now climate change have each reached crisis proportions, threatening to further unhinge the delicate balance of our ecosystems and potentially our planet's capacity to sustain life, including our own.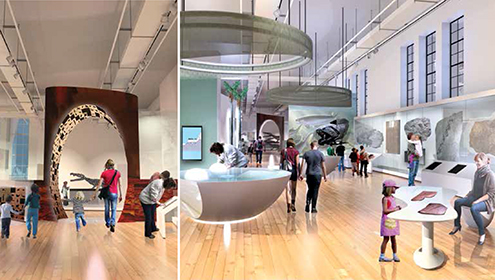 Navigating our collective future on Earth demands a commitment to our past. Enabled by your support, the Dawn of Life Gallery will:
• Catalyze global research to predict how species will react to climate change
• Motivate and inform visitors to champion a sustainable future
• Display and interpret one of the world's finest collections of early life fossils
• Inspire the next generation of leaders in science, technology, engineering and math (STEM) who will develop the solutions our world needs
A tantalizing preview
Visitors will soon be able to catch a glimpse of the Dawn of Life Gallery! Opening later this month, a preview space will transport Museum-goers to a world of steaming jungles and prehistoric seas, immersing them in an epic tale that stretches over more than three billion years.
This sneak peek will animate spectacular fossils slated for the gallery, which tell the story of life on Earth— from its earliest simple beginnings to the first dinosaurs. Discover world-renowned Canadian fossil sites, and the key roles that ROM researchers play in revealing the secrets of how life has evolved on our amazing planet.
Be a part of this story!
Never before has such an exciting new gallery project presented itself at the ROM—this is the story of life on Earth. It is a tale that is equally wondrous as it is compelling, as distinctively Canadian as it is globally significant, one of which the ROM is immensely proud to share with the world. But we can't do it without you! To learn more about the future Dawn of Life Gallery, please contact Susan Horvath, President & CEO, ROM Governors at 416.586.8055 or susanh@rom.on.ca.