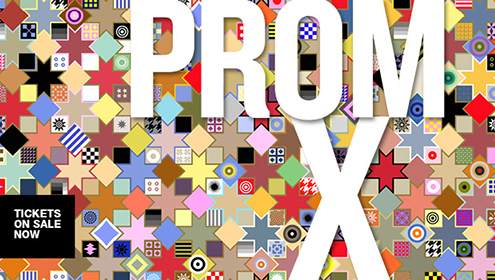 To all you PROM queens and kings, Coupland fans and museum nerds: thank you for coming to PROM X on Saturday, March 28, 2015. Highlights from this pop explosion party included playing with Lego in our party clothes, building "The Brain of PROM," an epic scavenger hunt, delicious gourmet fare and dancing the night away next to priceless artifacts and Futalognkosaurus.
PROM X was inspired by the work of Douglas Coupland and celebrated 10 incredible years of the Young Patrons Circle (YPC). If you love the ROM and attending our epic parties, please consider joining YPC, a dynamic group of young professionals that enjoy exclusive access to ROM events, curators and collections. As a YPC Member, you'll receive four free tickets to every Friday Night Live (FNL). To learn more, please contact Jessica Hall-Cummings at jessicah@rom.on.ca or 416.586.8003.
Event proceeds from PROM X support the ROM's highest priorities, which bring world-class exhibitions, stunning galleries, leading-edge research and educational programs to life. This was the 10th and final PROM; stay tuned as we re-imagine a fresh and fun fundraising event for the future! Sign up for our newsletter to be the first to know about exciting events and offers at the ROM, email ypc@rom.on.ca to subscribe.
Contact
PROM X Ambassadors
Shimima Adam, Jonathan Alderson, Leen Al Zaibak, Simona Cara, Prerna Chandak, Chris Charron, Edmund Chien, Francisco de la Barrera, Hillary Connolly, Renae Farough, John Gomatos, Chris Issariotis, Bo Koch, Ruby Latif, Chris Le Pan, Fiona Lim Tung, Michael Lockhart, Courtney MacNeil, Sean Marsland, Shane McDowell, Adriana Morrison, Milan Panic, King Siu, and Claude Tambu
Artwork by Douglas Coupland, Aubusson, 2010-2013. Wallpaper, Courtesy the artist.