Posted: September 17, 2012 - 13:00 , by
admin
By Ka Bo Tsang, Assistant Curator – Chinese Paintings & Textiles
Most people think of Chinese painting as artwork created by artists using special brushes in combination with ink and colour pigments to give shape to ideas on paper or silk through the adroit manipulation of lines, dots, and spots. While this general impression is true, there are exceptions.
ROM: Hi Paul, we are thrilled that you are coming to speak at the ROM this Sunday and we would love it if you could answer a couple of questions in advance as we prepare for your arrival. I understand you studied art and biology at Northern Illinois University. How did you go from that to becoming one of the world's most famous palaeontologists?
Paul Sereno, one of my FAVOURITE palaeontologists, is coming to @ROMToronto this Sunday and I could not be be MORE excited. Except for maybe those times when I was a kid…
(cue time travel sound effect- swosh swish swash)
When I was a kid I had a pretty strict bed time. For grades 3 through 5, bed time was somewhere around 8-9PM. Very rarely were exceptions made. About the only time I ever remember my mom letting me stay up was for one of my favourite tv shows, Paleoworld.
Submitted by Alexander Muth, winner of the Find the Baby Bison Contest
We're back.  We all had a great trip out west. It's hard to pick out highlights, as it all seems like highlights to me.
Posted: September 11, 2012 - 10:30 , by
Ryan Dodge
When ROM Ichthyologist Dr. Hernan Lopez-Fernandez was unable to attend a 2011 expedition to the Cuyuni River in Guyana, he found other creative ways to collaborate with fellow scientists. Dr. Lopez-Fernandez enabled Devin Bloom, a U of T graduate student with extensive experience in Guyana through previous joint expeditions, to attend in his place and share the specimen collections and tissue samples with the ROM.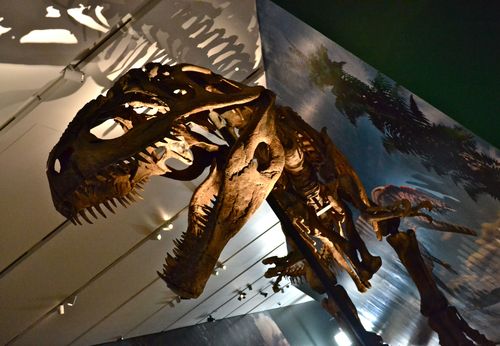 I've just come back from Grasslands National Park with the Grand Prize Winner of the Find the Baby Bison contest, Alexander Muth. I'm the lucky ROM employee chosen to accompany him and his family on the trip (actually no luck involved at all, it was an arm wrestling competition and I'm stronger than I look).
Meet Catherine Forester, the first speaker in our Dinosaur Hunter SpeakerSeries.
If you thought all dinosaur hunters were men, you'd be wrong. Our first palaeontologist in the Dinosaur Hunters Speaker Series, which starts this Sunday September 9, is Dr. Catherine Forster. She has toughed it out in some of the harshest climates and conditions in the world making significant discoveries in China, Madagascar, and South Africa.