A hat was an important part of the Imperial ensemble; it was a very visible and easy way of showing that someone was a person with power and status. Emperors and empresses both wore impressive court hats of red silk trimmed with sable fur and adorned with gold and pearls.
The imperial concubines and the empress would secure their hair first with a diadem or circlet of gold, decorated with pearls and precious gems, which would be visible beneath the brim of her hat. You can see it on the purple hat in the photo below.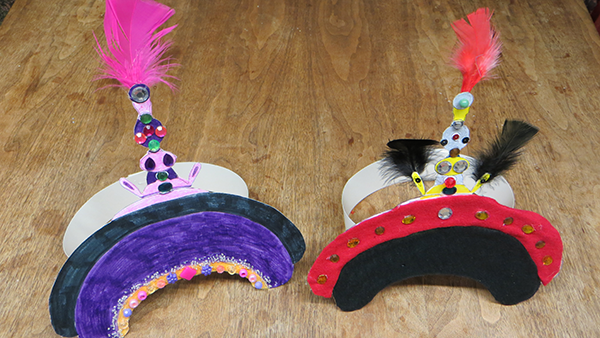 You will need:
Glue
Cardboard or Bristol board
Scissors
Markers or crayons
Embellishments (stickers, felt, feathers, rhinestones, sequins, buttons, beads, etc.)
Your imagination!
---
Instructions
STEP 1: Print the downloadable template (PDF) on card stock, or glue it to some leftover cardboard (like a cereal box) so that it will stand up on its own.
---
STEP 2: Cut out the hat and the ornament.
---
STEP 3: Put some glue on the tab at the bottom of your ornament and glue the ornament to the top of the hat.
---
STEP 4: Colour in and decorate your hat. You can be creative. Don't forget to include the circlet at the bottom if your court hat belongs to a concubine or empress. The hat in the picture below does not have a circlet, since it is being made for an emperor.
---
STEP 5: Make a circular band that fits your head out of cardboard or Bristol board. It should be about 5cm wide. Attach the circular band to the back of your hat.
---
STEP 6: Model your new Imperial court hat and tweet a picture to @ROMkids. Use #ROMKidsFC to tag your photo!