School Visits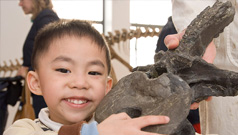 ROM directed and self-guided school visits.
Teacher Development
Teacher nights and professional development for educators.
Travelling Education Kits
Supplement your curriculum with hands-on, object-oriented educational kits.
Travelling Exhibitions
Travelling exhibitions bring the ROM's collections, research and expertise across Canada.
Online Activities
Fun, educational and interactive online activities for kids and families.