Faces to Remember: Chinese Portraits of the Ming and Qing Dynasties (1368 – 1911)
Currently on display in the Herman Herzog Levy Gallery from May 18, 2013 to February 23, 2014 is the exhibition Faces to Remember: Chinese Portraits of the Ming and Qing Dynasties (1368 – 1911). Located on Level 1 of the ROM's Philosophers' Walk building, the Levy Gallery is the Museum's main venue for its diverse slate of rotating East Asian exhibitions - themed displays drawn from the ROM's vast collections of Chinese, Japanese and Korean artifacts.
Faces to Remember examines Chinese concepts of celebrating memories of the dead; explores the reasons behind the commissioning of portraits; and illuminates the techniques used by painters to meet their clients' expectations. Showcasing a culturally important, but often-overlooked aspect of Chinese art and culture, the exhibition's portraits are astonishing in their detail and embedded symbolism.
Dr. Ka Bo Tsang, ROM Assistant Curator, Chinese Pictorial Arts, is the exhibition's curator. She explains, "Portraits are a way to commemorate people, whether known or unknown to us. The portraits displayed in the exhibition, as well as the personal accessories, provide us with a better understanding of the Chinese people of the past, their aspirations and moral values."
On display are paintings, on paper or silk, portraying members from all classes of society during the Ming and Qing regimes. Numerous indicators of the sitter's social status, including clothing, are evident in each work. While visitors can expect enlightening contextual information about the sitters' lives, delivering a better understanding and appreciation of the portraits and those depicted in them, little is known of most artists behind the paintings, not even their names.
Highlights abound in this intimate exhibition, including Portrait of the Elderly Master Jing, created to celebrate his new official appointment in an interesting and vibrant locality; Portrait of a fourth-rank official, executed in oil on paper – materials unusual in both Western and Chinese painting traditions; and Portrait of Yang Moulin, a classic example displaying all features typical of a Ming-dynasty ancestor portrait.
Many of the temporary exhibitions in the Herman Herzog Levy Gallery are drawn from fragile, light-sensitive (thus rarely-seen) objects, such as prints and textiles, thus giving us a rare glimpse into the ROM's dynamic collection of Chinese artefacts. The visual appeal of the exhibition's 25 works - some remarkably large - is enhanced by a number of sartorial and personal accessories, objects carefully selected for their resemblance to those seen in the paintings.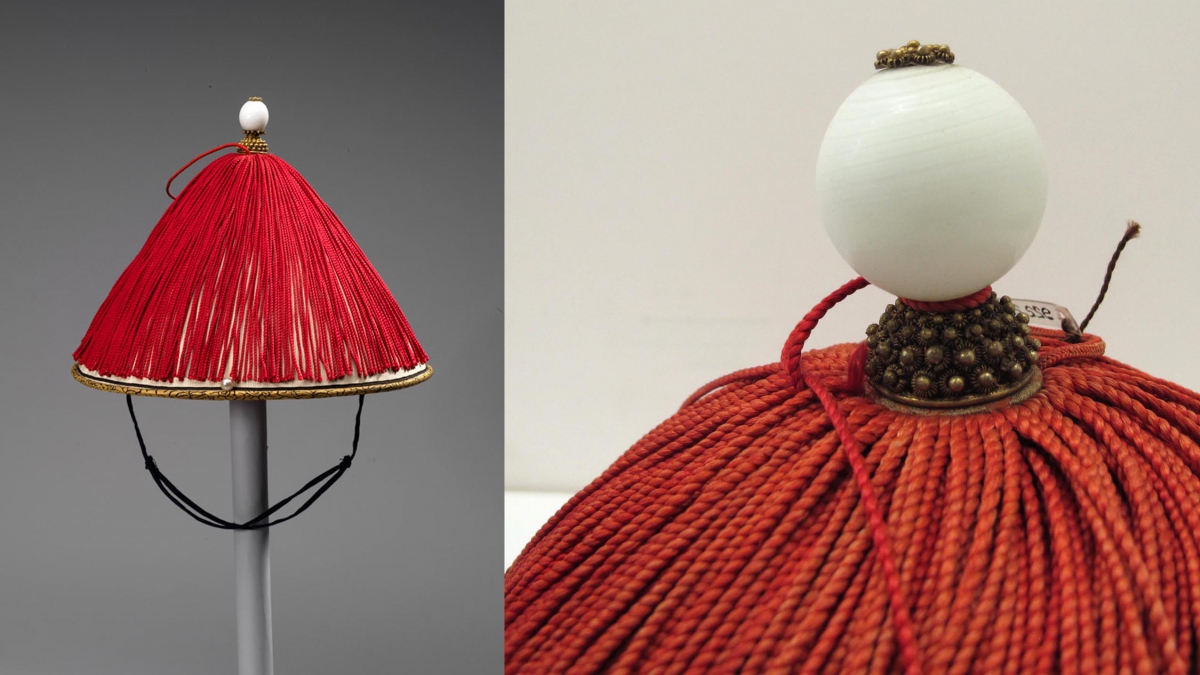 On display is this Official's summer hat (922.4.230) from the Qing dynasty, early 20th century from the George Crofts Collection. This wonderful ceremonial conical hat is similar to hats worn with appropriate insignia spheres by all officials during the third to eighth months of the lunar calendar.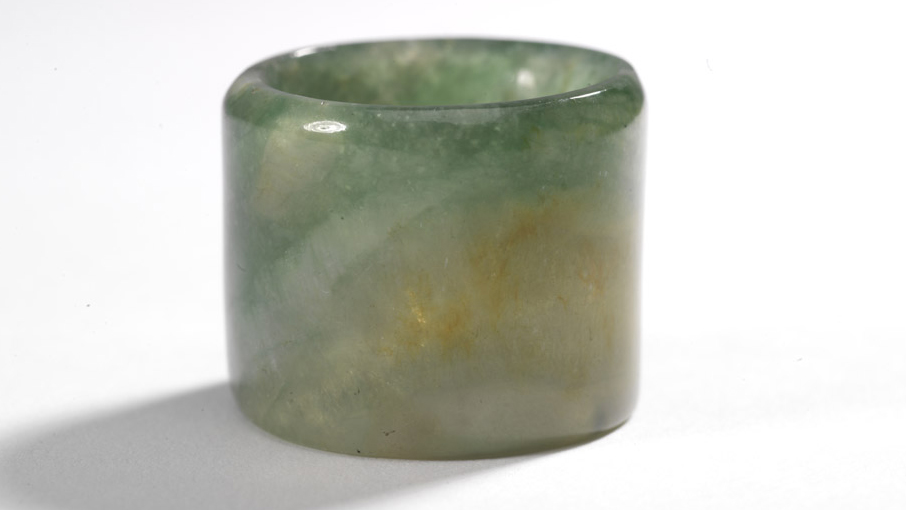 This beautiful jadeite thumb ring (921.21.434) from the Qing dynasty, 19th century (The George Crofts Collection) was originally created to protect the thumb of an archer. It became a fashionable ornament for men during the Qing dynasty.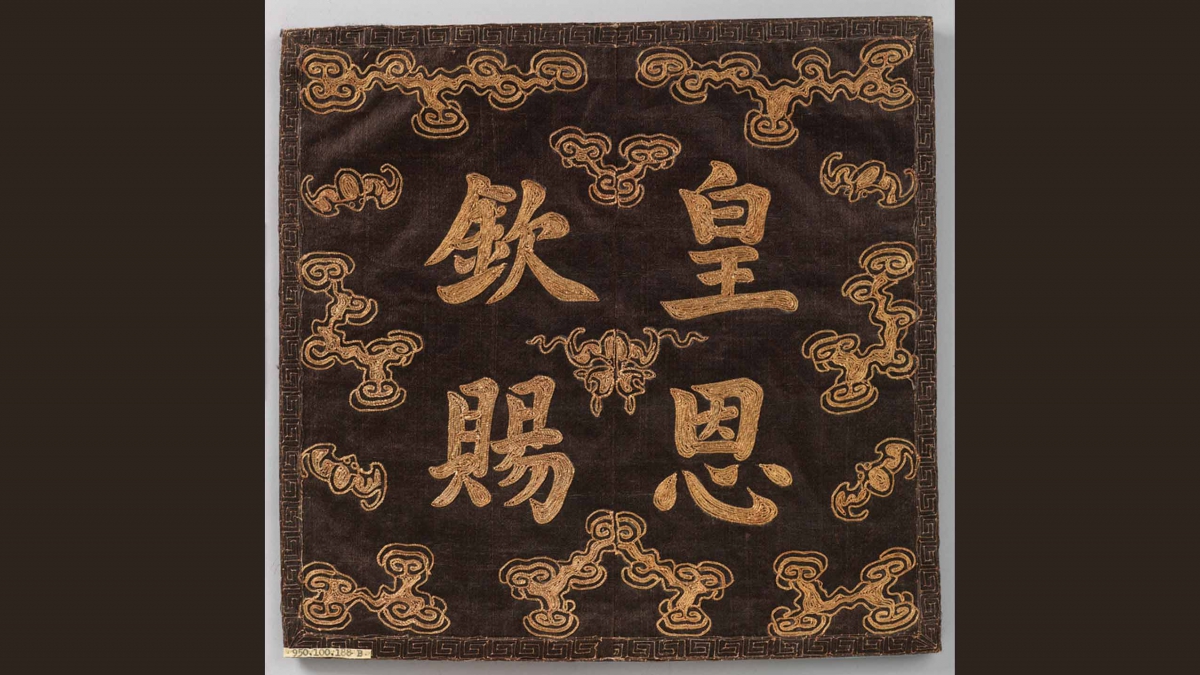 The Satin, silk, gold and silver thread Badge with embroidered inscription (950.100.188B) from the Qing dynasty, 1733-1766 (Gift of Mrs. Sigmund Samuel) is inscribed with the same four Chinese characters (huang'en qinci or "bestowed by the emperor") depicted on that worn by the great-grandfather in the multi-generation portrait on display.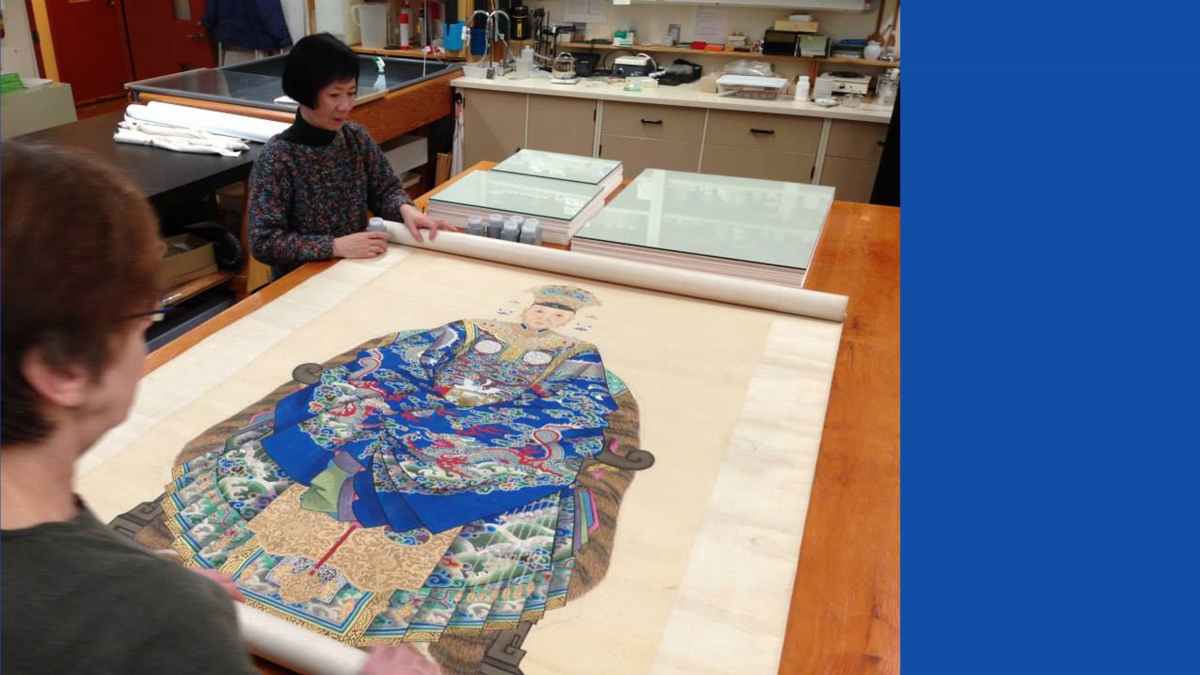 Each and every exhibition at the ROM, no matter the size, is a collaboration between many different museum professionals. Curators, Technicians, Exhibit Designers. Registrars, Conservators, Project Managers and Preparators. Here we see Dr. Ka Bo Tsang, ROM Assistant Curator, Chinese Pictorial Arts, and Janet Cowan, Senior Paper Conservator examine one of the hanging paintings before it is installed in the exhibition.
SPECIAL NOTICE
We are currently experiencing intermittent issues with our voicemail system. We thank you for your patience. If you are trying to leave a voicemail, please email your question to info@rom.on.ca and we will get back to you as soon as possible.