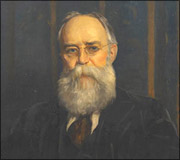 Sir Byron Edmund Walker was the driving force behind the campaign to found a world-class museum in Toronto.
Born in 1848 on a farm in Haldimand County, Ontario, Edmund Walker left school at the age of 12 to enter the banking business. Curious about culture and science, he became a self-taught expert in many fields.
In 1868, he joined the Canadian Bank of Commerce. Before he turned 40 he was the general manager of the bank; by 1907, he was the president.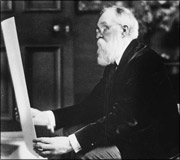 Walker was also a great philanthropist who took part in the foundation and direction of many organizations, including the National Gallery of Canada, the Art Gallery of Ontario, and the University of Toronto.
While working for the bank in New York, Walker pursued his cultural interests, visiting galleries and museums, and developed skills as an art collector. It was his dream to see a major museum in the city of Toronto, equal to those he had admired in New York. Walker used his influence and connections, and after many years of planning and negotiating, the Royal Ontario Museum opened to the public on March 19, 1914. Walker was its first chairman and retained the position until his death in 1924.
In many ways, the ROM's dual mandate combining nature and culture, distinct in the world of museums, reflects Walker's own wide-ranging interests. He began his collecting career with fossils, which he eventually donated to the ROM together with his palaeontological library. He also arranged the funding of dinosaur digs in the badlands of Alberta. One of the new species found there was named after him—Parasaurolophus walkeri. He was equally fascinated with world cultures and his impressive collection of Japanese ukiyo-e was donated to the Museum upon his death. Walker also established a tradition of continued philanthropy at the ROM, forming a fundraising group in 1917 called The Twenty Friends of the Arts.