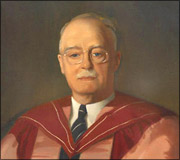 The Samuel family has enjoyed a long and close association with the Museum.
At the age of 10 young Sigmund Samuel was already collecting – stamps. A year later he began to work for his father. The family business supplied local factories with metal, and the company grew quickly as Canada industrialized in the late 1800sand early 1900s.
As the business prospered, Sigmund Samuel acquired collections in many fields. He also involved himself in the new Royal Ontario Museum, contributing some of the finest pieces in the ancient Greek collection and donating a large collection of Canadian prints, paintings, maps and artifacts.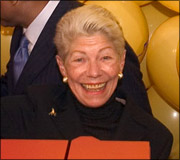 When the Museum could no longer adequately display its Canadiana collection, he helped to fund the building of a separate Canadiana Gallery for the ROM. It opened in 1951. He added a new wing in 1958. The Canadian collections have continued to grow to this day, with the help of a trust fund he bequeathed for this purpose.
Although, the Canadiana building closed in 2000, when its collections were moved to the main building, the new Sigmund Samuel Gallery of Canada is among the galleries opened as part of the Renaissance ROM project.
Sigmund Samuel established a family tradition of philanthropy. After his death in 1962, his grandson Ernest Samuel, and Ernest's wife Elizabeth, continued to support the Museum. They gave generously to the Gallery Development Campaign of the 1980s and 1990s to enable the Museum to complete the Samuel European Galleries.
They also funded the complete refurbishment of the Currelly Gallery, finished in 1997. To thank them, the ROM re-named this space the Samuel Hall

Currelly Gallery.
Both Ernest and Elizabeth Samuel were Board members; Elizabeth served as chairman from 1994-1997. In 2003 she made a donation of $5 million toward Renaissance ROM. In recognition of her generosity and the lifelong commitment to the Museum that she and her husband shared, the ROM has dedicated the newly restored Rotunda in their honour.